Order of the Mystic Circle This honor program (camp fraternity) was used in the Toledo (Ohio) Council at least as early as 1915 and possibly even earlier. It existed within the Toledo Council at their first scout camp at Vineyard Lake in the Irish Hills of Michigan. The camp was an encampment held each year on the Cramb farm which had frontage on Vineyard Lake. Each year the encampment was given a different name even though it was held in the same location from 1915-1922. The 1916 name was Camp Hardee. The 1918 encampment was called Camp Cohn.

There were two ranks, second degree and first degree. There were four sets of requirements made up of five individual requirements per set. 1st degree required passing at least three requirements of each set and second degree required passing all five of each set. Members wore an armband with the Mystic Circle on it. First Degree was a red circle on black

and second degree (the highest) was a yellow circle on red.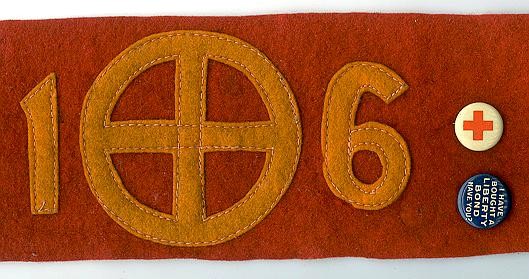 This group was an actual honor camp society while Gimogash in Toledo, which existed at the same time, was an older boy program year round and not just at the camp.

Members had meetings during the camp sessions. The group picture below appeared in the 1915 camp manual which means it was taken before 1915. The boys with armbands were members of the Mystic Circle.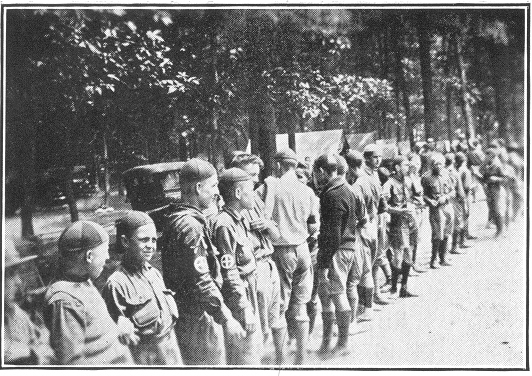 It is strongly believed to have originated in Kansas City where J. St. Clair Mendenhall was executive starting in 1912 until he came to Toledo in late 1914. It is possible that the picture is from the Kansas City camp as it is known a program existed there after Mendenhall left called the "Mystic C". The 1914 Toledo summer camp was a traveling camp that had three drownings during it's second day that included the council executive. It is not likely the picture was taken there although it could have been. If the picture was taken in Toledo, the program would almost certainly predate the Tribe of Gimogash. It would seem to date back to at least 1914 making it older than the Order of the Arrow as is the Tribe of Gimogash.





Material found on this page is the work of David L. Eby and used USSSP, Inc. by permission. This material may not be reproduced without the express permission of David L. Eby