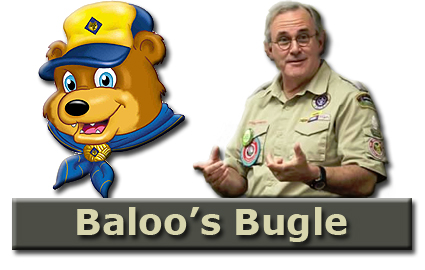 The latest issue is the February 2015 edition with March 2015 program information.

Welcome to Baloo's Bugle, your online Cub Scout Roundtable featuring monthly program hints for Cub Scouters.

Baloo's Bugle is a monthly collection of program helps for Cub Scout leaders. Each month a new edition is published with ideas for the following month's Cub Scouting theme near the beginning of each month. Each new issue is announced on the U.S. Scouting Service Project Blog.

Each month's issue features monthly theme stuff, training tips, Tiger activities, Pack and Den activities, traditions, Pack administration helps, fun foods, games, Webelos materials, and lots of stuff to make a Pack meting really sparkle like gathering activities, opening ceremonies, skits, stunts, cheers, songs, audience participation activities, advancement ceremonies, closings and Cubmaster minutes.

Materials found in Baloo's Bugle may be used by Scouters for Scouting activities provided that Baloo's Bugle and the original contributors are cited as the source of the material.

PLEASE NOTE: Links in the issues of Baloo's Bugle were valid at the time each issue was published, but may no longer be valid. The material is still useful, but we have not, and will not check the links to see if they are still valid, nor will we edit the material to provide new links.

Baloo's Bugle Index

2014-2015 Issues (August 2014 - July 2015)
2013-2014 Issues (August 2013 - July 2014)
2012-2013 Issues (August 2012 - July 2013)

2011-2012 Issues (August 2011 - July 2012)

2010-2011 Issues (August 2010 - July 2011)

2009-2010 Issues (August 2009 - July 2010)

2008-2009 Issues (August 2008 - July 2009)

2007-2008 Issues (August 2007 - July 2008)

2006-2007 Issues (August 2006 - July 2007)

2005-2006 Issues (August 2005 - July 2006)

2004-2005 Issues (August 2004 - July 2005)

2003-2004 Issues (August 2003 - July 2004)

2002-2003 Issues (August 2002 - July 20030

2001-2002 Issues (August 2001 - July 2002)

2000-2001 Issues (August 2000 - July 2001)

1999-2000 Issues (August 1999 - July 2000)

1998-1999 Issues (August 1998 - July 1999)

1997-1998 Issues (August 1997 - July 1998)

1996-1997 Issues (August 1996 - July 1997)