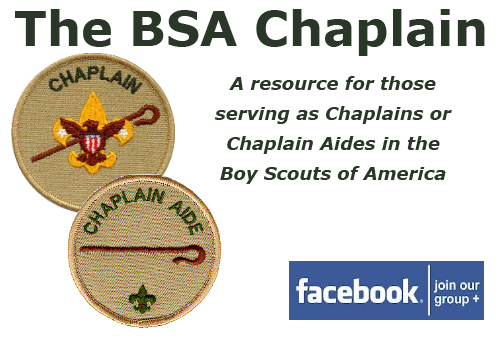 The FaceBook discussion group is the interactive portion of this site. Feel free to join the group and share you ideas, questions and answers. As this is Scouting related and faith based, please keep all posts and images appropriate.I will delete offensive material if I see it or if I receive a complaint. A Scout is Reverent.
Resource Links
Boy Scouts of America - BSA national website
American Heritage Girls - AHG national website (faith based alternative to Girl Scouts)
Girl Scouts of the USA - GSUSA national website
The MacScouter's Big 'A Scout is Reverent' Resource Book - I have printed this book twice and placed it in a binder for use with my own Chaplain Aids, in basic adult leader training and in Woodbadge. I think this is a "must have" for every unit.
"A Scout is Reverent" - Excellent site was developed as a Wood Badge project by Timothy B. Cargal, a Scoutmaster in the National Capital Area Council, BSA. He holds a Ph.D. in Religion from Vanderbilt University
Programs of Religious Activities with Youth - Religious emblems programs for protestant youth
Minsi Trails Chaplain Corps - Supplying Resources for Chaplains and Chaplain Aides
Eastern Orthodox Committee on Scouting
Members of the Churches of Christ in Scouting
National Association of Lutheran Scouters
National Association of Presbyterian Scouters
National Association of United Methodist Scouters
National Catholic Committee on Scouting
National Council on Islamic Scouting
National Jewish Committee on Scouting
If there is anything that you would like to see added to this page, please email me at content@bsachaplain.org