Material on this page may be dated. Please consult the following website for the most up-to-date information: http://www.praypub.org/
EPISCOPAL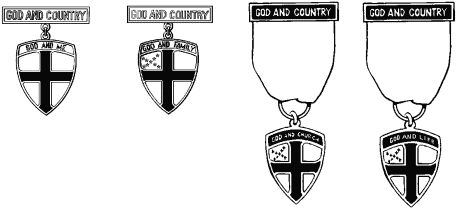 YOUTH EMBLEMS: RESOURCE PACKET NO.
TIGER CUBS God and Me T33604, T33603, T33606
CUB SCOUTS God and Me T33604, T33603, T33606
WEBELOS SCOUTS God and Family T33597, T33598, T33595
BOY SCOUTS God and Church T33599, T33600, T33596
SCOUTS/VENTURERS (14 & OLDER) God and Life T33609, T33610, T33605
ADULT AWARDS: Saint George Award 17-108
ABOUT THE EMBLEMS:
For more detailed information concerning the requirements of the God and Me, God and Family, God and Church, and God and Life religious emblems, look under the heading "Protestant" in Part 2 of this book.
SCOUTING ASSOCIATIONS:
National Association of Episcopal Scouters

Amo Kearns, Chairman

P.O. Box 6574

High Point, NC 27262
RESOURCES:
Boy Scouts of America, Relationships Division, The Saint George Award of the Episcopal Church (1991) [Can be ordered from PRAY].

Episcopal Church Supplement (for the God and Church emblem).

Episcopal God and Country Commission, Suggested Guidelines (Guidance on establishing a Diocesan Scouting organization).

Episcopal Scouting (Episcopal Scouting Available at $6.50 a copy from Robert W. Rapp, 2043 Brannon Drive, Austell, Georgia 30106-2900 Telephone 1-770-948-8538).

Additional resources may be found under the heading of "Protestant" in Part 2 of this book.
WHERE TO WRITE FOR MORE INFORMATION:
P.R.A.Y.
P.O. Box 6900
St. Louis, Missouri 63123
1-800-933-PRAY