DEDICATION AND PRAYER
This book is dedicated to the hundreds of religious advisors, religious emblem counselors and Scouters who have given and continue to give Scouts of all ages the opportunity to grow spiritually and better understand their duty to both God and their country.
AS YOU READ AND USE THIS BOOK, KEEP THE WORDS TO THIS SIMPLE SCOUTER'S PRAYER IN MIND:
Lord, who am I to the lead the way-
to eager boyhood day by day,
so prone, myself, to go astray?
I teach them love of all mankind
and all God's creatures, yet I find
my love comes lagging - far behind.
Still, if their leader I must be,
Lord, let these eager children see
their leader - leaning hard - on thee.
AMEN.
Michael F. Bowman
Michael F. Bowman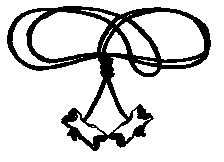 Jim Bryant
Jim Bryant