July 2007 Cub Scout Roundtable Issue

Volume 13, Issue 12
August 2007 Theme

Theme: A Century of Scouting
Webelos: Naturalist & Forester
Tiger Cub Activities
PACK AND DEN ACTIVITIES
Baltimore Area Council
Neckerchief slides from Lorie McGraw's Website (http://www.etowahcreek.com/slides.htm)
Knot Sampler Neckerchief slide
Start with your basic tree cookie. I prefer to keep them in the 2" diameter range. (My saw has a maximum cut of 3"). A 2" square of thin modeler's plywood would also work.
I finished the wood by burnishing it. That means rubbing it with something hard until it gets smooth and shiny. You could also use wax or some other type of wood finish.
Using darning thread, or very light yarn, of contrasting colors (blue and gold work well), tie 5 or 6 different knots. Use knots appropriate to the Leader (Square knot, bowline, sheet bend, two hitches, taut line hitch, clove hitch, timber hitch, overhand knot, figure 8, etc.) Glue knots to the front of the tree cookie.
Name plates for these knots are created using a laser jet printer and text in 3 or 4 point font. Cut them out and glue below each corresponding knot.
Glue a ring to the back of the tree cookie. I suggest ½" PVC.
Mini Clipboard
Cut a rectangle of thin plywood about 1 x 2 inches (paint stick, or laminate sample, too). Stain and varnish to taste. Screw a small spring clip to the top. (or use a binder clip) Attach something to the back to hold the neckerchief--I used a small ring of metal but you could use a ring of leather or a ring of plastic pipe.
Get some of the smallest post-it notes--I think they're about 1 x 3/4 inch. It not only looks good but it's handy--you always have some paper
Useful Slides
Make a slide that will hold a neckerchief and perform some other function:
You can take a film canister, pill box, small plastic box (such as those with magnifying glasses built into them), or other small container and attach a ring to the back- either with hot glue, epoxy, screws, bolts, rivets, etc. depending on the container and make a carrier for:
First-aid kit
Survival kit
Repair kit
Fire-starter kit (camping only, OK?)
Make a Display Slide as described above and attach a whistle on a short chain or with Velcro so you can still work it without removing the slide.
Wrap thin, strong cord (mason line, parachute cord, etc.) around a plain tube base- leather, pipe, even cardboard. With a little practice, the string can be wound attractively, and you will have a pretty long chunk for emergencies.
A simple, inexpensive watch can be made into a slide so you will always know the time .
More den and Pack Activities
Alice from California
To honor Baden-Powell's original purpose, teach survival skills such as making a bedroll, a makeshift backpack, what to do if lost, how to build a fire, make a camp stove, etc. Show off your projects at the Pack Meeting.
Invite a Boy Scout Troop to come and demonstrate Scoutcraft and lashing skills
Invite everyone to come dressed as if living in another era – sometime between 1910 and today. Play a Scouting timeline or Scouting Trivia game or play games, sing songs, eat treats from Baden Powell's era.
Invite an old-time Scouter to come and share his memories – or contact a scouting memorabilia collector to come and "show and tell" – Check with local Scouters at Roundtable or your local reference librarian to find someone
Interview grandparents about scouting, school, entertainment, transportation as they knew it. (Look for some hints under Living History Interviews) This could be an assignment to individual scouts (but be sure everyone has someone to interview – provide someone for those without grandparents) You could even have a panel at the pack meeting and ask pre-arranged questions, as well as audience ones. Have a parent record the event by video cam.
Set up an art gallery at the pack meeting. Use Norman Rockwell scout paintings and other images from scouting websites. Boys could serve as docents, with each boy standing next to one picture, ready to tell the story of the image. This would be a fun way to tell the history of scouting. If you have a portable microphone, it could be passed around from docent to docent so everyone can hear each story.
Do a living history event – have someone come dressed as Baden Powell – tell his story or parts of his story. You could even use pictures, maybe the ones from Baden-Powell's own notebooks. Other founders, such as William Boyce, could be included.
Invite an artist to come and teach basic drawing skills to everyone – in honor of Baden Powell, who kept journals with sketches and taught his scouts to do so as well. "….something might, I think, also be done towards developing the boy's mind by increasing his powers of observation, and teaching him to notice details." (Baden-Powell). Give each boy a journal to use. This would be even better outdoors or during a campout, where natural objects could be used as the subject of the drawing. You might also show some of Baden Powell's own sketches as examples. http://clipart.usscouts.org/library/ (scroll down to several BP sketch categories)
Make a slide show or power point presentation of the scouting timeline, using images from the past and the present as comparisons. Let each den have a part in choosing and setting up images and learning how presentations are prepared. Show the final product at the pack meeting.
Set up a display of Scouting in a local school, museum, library, community center or storefront – Make sure you have a good background, either flags or a screen, put items at different levels for a more interesting view (avoid just laying objects down on the surface), use good, clear signage and labels (see if you have a parent with talent in setting up displays). Make sure you put up and take down the display when agreed upon, and send a prompt thank you. Put a well-made sign with your den or pack information and a contact name and number in the front of the display.
Have your pack meeting around the campfire. Use the agenda from one of the old-time campfire programs on the, use stunts, songs and ceremonies from Baden-Powell and Seton. (Maybe the campfire could even be led by one of the famous scouts)
Assign each boy or each den to a particular scout, such as Baden Powell – or maybe just a certain part of his life – then a parent or adult can help each boy find information to share in books or on the computer. (Be sure each boy has help) Include pictures – and show off the results at the pack meeting.
Have the boys draw and cut out silhouettes of famous Scouters – either real ones like Baden Powell and/or general categories, like Eagle Scout or Tiger Cub. As the boy holds up his silhouette, the narrator can tell the story of scouting – and its history.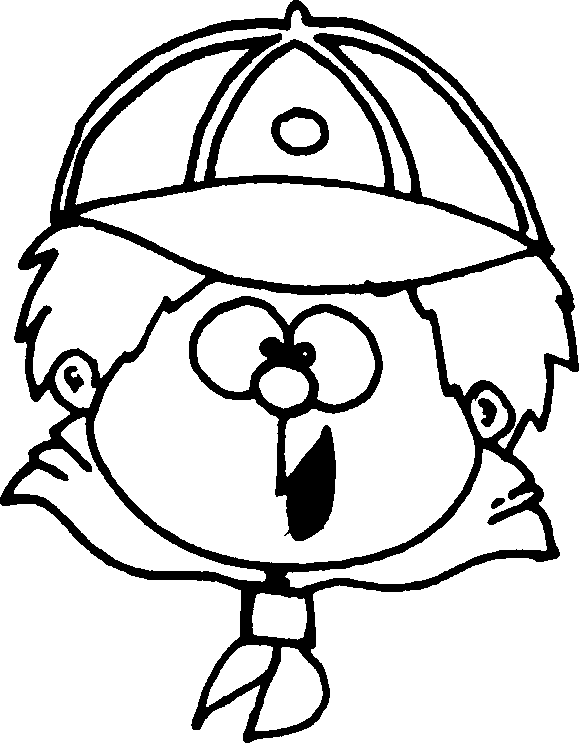 Another version of the above – Set up a white sheet and have the boys practice standing or sitting motionless behind it as they act out in "freeze" positions some scenes from the past, present and future of scouting. (Unknown scout helping William Boyce in the London fog, Baden Powell instructing his scouts, etc) Have a powerful light to focus on each scene when it's ready, while the narrator reads off some information about the story being portrayed.
To honor a Century of Scouting, have a "Scout's Own" or just collect funds for World Friendship Fund. You might check to see if your council has a specific program to help in a certain area.
TOILET PAPER ROLL STAND-UP FIGURES
Great Salt Lake Council
INSTRUCTIONS:
1. Copy figure pattern onto cardstock.
2. Draw details onto pattern.
3. Color and cut out. Laminate if desired.
4. Optional: Use cardstock or construction paper scraps to add details to figures.
5. Make them stand by rolling around a toilet paper tube. Tape or paper clip at the top and bottom.
Enlarge as needed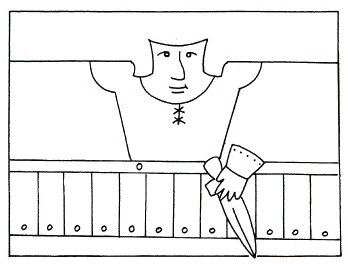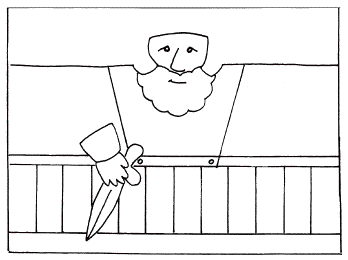 Crafts
Cub Journals
Purchase notebooks with a cover at a dollar store. Cover your journals with brown paper and let the boys choose how to decorate their Scout journal, using nature materials, sketches, or marker drawings. Remind them that Baden-Powell always kept a journal, and liked to write and draw what he had seen and done. You could even show them some of his drawings.
Twig Easel
All you need are three long twigs and a short one, (clippers or scissors if you have thick twigs), some twine or string, and a glue gun


(optional, but saves time) Form a triangle from a short twig and 2 long ones, and use glue and twine to tie them together. (You can practice lashing techniques) Attach the 3rd long twig at the top to form a tripod. You could use the same idea to make a frame for a photo or art project you want to display.
This is an easy craft – I once did it on the spur of the moment for Roundtable – picked up twigs in my front yard and just broke them by hand! – any size will work - Alice
By the Hundreds
Start with 100 of almost anything, from paper clips to cheerios to toothpicks - each boy makes an art project using his 100 – either make a 100 symbol or anything he chooses – it could be on a paper or three dimensional. Supplies should also include scissors, colored paper and glue. Display your 100 projects at the Pack Meeting to celebrate a Century of Scouting.
Helping Hands Tie Slide
Materials: Cardboard, Permanent marker, Scissors, Paper glue stick, regular white glue or low temp glue gun, 4" pipe cleaner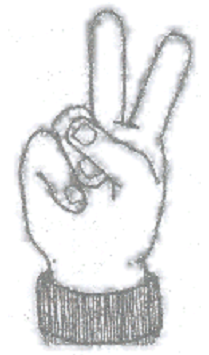 Directions: Write "Helping Hand" across the hand pattern and make copies for each boy. Cut out the pattern, color in with markers if desired, then glue to cardboard with paper glue and glue pipe cleaner on back for a holder. Brush several layers of white glue on the image to protect it.
SMALL SCRAPBOOK TO CELEBRATE CUB SCOUTING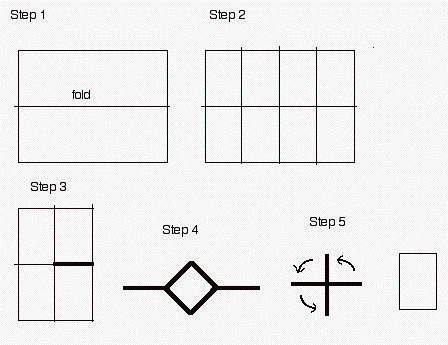 Materials
One 8x12 sheet of card stock or heavy paper per Cub
Scissors
Photos, stickers, small mementos etc.
Directions
Fold 8 x12 paper in half lengthwise and crease the fold very well.
Fold the paper in half and again in half, so that when it is opened it looks like the figure in step 2.
Fold the paper in half width wise again to match the figure and carefully cut on the folded side where the bold line is.
Open the paper and fold again in half the lengthwise direction.
Take a hold of the folded edges and push gently as the center opens and begins to make a diamond shape.
Continue pushing the paper until the diamond closes, then continue folding the paper into the final book shape.
Decorate pages with photos, stickers etc. Within the little book there will be two pages that can be glued together, or fold one of the sides in to make
Cover:


Materials
• 4 x 12 inch strip of card stock or heavy paper.
• Velcro dots or two pieces of twine or ribbon for clasp of book.
Directions
Fold the card stock into thirds to fit around the scrapbook pages.
Attach the last page of the book to the cover.
Decorate cover as desired and attach the Velcro dots or twine to close the book.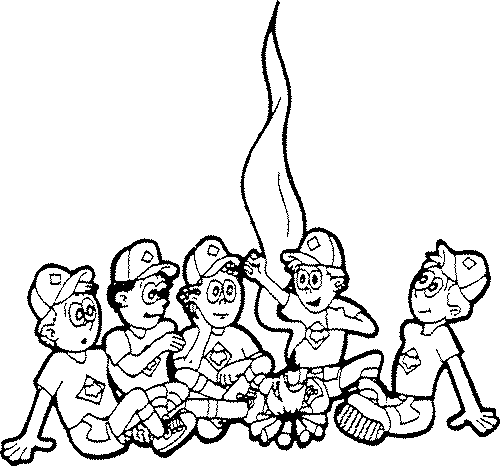 Materials found in Baloo's Bugle may be used by Scouters for Scouting activities provided that Baloo's Bugle and the original contributors are cited as the source of the material.