July 2007 Cub Scout Roundtable Issue

Volume 13, Issue 12
August 2007 Theme

Theme: A Century of Scouting
Webelos: Naturalist & Forester
Tiger Cub Activities
ADVANCEMENT CEREMONIES
Baltimore Area Council
Cubmaster: Scouting began in England in 1907 with a small group of boys. Lord Baden—Powell, our founder, took these boys to Brownsea Island, off the coast of England for 12 days of adventure in camping and pioneering. He was testing an idea for an organization for boys. That was how Scouting began.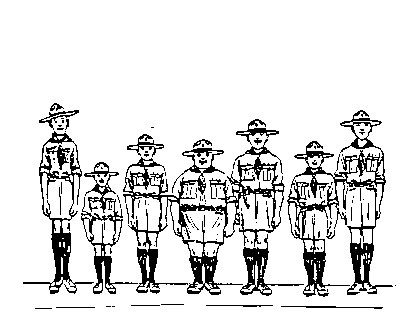 Tonight, we have some boys who are beginning their adventure in Cub Scouting. (Call names of Bobcat candidates and have them come forward with their parents.) Baden—Powell based his idea for Scouting on some principles which he had been taught as a boy. . things like trust and loyalty, helpfulness and courtesy, cheerfulness. In Cub Scouting, we have these same principles encompassed in the Cub Scout Promise and the Law of the Pack. Will you repeat with me the Cub Scout Promise? (They do.) Now, I'll ask all the Cub Scouts here tonight to stand, give the Cub Scout sign, and repeat the Law of the Pack. (They do. Cubmaster presents Bobcat badge to parents and congratulates boys and parents.) You boys have now started your Scouting adventure, just like the boys on Brownsea Island.
A Chicago publisher, William Boyce, was lost in a London fog. A boy appeared and offered to take him to his destination. Mr. Boyce offered him a tip, but the boy said, "Scouts do not accept money for doing a good turn." Mr. Boyce was interested in Scouting and was responsible for starting it in America.
We have some boys here tonight who have been doing their daily good turns, and have been working hard on achievements and electives, so that they now have earned Wolf badges and Arrow points. (Call boys and parents forward to receive awards.) Your Wolf achievements and electives are helping you along the Scouting trail.
Scouting had been in America for only a few years when younger boys and their parents asked for a program of their own. That's when Cub Scouting started. The first year there were 5 thousand Cub Scouts, and now there are almost 2 million Cub Scouts in this country. Scouting was really growing.
There are some boys in our pack who are really growing too. They have completed the requirements for Bear badges and Arrow points. (Call boys and parents forward to receive awards.) You are moving along the Scouting trail.
Baden-Powell left a message for Scouts before he died. In that message he said: "Try to leave this world a little better than you found it." We have some Webelos Scouts in our pack who are doing just that. They have been working hard in the different activity badge areas, exploring fields of knowledge, which will be helpful to them all their lives. (Call boys and parents forward to receive awards.) Congratulations. Continue to do your best along the Scouting trail.
Scouting has spread to 104 different countries of the world. Tonight, we're celebrating the history of Scouting in America, and kicking off a year-long celebration of the 100th anniversary of the Boy Scouting movement. From that small group of 20 boys on Brownsea Island, Scouting has grown to more than 12 million boys and adults around the world. You can be proud to be a member of such a fine, world—wide organization.
Legendary Advancement Ceremony
Santa Clara County Council
It is well known that Tigers are very powerful. They can leap ten feet in a single bound. Their roar can be heard a mile away. Would the following awesome Tigers and their partners please come forward? These Tigers have explored big ideas and hunted excitement.
Our legendary Wolves can be heard howling. Wolves are persistent hunters and social animals. Would the following Wolves and their parents please come forward? These wolves have demonstrated their hunting skills by completing the Cub Wolf trail.
Bears are famous for their might. They are also known for being cuddly. Our Bears are known for their sharp claws and skill at sharpening and taking care of knives. Just as bears in the wild forage for food, these Bears shared their cooking expertise with their den. Would the following Bears please come forward?
Webelos are mysterious creatures. They are legendary for their energy and enthusiasm for fire building. Our Webelos are no different. They have mastered the requirements for the Webelos badge. Would the following Webelos and their parents please come forward?
Wolf's or Bear's Teeth Ceremony
1997 WLACC Pow Wow Book
Props: Set of plastic vampire teeth from a novelty shop -one for each boy.
CM: Would (scouts name) and his parents please come forward?" (Hand each Scout the teeth and ask him to put them in his mouth) Even though these teeth are only plastic, they resemble the teeth of the ferocious Wolf (Bear). Do you know what the two long teeth are called? (Let him answer with the teeth in his mouth for fun) The Wolf (Bear) uses these teeth to grip its' prey, and then its' powerful jaws clench tightly around it so that it cannot get away.
During the past few months you and your parents have been working on your Wolf (Bear) Rank, and now that you have completed all the requirements for that award, you have it in your 'Teeth' and it will never get away from you! Just to show you that you have 'Caught Up' with your 'Prey' and caught it, I will put this award between your 'Teeth' and let your parents take it from you to present to you! Don't bite them now...... Congratulations on a successful hunt! Now focus on your next target, that of Bear (Webelos) Scout and don't let it out of your sight!"
The Webelos Legend
1997 WLACC Pow Wow Book
(This could be used to introduce Webelos Advancement, as a skit, or as a closing – with the boys then forming the Living Circle and repeating the Promise – Do it with a lot of drama, and sound effects would be great!- Alice)
Hear now the Webelos legend; the tale of the Webelos tribe; the tale of Akela, its Chieftain.
"Hoo", called the owl in the darkness; the Mowgli the Native American boy lay in his teepee and listened tothe rustle of the trees in the night. "Boom" went the deep muffled beat of the great ceremonial drum. The braves of the tribe were convening. He wished he could answer that call. Quick, like the flight of an arrow; quiet, in the hush of the night; before a great fire ring they gathered, awaiting Akela, their Chief. Here in the great Council Ring Fire, on top of the cliff there they met. Here often they came for decisions. Here, too, the Great Spirit is sought.
Here they sought help from the Spirit on hunt or on warpath; in peace. Here they met their Chief Akela; awaited his final decree. Now with the "boom" of the big drum all was quiet; the night was quite still. The great ceremonial fire, when lighted, illumined the hill The Tom-toms began, set the rhythm. Akela stepped into the Ring. First low and slow, then..like thunder, they beat as he danced near the fire.
Dancing with grace, full of gesture, in costume, he old of his life. He told of the strength of his father, the powerful "Arrow of Light." "Kind Eyes", his mother, taught those things that only a mother can know. He once saved her life with his arrow; his father helped fashion his bow.
The tom-toms beat on and his dance told of trips to the forest, where Wolf taught him the ways of the wild life, of the ground, of the tracks, ways to food. Through dancing and gesture, he told how he next faced the Bear and learned the meaning of courage; and then he became a young Scout of the trail.
Akela, the wise, closed his dance. By sign and by gesture he told how the tribe can be strong only when the boys of the tribe are strong. He said this: "The future is hidden but if we are strong and brave, if we can teach our boys to be fair, our tribe will continue to be strong. Let us name our tribe for the Bobcat, the Wolf, the Bear and the Scout. The Webelos tribe we'll be called and the strongest of all we will be.
Akela thus ended his dance. The beat of the tom-toms was stilled. In the silence the warriors stood; and gave the great guttural howl. The fire burned low; all was still. No sound broke the hush on the hill, save the crackle of embers and all the mysterious half noises of the night. The braves raised their right hands toward heaven. A "Living Circle" was formed with their left. The Webelos pledged "On My Honor I Will Do My Best"
This then is the Webelos legend. This then is the reason they're strong. They honor the pledge which they make.

Materials found in Baloo's Bugle may be used by Scouters for Scouting activities provided that Baloo's Bugle and the original contributors are cited as the source of the material.