June Cub Scout Roundtable Issue

Volume 14, Issue 11
July 2008 Theme

Theme: H20hhh!
Webelos: Aquanaut & Geologist
Tiger Cub Achievement 2
SPECIAL OPPORTUNITY
The National Summertime Award

Incentive for summer planning is the National Summertime Pack Award, an attractive, full-color certificate, and the National Summertime Pack Award streamer for the pack flag. These can be earned by packs that conduct three summer pack activities - one each month during June, July and August.
Dens with at least 50 percent of their members at the three summertime activities receive a den participation ribbon. Individual Cub Scouts who attend all three activities can be recognized by their pack with the National Summertime Award pin.
The Cubmaster or pack committee secretary should keep a record of all summer pack activities on the chart in the National Summertime Pack Award Planning Guide. Submit the application section of the record sheet for approval by the camping and activities or Cub Scout committee of the local council. Make arrangements for the den, pack and individual Cub Scout awards to be presented at an early fall pack meeting.
If your pack has not already planned some activities this summer, DO IT NOW! Go fishing or hiking in June, day camps and WRC are in July, and have an ice cream social, family picnic or family camping overnight in August. Remember, you will need to promote and remind parents of your events to make sure they remember to attend!
You can download the form with all the instructions and requirements from National's Website at
http://www.scouting.org/filestore/pdf/33748.pdf
Boys' Life Reading Contest for 2008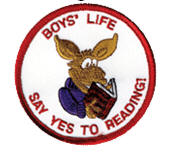 SAY 'YES' TO READING
Enter the 2008 Boys' Life Reading Contest
Write a one-page report titled "The Best Book I Read This Year" and enter it in the Boys' Life 2008 "Say Yes to Reading!" contest.
The book can be fiction or nonfiction. But the report has to be in your own words — 500 words tops. Enter in one of these three age categories:
­ 8 years old and younger
­ 9 and 10 years old
­ 11 years old and older
First-place winners in each age category will receive a $100 gift certificate good for any product in the Boy Scouts official retail catalog. Second-place winners will receive a $75 gift certificate, and third-place winners a $50 certificate.
Everyone who enters will get a free patch like the one shown above. (And, yes, the patch is a temporary insignia, so it can be worn on your Cub Scout or Boy Scout uniform shirt, on the right pocket. Proudly display it there or anywhere!) In coming years, you'll have the opportunity to earn different patches.
The contest is open to all Boys' Life readers. Be sure to include your name, address, age and grade in school on the entry.
Send your report, along with a business-size, self-addressed, stamped envelope, to:
Boys' Life Reading Contest
S306
P.O. Box 152079
Irving, TX 75015-2079
Entries must be postmarked by Dec. 31, 2008 and must include entry information and a self-addressed, stamped envelope.
For more details go to www.boyslife.org
Knot of the Month
Cub Scouter Training Award
Kommisioner Karl

The Cub Scouter Award is available to all registered adult leaders in the Pack, including committee members. The requirements focus on building a better or more effective Pack program. You must complete two years a registered Scouter, fast start, basic and specific training for any position, and be current with Youth Protection Training. In addition, you must complete 5 of 10 options for providing leadership to the pack, via planning special events, training, promoting program basics or assisting program ideas for other leaders. For a downloadable progress record and to see these options, go to:
http://www.scouting.org/filestore/pdf/34169-54.pdf
Chances are, if you are working as a den leader in your Pack; you will complete these requirements over the two years that you are not earning your Den Leader and Webelos Leader awards. You may have Pack Committee members that have done this as well, so get them to training and get them their recognition!
For information on all Cub Scout Leader Awards go to:
http://www.scouting.org/cubscouts/resources/CSLeaderRecAwards.aspx

Materials found in Baloo's Bugle may be used by Scouters for Scouting activities provided that Baloo's Bugle and the original contributors are cited as the source of the material.