September 2007 Cub Scout Roundtable Issue

Volume 14, Issue 2
October 2007 Theme

Theme: Down on the Farm
Webelos: Citizen & Showman
Tiger Cub Requirement 1
SPECIAL OPPORTUNITY
Recruiter Strip

Since all packs are involved in recruiting, I thought it would be appropriate for September to remind you about an incentive award for boys to get their friend to join Scouting. See Pack Admin Helps for ideas for Spring Recruiting. - CD
Cub Scouts and Boy Scouts may be awarded, and wear, below the right pocket on their uniforms, the Recruiter Strip shown above
There are NO formal requirements for these strips. Each Unit establishes the procedure for awarding the strip. Usually, a Recruiter Strip is awarded to a Cub Scout or Boy Scout the first time he is successful in getting a friend, relative, classmate, or other acquaintance to join his unit.
Typically, only ONE strip is awarded to a boy while he is a Cub Scout, and another may be awarded while he is a Boy Scout. But there is no official limit.
From time to time there are special Recruiter Patches issued. I have seen Football Helmets, Garfield, and others.
Just remember – A boy has to be having fun in Cub Scouting before he will ask his friend to join.
Boys' Life Reading Contest
Enter the 20th Boys' Life Reading Contest Now!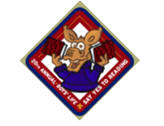 Write a one-page report titled "The Best Book I Read This Year" and enter it in the Boys' Life 2007 "Say Yes to Reading!" contest.
The book can be fiction or nonfiction. But the report has to be in your own words—500 words tops. Enter in one of these three age categories: 8 years old and younger, 9 and 10 years old, or 11 years and older.
First-place winners in each age category will receive a $100 gift certificate good for any product in the Boy Scouts Official Retail Catalog. Second-place will receive a $75 gift certificate, and third-place a $50 certificate.
Everyone who enters will get a free patch like the one above. (The patch is a temporary insignia, so it can be worn on the Boy Scout uniform shirt. Proudly display it there or anywhere!) In coming years, you'll have the opportunity to earn the other patches.
The contest is open to all Boys' Life readers. Be sure to include your name, address, age and grade on the entry. Send your report, along with a business-size, self-addressed, stamped envelope, to:
Boys' Life Reading Contest, S306
P.O. Box 152079
Irving, TX 75015-2079
For more details go to www.boyslife.org
Entries must be postmarked by Dec. 31, 2007
Knot of the Month
Den Leader Training Award
Kommissioner Karl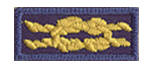 This award recognizes the commitment a Den Leader makes to putting on quality program. In order to receive the award, a person must:
1. Be a registered Den Leader for at least 1 year,
2. Be youth protection, cub leader specific and fast start trained,
3. During your tenure attend at least 4 Roundtables or 1 Pow Wow or University of Scouting
4. Meet at least 5 of 10 performance requirements, such as:
A: Have 50% of your boys advance in rank in a program year,
B: Re-register at least 75% of the eligible members of your den,
C: Graduate at least 60% of your boys to Webelos,
D: Have an Assistant Den Leader that meets with your den,
E: Have a den chief who meets regularly with your den,
F: Plan and conduct a den service project.
For more information on the requirements and a downloadable progress record for you to complete, go to:

Materials found in Baloo's Bugle may be used by Scouters for Scouting activities provided that Baloo's Bugle and the original contributors are cited as the source of the material.