August 2008 Cub Scout Roundtable Issue

Volume 15, Issue 1
September 2008 Theme

Theme: New Buddies
Webelos: Citizen and Communicator
Tiger Cub Achievement 1
WEB SITES
Alice, Golden Empire Council
http://www.makingfriends.com/concraft.htm - originally set up after 9/ll as a way for kids to share friendship with kids in crisis, with all kinds of crafts, activity ideas, including a section for scouting
Click on "scout friends" for free printables that let you personalize, add badges to make your own den, either tigers or cubs. Great for a craft project or decorations for the pack meeting! Other countries, scout programs as well! See a sample above
Using their instructions and printouts, you can make flat "paper-doll" type scouts, or even 3-D ones with real clothes!
http://www.shykids.com – created to help kids learn how to find friends; includes great book listings by age range, even parents and links to animal lovers, games, activities and printouts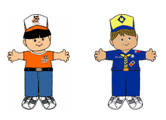 http://www.pbskids.org/zoom - printables, games, ideas for kids and parents, flip books and other activities to do with a friend; environmental ideas to share
http://life.familyeducation.com/manners-and-values/parenting/34452.html - great ideas on how to teach good manners, good sportsmanship, how to make introductions, gift giving, delivering compliments and criticism, including a quiz about table manners and "living" manners
click on "scouting" under People and Lifestyles for links to scouting all over the world, from New Jersey to Scotland – either just to see how scouting works in other areas, or to set up a pen pal exchange on one-time exchange
http://www.studentsoftheworld.info – pen pals of the world, info. about kids in other cultures, go to "Links" for some good websites
San Juan Capistrano This mission has a program for Scouts posted on their website. If you know of something similar by you, send me the link, please.
http://www.missionsjc.com/scouts.html
Explore the Outdoors
You might have a similar program with your state.
http://exploretheoutdoorsohio.com (Thanks to Carol)
Craft ideas for Scouts
http://www.makingfriends.com/scouts/scouts_boys_all.htm
Astronomy - This site shows how small our world is to all that exists. It is great teaching tool. Kids will easily master this site. Its great to see all God has made and know somewhere out there is where all who believe will spend eternity. www.worldwidetelescope.org
FLAG AND FLAG CEREMONY RESOURCES
The United States Flag page
www.usflag.org
Pictures and history of all the American flags
www.ushistory.org/betsy/flagpics.html
History of the U.S. Flag, with pictures of the old flags and lyrics to patriotic songs
www.hightowertrail.com/FlagDay.htm
Flag folding traditions
www.HightowerTrail.com/Flagfolding.htm
Displaying and Caring for the flag
www.scouting.org/media/flag
American flag ceremonies
www.geocities.com/flag_of_usa/american_flag_ceremonies.htm
American flag page, with history, etiquette, songs and ceremonies from Wood Badge C-37-02 Beaver Patrol
www.bsa-grc.org/flag/index.html

Materials found in Baloo's Bugle may be used by Scouters for Scouting activities provided that Baloo's Bugle and the original contributors are cited as the source of the material.