April 2008 Cub Scout Roundtable Issue

Volume 14, Issue 9
May 2008 Theme

Theme: Leaf It to Cubs
Webelos: Outdoorsman & Artist
Tiger Cub Activities
FOCUS
Cub Scout Roundtable Leaders' Guide
Cub Scouts will learn about the wonders of nature's gift to us-a tree! They will learn to identify trees by their shape and leaf design and learn how trees are used to help them in their daily lives. Boys and their families can adopt a tree or plant one and watch it grow. Dens or packs could participate In the local Arbor Day activities, or visit a nature center, forest preserve, or local park. Cub Scouts can work on the Collecting belt loop and pin.
CORE VALUES
Cub Scout Roundtable Leaders' Guide
Some of the purposes of Cub Scouting developed through this month's theme are:
Good Citizenship, Boys will learn the importance of protecting trees and planting trees in their neighborhoods.
Friendly Service, Through participation in a service project such as adopting a tree or a tree planting, boys will give back to their community and the world.
Preparation for Boy Scouts, Boys will prepare to be boy Scouts when they learn the importance of respecting nature and the Outdoor Code.
The core value highlighted this month is:
Perseverance, Just as a tree starts small and grows mighty, boys will appreciate that they must work each day to grow into the best citizens they can be.
Can you think of others??? Hint – look in your Cub Scout Program Helps. It lists different ones!! All the items on both lists are applicable!! You could probably list all twelve if you thought about it!!
Attention Bear Leaders –
Your bears become Webelos on June 1. Are you ready?? Be sure to take Webelos Leader Position Specific and Outdoor Webelos Leader Training as soon as possible. Sign your Cubs up for Webelos Resident, if your council offers it!!! If they don't, sign them up at a neighboring council's camp (e.g. Southern NJ's at Pine Hill Scout Reservation!!!)
COMMISSIONER'S CORNER
Boy what a great theme. Get our Cubs outside exploring nature and the differences in all the trees. I love wandering through the woods and seeing how things grow and change.
Plus, this theme gives me a chance to print my favorite poem for all of you – Trees by Joyce Kilmer. It begins -
I think that I shall never see
A poem lovely as a tree.
You can read the whole thing in Scouter Jim's Thoughtful Stuff column. Thank you Scouter Jim for including tha poem. And good luck on your upcoming Wood Badge staff experience!!
I learned something about leaves this month, too. There are a lot of them in desert!! The deserts here on southern California where I am for 10 weeks or so are beautiful this year. I have been to Anza Borrego and a place with a lot of trees like the one below -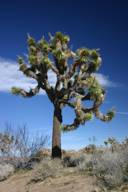 That is a Joshua Tree in Joshua Tree National Park. So named because the branches raise skywards like Joshua's arms as the Israelites entered the promised land.
I thank Judy, the CS RT Commissioner for the Las Colinas District in the Western LA County Council for sending me information on desert plants and opening my eyes to their beauty and usefulness to this theme. Being an easterner all I could think of was oak and maple leaves and plants and such.
And speaking of Roundtables – I had a great time at two Roundtables last month – The River Valley District with Rosie and Carrie and the Grayback District with Ruth and Monica. Both are in the Inland Empire Council. Ruth and Monica even asked me to help with their "Leaf It to Spring" RT in April. I will be there!!
Met a very new leader at one of the RT's during a breakout when we were discussing Outdoor Activities. She said she never realized you could Cub Scouts outdoors!! She was so happy because she had so many places she wanted to take them. Please RT Commissioners, keep stressing that Outdoor Activity each month at your RT's!!
I have been attending Christ the King Lutheran Church in Redlands, CA. Very friendly people. They called me up to help decorate the church for Palm Sunday. I was at Anza Borrego at the time so had to say No, thank you. Then on Sunday morning when I walked in I was amzed, very large palm branches along both sides of the church and across the front. Beautiful!!!. I ythought, this must be a good church that can afford all those palms. Found out from Larry who called me to help, they were cut down in his yard. No cost at all. I will never get used to Southern California. But I am enjoying it (obviously!!)
I attempted to empty my mailbag and catch up on responses. I think I came pretty close. So if you have written me recently and have not received a personal note, look for your items this month.
Another backlog item, the SNJC Pow Wow was finally issued. I will be mailing it out, or posting it somewhere to download, when I return from Loma Linda, CA, in May. Apologies to all who sent me Pow Wow CDs for being so late but our CD production was delayed and now I am away.
Do NOT miss the item on Zip Loc ® Bags in Cub Grub. Boil in Bag Omelets should go the way of Nash, Hudson,
Henry J and Studebaker cars.
A big thank you to Debbie of Baltimore Area Council whom I met and ate lunch with at their Pow Wow. She sent me the greatest pictures from their Blue and Gold of their Dragon Parade and Chinese New Year advancement ceremony. I really appreciate knowing when someone uses the ideas from Baloo.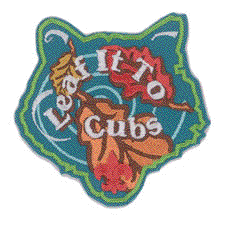 National makes a patch for every Cub Scout Monthly theme. This is the one for this theme. Check them out at www.scoutstuff.org go to patches and look for 2008 Cub Scout Monthly Theme Emblems.
Months with similar themes to
Leaf It to Cubs
There has only been once before that the theme specifically looked at trees, May 2000. I included months with general nature themes in this list. Every year there are nature themed months. Bugs, weather, birds, animals, and gardens have been used. So if you want more info, just look for Nature themes in old Program Helps or Baloo's Bugles.
Dave D. in Illinois
| | | |
| --- | --- | --- |
| Month Name | Year | Theme |
| August | 1940 | Natural Adventures |
| July | 1942 | Nature |
| June | 1945 | Nature |
| August | 1948 | Nature |
| August | 1951 | Nature |
| October | 1953 | Indian Summer |
| September | 1956 | Cub Scout Naturalist |
| April | 1964 | Cub Scout Naturalists |
| April | 1975 | Cub Scout Naturalists |
| August | 1987 | Back to Nature |
| May | 1994 | Back to Nature |
| May | 2000 | See the Forest for the Trees |
| May | 2006 | Diggin' in the Dirt |