April 2008 Cub Scout Roundtable Issue

Volume 14, Issue 9
May 2008 Theme

Theme: Leaf It to Cubs
Webelos: Outdoorsman & Artist
Tiger Cub Activities
TRAINING TIPS
Get Your Cubs OUTDOORS!!
Every Month!!!
Bill Smith, the Roundtable Guy
The best Cub Packs I have seen over the years have been those that regularly schedule outdoors activities. These are packs that attract and keep kids as members, packs that always seem to have lots of leaders. A common characteristic of these good packs is that they are always doing things. They have activities beyond the usual pack and den meetings. A month rarely goes by when they are not out on a tour, a service project, a hike or a campout.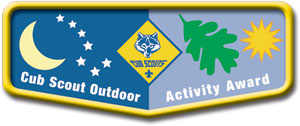 Check out the Outdoor Activity Award in last month's Bugle.
ENJOY THE SEASONS
Winter is a fine time for bird-watching. Follow and identify bird tracks, look for nests, set out bird feeders. It's a time to identify trees without their leaves. And in some parts of the country it's a time to play in the snow; to build snow people, forts, and igloos; to go ice-skating, sledding, and sleigh riding; and to help others by shoveling sidewalks.
The above paragraph was taken from the Cub Scout Leader Book. More Enjoy the Seasons ideas can be found in the Cub Scout Leader Book for sale at your Council office.
What you do and when you do it depends, of course, on the climate in your part of the country. I remember visiting an April Roundtable in Gulf Ridge Council in Florida where they were discussing plans for summer pack activities. Most of the talk was about the best air-conditioned bowling alleys in the district. I learned that they do their pack camping there in January and February when the weather is pleasant and there is no danger of hurricanes.
Going outdoors is one of the most exciting parts of Scouting. Cub Scouts enjoy many outdoor experiences as they participate in the variety of activities that can be held outside, such as field trips, hikes, nature and conservation experiences service projects, and camping experiences.
The outdoors is an ideal environment for boys to be able to develop positive qualities such as resourcefulness, ingenuity, self-reliance, team spirit, and an awareness of and appreciation for the natural world around us.
The study of nature in its natural surroundings is an ideal way to encourage boys to appreciate beauty and enhance their capacity to enjoy simple pleasures and respect all living things.
In addition, apply these Cub Scouting program-specific criteria:
• The activity is parent/youth or family-oriented.
• The activity is conducted with adult supervision.
• The Cub Scouts are asked to do their best.
• The activity is discovery-based.
When a boy and his family join Cub Scouting, they are joining an organization that values the fun and excitement of experiencing the outdoors. Each Cub Scout pack is encouraged to provide its youth members with enriching, positive outdoor experiences. An event may be a youth member's first organized outdoor activity. Good planning using Cub Scouting guidelines should ensure a positive experience.
Last Frontier Council
What do they do? Here is a sampling of outdoor activities I found on the web site schedules of just a handful of packs across the country:
Memorial Day flag Decorating

Maple Sugaring
Scouting for food

Bicycle Rodeo
Fun Day
Cubmobile Race
Parade

Tree Planting
Picnic

Air Show
Cub Olympics

Pushmobile Race
Ice Skating

Sledding

Winter Fun Day

Bell Ringing

Night Hike

Bike Hike

Fishing Tournament

Pack Campout

Kite Flying

Bike Rally

Veterans Day Flag Ceremony
Christmas Meal Delivery
Cub-O-Ree
Cub Scouting in the outdoors happens all year long, as you can see from those examples. Check out the photographs of these four packs on their outdoors activities:
Outings are Worth the Effort.
As a pack, do something special every month over and above the pack meeting. Tours, hikes, service projects, picnics, and especially pack camp outs – these sorts of things make the difference between ho-hum and WOW!!!
If you have never taken your den fishing, you are missing one of the great joys of Cub Scouting.
Planning a Pack Activity
If the pack's trip destination is a popular tourist attraction, the committee must check in advance to make arrangements for tickets, parking, etc. The committee must also consider costs and transportation.
Submit your Local Tour Permit Application to the local council well in advance of the trip. Also, check the following ahead of time to make sure leaders and parents are prepared:

Urge the boys to be courteous and observe all rules of the place you are visiting. Their good conduct will ensure that other Scouting groups will be welcome there.
Tell them the location of restrooms.
Announce rendezvous points, plans for eating.

Chartering a bus is a good way to make a pack trip because it promotes esprit de corps. But a bus can be bedlam if you have not planned any activities to keep the boys occupied.
Bring along some copies of the Cub Scout Songbook--one for each two boys and parents. Have your song leader stand at the front of the bus and lead some pack favorites.
Intersperse the songs with some sit-down games that can be played in large groups. Try the following from the Cub Scout Leader How-To Book: Buzz-Fizz, page 2-27; Do This, Do That, using only above-waist movements, page 2-30; and Think Fast, page 2-28. For other games, see "Travel Games" on these pages.
Immediately upon arrival at your destination, gather boys and parents and:
Urge the boys to be courteous and observe all rules of the place you are visiting. Their good conduct will ensure that other Scouting groups will be welcome there.
Tell them the location of restrooms.
Announce rendezvous points, plans for eating, and gathering time and place for going home.
When the pack returns home, ask the denners to write thank-you notes to your host. At a minimum, the pack secretary should write a letter of appreciation
HIKES
Any trip through a wooded area offers so many opportunities to teach Cub Scouts: watching for natural wildlife; tree identification by bark, leaf, shape; finding and identifying animal tracks, nests; plant identification - edible plants and poisonous plants; using a compass, etc. Adapted from Pack 114's Library
Hikes make wonderful den outings. A small group is easier to control and makes it easier for the boys to observe nature more closely and with less impact. Remember to follow the requirements in the Guide To Safe Scouting on two-deep leadership and other safety items.
Here are some theme hike ideas:
HOLDING THE FRONT - The leader in the lines stops and points to a tree or a flower. The boy next in line must name the item or go to the rear of the line. The object is to stay at the head of the line.
MONOGRAM HIKES - Find three or more objects that begin with your initials.
INCHER HIKE - Collect as many objects as possible that are one inch high, long, or wide. Measure treasures on return and see who brought in the largest amount of one inch things usually over locked.
SILENT - Practice walking in single file as quietly as possible.
COLORS - Choose one or two colors and list all things seen in these colors along the way.
SOUNDS - Hear and identify all sounds possible along the way.
ABC HIKE - The unit is divided into groups which attempt to find natural objects beginning with each letter of the alphabet.
RAINBOW HIKE - Find and list as many colors an possible.
TRACKING AND TRAILING - One group can go ahead and leave a trail for the other group to follow.
PENNY HIKE - Flip a penny every twenty feet and go in the direction called for. Heads for east, Tails to west.
Bill's Challenge for District Scouters:
Does your district have a good list of places for Packs, dens and families to visit?
Is on line on your council or district website?
Is it easily available at Roundtables and your Council Service Center?
If not, wouldn't it be a valuable service to all those boys if you got a project going to provide one? These lists are local in nature and that's why we need lots of them.
About ten years ago, Brian Gorman, a Scouter in my district, compiled a list of places to go as a Wood Badge ticket item. When I started my Roundtable web site, he asked me to include it. Places to Go has been a popular page for packs in Sunset Trail and surrounding districts for over eight years now. It has doubled in size as people have suggested additions.
What are YOU going to do now?
Be sure to visit Bill's website
to finds more ideas on everything Cub Scouting.
Have any Comments for Bill
just click right here!