July 2008 Cub Scout Roundtable Issue

Volume 14, Issue 12
August 2008 Theme

Theme: S'MORE SUMMER FUN
Webelos: Forester & Naturalist
Tiger Cub Activities
FOCUS
Cub Scout Roundtable Leaders' Guide
The summer is not over yet! Let's have "S'More" summer fun in the outdoors this month. The weather is hot, but the fun is cool as the Cub Scouts do all they can before school starts in the Fall. Is a picnic, softball game, or hike through the forest part of your pack's plans??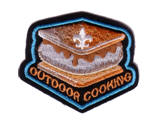 CORE VALUES
Cub Scout Roundtable Leaders' Guide
Some of the purposes of Cub Scouting developed through this month's theme are:
ü Sportsmanship and Fitness, Cub Scouts will be active in the outdoors while learning new games.
ü Fun and Adventure, Through summertime exploration, the cub Scouts will enjoy new experiences.
ü Preparation for Boy Scouts, When Cub Scouts develop outdoor skills, they are gaining experience to build upon in Boy Scouting.
The core value highlighted this month is:
ü Responsibility, Cub Scouts will gain a sense of responsibility through the Buddy System and other safety rules in and around water.
Can you think of others??? Hint – look in your Cub Scout Program Helps. It lists different ones!! All the items on both lists are applicable!! You could probably list all twelve if you thought about it!!
COMMISSIONER'S CORNER
Look at the top - this is the last month of another great year of Scouting, 2007-2008 and the last issue of Baloo. The next issue will be Volume 15, Number 1 for the 2008-2009 year. I received my new CS RT Planning Guide today and have had my new CS Program Helps since early June. Ready to go!!.
It truly was another great year of Scouting -
P The Old Colony District of Southern NJ Council, my district has attained the Chief's Winner Circle for having a plus one in chartered units and more than plus one percent in registered youth membership compared to the registered youth membership of June 30 of one year ago. We actually registered a 2.2 % growth in membership vs. last June 30.
P Last week my Webelos Resident Camp was a roaring success. We had a >50% increase in Webelos from 40 to 65. And we were the first to use the brand new pool at Pine Hill Scout Reservation. Pretty soon we will be as famous as our gold course neighbor! We had two Bears from our pack that moved to Webelos June 1st for whom this was their first time away and they did great!!
P And my council has a new Scout Executive as of July 1, 2008. He has moved here from Denver Area Council. And my District is still adjusting to our new District Director. I see great things for both!
This is a great month to get you Cubs out doing a conservation project (followed by a dip in the pool/lake/pond/safe swim area.
The Webelos badges for this month are Forester and Naturalist. I listed some fun things for you to do but the best way to earn these is in camp, especially a resident program that your council or a neighbor may run!! Or for first year's, maybe one last time at Day Camp.
If you plan a campfire this month, check out the May theme issue of Baloo for the item, "Fifteen steps on building a campfire."
If you sent me a Pow Wow Book and have not received several from me in thanks, drop me a line and I will get them to you.
Cub Scout Extravaganza &
Program Enrichment Conference
@ Philmont Training Center
I have been invited to the First Ever Program Enrichment Conference and my wife, Donna, to the Cub Scout Extravaganza - August 10 - 16, 2008 at Philmont!!! Our money is in and we will be there! My daughter (Four summer Phil staffer is trying to see if she can arrange to be there, too!!). Hope to see many of you there, too!!!
Months with similar themes to
S'More Summer Fun
Dave D. in Illinois
It is pretty interesting to look at this list of themes. You can see how Cubbing has progressed into the woods and outdoors from backyards and parks. CD
| | | |
| --- | --- | --- |
| Month Name | Year | Theme |
| June | 1941 | Cubbing Moves into the Backyard |
| July | 1944 | Back Yard Camping |
| July | 1945 | Outdoor Cubbing |
| July | 1950 | Outing |
| June | 1953 | Summertime Adventure |
| August | 1954 | Annual Picnic |
| August | 1955 | Outdoor Fun |
| August | 1957 | Good Old Summertime |
| July | 1958 | Outdooring |
| August | 1961 | Outdoor Festival |
| July | 1966 | Summertime Adventure |
| August | 1967 | Outdoor Fun |
| June | 1971 | Outdoor Fun |
| July | 1975 | Summer Adventure |
| March | 1977 | Kites-Spring |
| June | 1980 | Outdoor Fun |
| July | 1984 | Fun in the Sun |
| May | 1988 | Outdoor Adventure |
| August | 1989 | Outdoor Festival |
| July | 1992 | Fun in the Sun |
| June | 1997 | Outdoor Adventure |
| June | 2003 | Fun in the Sun |
| July | 2003 | A Hiking We Will Go |
| August | 2006 | Scouting It Out |

National makes a patch for every Cub Scout Monthly theme. This is the one for this theme. Check them out at www.scoutstuff.org go to patches and look for 2006 Cub Scout Monthly Theme Emblems.

Materials found in Baloo's Bugle may be used by Scouters for Scouting activities provided that Baloo's Bugle and the original contributors are cited as the source of the material.