Medal of Merit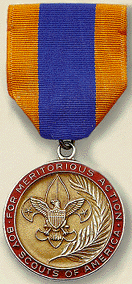 ---
The Medal of Merit is awarded to Scouts and Scouters who have performed some act of meritorious service above and beyond that normally expected of a youth or adult member of the Boy Scouts of America. This act may involve a lifesaving effort, but is not confined to lifesaving. It may also be awarded for any meritorious action using some aspect of Scouting skills or learning.
Mike Walton (Settummanque) has prepared a sample Script of a presentation ceremony for awarding these Medals and/or Certificates. Click Here to download a file containing the script, which can be opened in most word processing programs. (RTF file - 5 KB)
For more information on the Medal of Merit, Honor Medal, or the Heroism Medal and the nominating process for the awards, see the following page on the BSA website: http://www.scouting.org/About/FactSheets/Lifesaving_Action.aspx.
The form for recommending someone for the Medal of Merit, Honor Medal, or Heroism Award, is a 12 page form, entitled "Recommendation for Lifesaving or Meritorious Action Awards." It can be downloaded in PDF format from the following location: hhttps://blog.scoutingmagazine.org/wp-content/uploads/sites/2/2018/08/Lifesaving-Award-Application-August-2018-revision.pdf .
---

The above knot is the old version of the same knot issued for the earlier khaki-green uniform.
---
Page updated on: August 30, 2018
---