February 2009 Cub Scout Roundtable Issue

Volume 15, Issue 7
March 2008 Theme

Theme: "When I Grow Up"
Webelos: Athlete and Engineer
Tiger Cub Activities
CUB GRUB
Edible Satellite
Alice, Golden Empire Council
Ingredients:
Three oranges
1 cup cubed ham or turkey
1 cup pineapple chunks
1 cup cubed cheese
round toothpicks
Directions:
<![endif]> Cut the bottom off each orange so it will sit flat. Put chunks of pineapple, cheese or meat on toothpicks and display on the oranges – one type of food to each one. Start about 1/3 up from the bottom of each orange to insert the toothpicks.
Basic Trail Mix
Sam Houston Area Council
Ingredients –
1 cup salted peanuts
1 cup raisins
1 cup M&Ms
Directions –
<![endif]> Mix equal parts of nuts and various dried fruits with additions of chocolate or coconut or salty snacks like pretzels or breakfast cereal.
<![endif]> Common Additions –
· <![endif]> Dried fruit: raisins, banana chips, apple chips, dried cranberries, dried cherries
· <![endif]> Nuts and seeds: peanuts, almonds, hazelnuts, sunflower seeds
· <![endif]> Chocolate and more: M&Ms, chocolate chips, white chocolate chips, dried coconut
· <![endif]> Salty stuff: Pretzels, sesame sticks, oriental rice crackers, salty "party mix" cereal.
· <![endif]> Cereals: Any breakfast cereal, granola.
Planes
Great Salt Lake Council
Ingredients
Smarties (bodies)
Gum (wings)
Lifesavers (wheels)
Rubber bands
Directions
<![endif]> Put two lifesavers on the rubber band as wheels. Then put a stick of gum in the middle to the rubber band for wings. Next stick the Smarties in the middle.
Ham Sandwich Rocket
Alice, Golden Empire Council
Here's a fun food idea from the Space Place website from NASA – part of an ongoing contest to use tortillas to make a treat – this idea came from an eight year old boy from Michigan. Now, go there and check it out!!
<![if !vml]>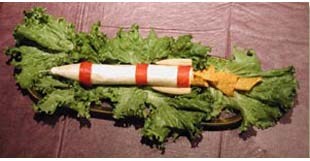 <![endif]>
Ingredients
1 - 12-inch flour tortilla
1 - 8-inch flour tortilla
About 1/8 to 1/4 pound deli ham, sliced thin
2 baby corn cobs
1 straight bean sprout
Curled up Nacho Cheese Doritos® tortilla chips
1 sugar ice cream cone
1 roll of fruit-by-the-foot, red
Peanut butter or cream cheese
Body of rocket:
Microwave 12-inch tortilla for 10 second or until pliable. Cut rounded edges off, forming a rectangle or square. Place ham on tortilla and roll up tightly. Seal with peanut butter.
Top of rocket:
<![endif]>

Break off bits of sugar cone until left with about 2/3-inch long section from the tip.
Lightly spread peanut butter over cone.
Microwave 8-inch tortilla for 10 seconds to make it pliable. Cut slit in tortilla from outside edge to center.
Wrap tortilla around cone,
Use peanut butter to seal edges, cutting off any excess
Trim tortilla to about 2 inches past cone on bottom.
Construction:
Place cone on top of ham sandwich, with cone overlapping sandwich on the outside. Trim overlap to 1/2 inch, and seal with peanut butter. Cover seam with fruit rollup, cut to fit diameter of sandwich. Seal roll-up with peanut butter, making sure to align roll-up seam with sandwich seam. Add two more roll-up stripes for decoration on body of sandwich/rocket. With knife, carve out small hole in top of ice cream cone to make room for bean sprout. Place sprout in hole. Attach 1 baby corn cob (booster rockets) to each side of rocket, at base, with peanut butter. Place curled Doritos in bottom of sandwich (flame), sticking end in crevices or tortilla/ham roll-up.
Twinkie Train
Great Salt Lake Council
Ingredients
Twinkie
4 vanilla wafers
1 large marshmallow canned frosting
Directions
Using the frosting attach the four wafer wheels to the and a marshmallow for the stack to the Twinkie.
Fruity Brownie Pizza
Catalina Council
Ingredients
1 box brownie mix
1 container strawberry cream cheese
1/3 cup powdered sugar
Fresh fruit in season (kiwi, berries, bananas, etc.)
Chopped nuts (optional)
Chocolate sauce (optional)
Directions
·

<![endif]> Prepare brownie mix as on box.
·

<![endif]> Spread on lightly greased pizza pan.
·

<![endif]> Bake at 350 degrees, 7-10 minutes until done in center.
·

<![endif]> Let cool.
·

<![endif]> In small bowl, mix strawberry flavored cream cheese with enough powdered sugar to make it creamy.
·

<![endif]> Spread over cooled brownie.
·

<![endif]> Top with sliced fruits.
·

<![endif]> Sprinkle nuts and drizzle chocolate sauce over, if desired.
·

<![endif]> Cover with plastic wrap and cool in refrigerator 2 hours.
·

<![endif]> Store left overs in fridge.
·

<![endif]> Best if eaten in 2-3 days.
·

<![endif]> Can also be made with sugar cookie dough.
Easy Career Cookies
Catalina Council
Ingredients
1 cup sugar
1 cup white corn syrup
11/2 cups peanut butter
4 cups corn flakes
Directions
<![endif]> Combine the sugar and corn syrup.

<![endif]> Heat the mixture until it just comes to a boil to dissolve the sugar. You can do this in a saucepan on top of the stove or you can use the microwave. A 2-qt. container in the microwave needs 4 minutes on high or a 1 qt. container needs 5 minutes on high.

<![endif]> Add the peanut butter and stir until it is smooth.

<![endif]> Stir in the corn flakes.

<![endif]> Line a jelly roll pan with waxed paper.

<![endif]> Drop the cookie mixture by teaspoon, while still warm. You may need to re-shape them a bit after you are finished dropping the mixture.

<![endif]> Makes delicious cookies when you need them in a hurry.

To make them Career Cookies,

Roll dough out
<![endif]> Cut with person shaped cookie cutters.
Decorate cookies to represent different careers.
Volcano Cake
Great Salt Lake Council
Volcano:
Ingredients
1 dome cake (baked in a 4 liter bowl, such as Pyrex)
1 dome cake (baked in a 2-liter bowl)
1 baked cupcake
3-4 cups chocolate icing
1-2 cups nondairy whipped topping
Lollipop lava:
1 c sugar
½ c light Karo syrup
¼ c water red food coloring
Directions
<![endif]> Arrange the cakes and cupcake to form the cone of the volcano, using frosting to secure them in place.

<![endif]> Trim the cakes as necessary to make it look like a volcano

<![endif]> Then cover the cakes with the icing.

<![endif]> Just before serving, drop a cloud of whipped topping around the cake and add the lollipop lava.
Lollipop Lava:
<![endif]> In a heavy saucepan bring the sugar, syrup, and water to a boil.

<![endif]> Continue boiling until the mixture reaches 295 ° on a candy thermometer.

<![endif]> Remove the mixture from the heat and stir in the food coloring until the desired shade is reached. (Tip: if you don't have a candy thermometer, melt crushed lollipops or hard candy in a sauce pan over medium heat.)

<![endif]> Allow the liquid to cool 1-2 minutes before pouring it in randomly shaped spews and puddles onto a foil-covered cookie sheet.

<![endif]> Let the lava cool completely before removing from the foil.

<![endif]> Arrange lollipop lava on the cake to look like exploding lava.
Wafer Bridges (Civil engineer)
Great Salt Lake Council
Ingredients
Sugar wafer cookies
Icing
Allow the cubs to build bridges using sugar wafers and icing.
Cheese Stick Truck
Great Salt Lake Council
Ingredients
Bread stick/cheese snack pack
Mini Reese's peanut butter cups
Tacky glue
Directions
Turn bread stick/cheese snack pack upside down.
Using tacky glue attach peanut butter cup wheels.
Marshmallow Peanut Butter Squares
Catalina Council
Ingredients
1 cup milk chocolate chips
1 cup butterscotch chips
1/2 cup margarine
1 cup peanut butter (smooth)
2 cups Rice Krispies
2 cups mini-marshmallows (colored or white)
Garnish with colored sprinkles (optional)
Ingredients
<![endif]> Melt both milk chocolate and butterscotch chips, margarine and peanut butter on low-medium heat until smooth.

<![endif]> Once smooth, add Rice Krispies and mini marshmallows.

<![endif]> Blend everything together in bowl.

<![endif]> Put into an 8 x 8 square pan.

<![endif]> Garnish with colored 'sprinkles and

<![endif]> Refrigerate until firm.