December 2007 Cub Scout Roundtable Issue

Volume 14, Issue 5
January 2008 Theme

Theme: Cub Scout Car Show
Webelos: Fitness & Scientist
Tiger Cub Requirement 3
ADVANCEMENT CEREMONIES
Traveling Advancement Ceremony
Grand Teton Council
I modified this a little for more cars and less other things and added in Webelos Rank that was not here. I am sure with some time and thought you could do better. If you do use this and modify it, drop me a line with how you changed it. Thanks CD
Props: Large pictures/posters of cars that match the descriptions
Cubmaster: The boys in our pack have not just been spinning their wheels and not going any place. We'll see tonight how many of them are reaching their destination.
Our Bobcats have really been "wheeling along" (picture of a small economical car (Volkswagen or similar) and learning the "rules of the road." Will _________ and their parents wheel on up here and receive your Bobcat license that will keep you on the Cub Scout road?
"Chugging along"(picture of a Jeep (SUV) (Not Hummer or Land Rover)) over the mountains and through the woods are our Wolfs. Some of them tonight are ready to pull up at the top of Wolf peak. (Have boys and their parents "come on up" to Wolf peak for their Wolf rank.)
We also have some Wolfs who are really loading up and have earned some Gold and Silver Arrows. (Call boys and their parents forward.)
Not to be outdone, is our Bears who are really "cruising along"(picture of a Police cruiser or luxury automobile) this month. Some have cruised right through the Big Bear Book and earned their Bear. Will ________ and their parents park their wheels and come up here to receive their license to continue cruising through their BEAR year?
The following boys have done some extra cruising and earned their Gold and Silver Arrows. (Call boys and parents forward.)
Our Webelos really "zoomed" around this month. (Picture of a sports car (Corvette)) learning to be good Citizens(first year) and Communicators (second year) Let's have them zoom up here and tell us about the exciting month they had. (Call boys forward who have earned Activity Badges this month)
And some have climbed even harder and higher (Picture of Land Rover or Hummer) reaching the height of Webelos Rank.
The big event that all of you boys are racing toward (Show picture of NASCAR Race Car) has been reached by a few of our Webelos Scouts tonight-----that of the Arrow of Light. This is the farthest and highest that anyone can go in Cub Scouting. (Call boys and their parents forward to receive their Arrow of Light.)
Pinewood Derby Advancement
Grand Teton Council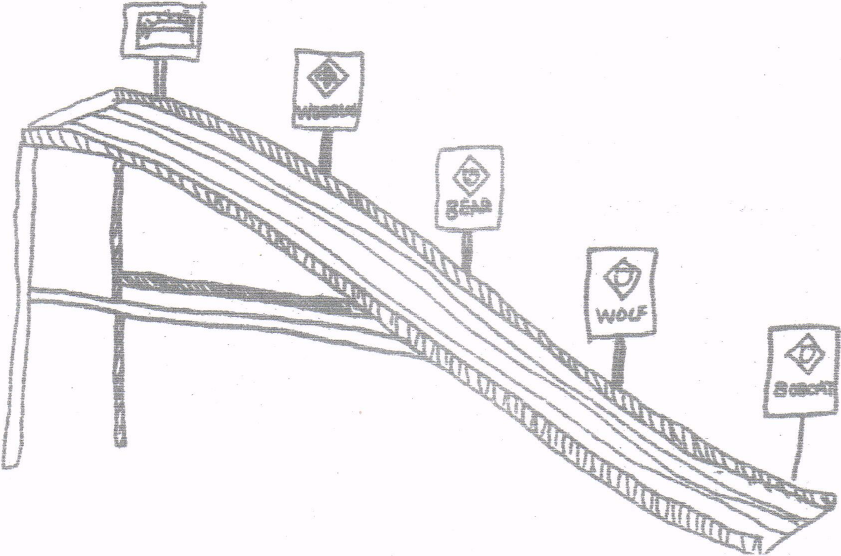 Personnel: Cubmaster, Advancing Cub Scouts and their parents
Equipment: Pinewood Derby Track, Badges of Rank or decals of them and awards to be given to the boys.
Set Up:
Put decals or actual badges on stiff cardboard and attach to eight-inch-long sticks.
Tape these on the track or on the side rails of the derby track in ascending order, Bobcat near the bottom, then Tiger, Wolf, Bear, Webelos, and Arrow of Light. If you have a boy graduate into a Scout Troop, have a Scout Badge at the top.
At appropriate place on the track tape the badges and arrow points to be presented. (Fix everything ahead of time so there won't be a boring time after the derby and before the awards.)
Cubmaster - We've all had a greet time tonight watching the pinewood derby cars race down this track. They really speed downhill don't they? Well, you can go up hill on this track too. It is a little harder, but it is worth the climb from Bobcat to Tiger to Wolf to Bear to Webelos and to Arrow of Light. Some of our Cub Scouts who have made the climb as far as tiger please come forward with you parents
When boys and parents have assembled remove their awards from the track and have the parents pin badges on.
Do the same for the Wolf and Bear badges and the arrow points.
Have Webelos Den Leader take over for the Webelos badge and Activity badges
Cubmaster resumes if you are graduating a boy into the troop.
Advancement Ides
Grand Teton Council
Trouble - The Cubmaster and the Assistant Cubmaster dress up as a NASCAR pit crew. Announce that they see a Cub scout car in trouble. Drive over and pick him up and them carry him up front to give him his award. Announce that he is ready to reenter the Cub Scout race.
Remote Control - Have someone hide and drive the awards in with a remote control car. When it time to present an award it is driven on from off stage.
Here it comes! - If you are doing the Pinewood derby this month, attach awards to a Pinewood Derby car and send-it down the track to the recipient.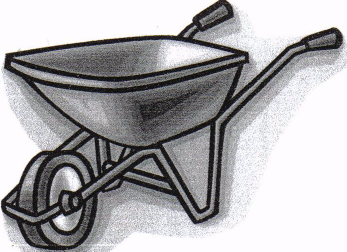 Wheely Proud - Clean out a wheelbarrow. Announce that we are "Wheely proud of our Cub Scouts that have earned awards". Go out into the audience and put them in the wheel barrow and bring them up front to award them.
Checkered Flag
Great Salt Lake Council
Prop: Checkered flag. I made one from a yard of Checkered Print bought for $2 at a material store. Attach to a pole or dowel.
Presentation:
Cubmaster explains that it is customary and traditional for the winner of a NASCAR race to take a victory lap around the course with the flag waving then to come up to the winners' circle with those who made it possible for the winner to win. There the winner would be awarded his trophy for the accomplishment.
Name the first boy to receive his rank advancement.
Give him the flag and have him run around the outside of the audience with everyone cheering and whistling.
After he completes the lap have him bring his parents up to the winners circle to receive his award.
Present the award.
Lead a cheer
GRAND PRIX ADVANCEMENT CEREMONY
Baltimore Area Council
Personnel:
Cubmaster dressed as a race car driver (e.g., wearing a helmet and gloves and boots),
Four adults
Equipment:
Four black-and-white checkered racing flags,
Four 3-ft. dowels,
Toy car,
Stop sign,
Wheel from toy car
Set Up:
Fasten checkered flags to the dowels.
Attach awards to the items listed below.
Create other awards as needed.
Create a tunnel for boys to walk through to receive awards by having four adults hold flags.
Awards Sayings
CAR: "You zoomed right into first place when you earned your _____."
STOP SIGN: "Way to go for earning your _____. There's no stopping now!"
WHEEL: "You're on a roll now. We'll (wheel) be proud to award you your ______."
Car Show Arrow of Light Ceremony
Scouter Jim, Great Salt Lake Council
Jim prepared a theme related Arrow of Light Ceremony for each of the next 12 themes and was very kind to share them with me. If your Pack is like his and use age rather than grade, you may need a few of these. Thank you, Jim. CD
Props: Review "How-To-Book" on Cubanapolis 400 racing, page 6-18 for instructions on assembling a car from a box. Prepare a color or emblem (meaning) for various parts of the car, such as sides, wheels, headlights and tail lights, door, steering wheel, and key. If there is more than one boy, prepare extra cars and adjust ceremony. Have 4-6 items of information obtained about the Cub(s) ahead of time to surprise them during the ceremony.
Cubmaster - Tonight, we are going to assemble an "Arrow of Light" car. The frame for the car gives it structure and stability. Compare this structure to the requirements needed for the Arrow of Light. The color of the pack "Arrow of Light" car is very important. Give the car some color either the colors/values, emblem, etc. and explain the meaning of the Arrow of Light.
There are lots of things on the inside of a car that helps it to run at high efficiency. I wonder what our "Arrow of Light" car has that helps it run at full throttle? Pull items out of box and display items highlighting the Cub.
Every car has great wheels. Wheels help the car roll down the road. Our Webelos den leader helps our "Arrow of Light" car roll down the road. We would like our den leader to come share with us an activity/service that helps our "Arrow of Light" car. Den Leader can then put on wheels.
Headlights light the way to move forward and tail lights show us where the car is ahead of us. On our "Arrow of Light" car, we would like the parents to share some service/activity that is unique about their son. Parents then put the headlights and tail lights on the car.
We have a door here. It needs to be put on. The only person who can open this "Arrow of Light" car is _____. Will Cub share a favorite experience he did to earn the Arrow of Light award and open the door? Cub then puts on door and states the Scout Oath or Law.
This car is about done. We still need two things, a steering wheel and key. On the Steering wheel have the pin and patch. The Cub then gives the pin to his mom with the "Mother's Salute," after which, the Father can present the award with the Cub Scout or Scout handshake. The Cub can start the car with the key by leading everyone in his favorite cheer! The boy can then take his car home.

Materials found in Baloo's Bugle may be used by Scouters for Scouting activities provided that Baloo's Bugle and the original contributors are cited as the source of the material.