<![if !supportEmptyParas]>
December 2004 Cub Scout Roundtable Issue

Volume 11, Issue 5
January 2005 Theme

Theme: Cub Scouts Spread the News
Webelos: Fitness & Readyman
Tiger Cub:

Achievement 3 & Activities
WEBELOS
WEBELOS -to- Boy Scouts Bridging Ceremony
Del-Mar-Va Council
I picked this up at Del-Mar-Va Council Pow Wow a few years ago and it has become my favorite bridging ceremony. The bridge I made for this ceremony generally gets used several times each year as other Packs in my district borrow it for the ceremony. CD
Props –
4 - 5 to 6 foot 4 X 4's (or 2X6's) for foundation notched to interlock
5 - 4 foot 2x10's - one plain, one yellow, one blue, one green, one red
All words are spoken by same person (Narrator, Cubmaster) but you could divide them up amongst several leaders.
WEBELOS leader, will you please place the first post on the stage in a North/South direction. (WL places post)
WEBELOS Asst. leader, please place the second post on the stage three feet away from the first post in the North/South direction. (WA places post)
These two posts placed here are symbolic of the foundations of Scouting that these WEBELOS leaders have instilled in their WEBELOS Scouts through activities and outings as represented by the natural brown color.
Scout Master (name) and Assistant Scout Master or Senior Patrol leader), please place your posts in an East/West direction 3 feet apart over the North/South posts that are already in place. (SM and SPL place posts)
As represented by the structure assembly, Boy Scouting will build on the Scouting foundation begun in WEBELOS. These leaders have set the stage for bridging the boys from Cub Scouting into Boy Scouting.
WEBELOS Scout (name), will you and your parents please bring the unfinished plank forward and place it across the east/west posts. (Scout places plank)
This unfinished plank represents the boys as they arrived in Cub Scouting, full of potential but unfinished.
WEBELOS Scout (name), will you and your parents please bring the blue plank forward and place it snuggly against the unfinished plank. (Scout places plank)
This Blue plank represents the Wolf and Bear years of Cub Scouting where with the help of their parents the Scouts became true blue and loyal friends.
WEBELOS Scout (name), will you and your parents please bring the gold plank forward and place it snuggly next to the blue planks. (Scout places plank)
This Gold plank represents their golden years in Cub Scouting as Webelos learning important skills through activity badges and culminating in the Arrow of Light.
WEBELOS Scout (name), will you and your parents please bring the green plank forward and place it next to the gold plank. (Scout places plank)
This green plank represents their new beginning as Boy Scouts, who will soon be green Tenderfoot scouts, anxious to begin the Boy Scout trial toward Eagle.
WEBELOS Scout (name), will you and your parents please place the final plank onto the bridge. (Scout places plank)
This last plank is red the predominant color in the Eagle Scout Badge and represents the fact that as they step off the bridge from Cub Scouting to Boy Scouting they are beginning of their journey to becoming Eagle Scouts.
Webelos entering Troop (number), please assemble with your parents at the unfinished board of the now completed Bridge to Scouting?
As we present you with your Pack graduation Certificate, will each parent please remove your sons Webelos neckerchief and slide.
Scoutmaster invites boys across the bridge, calling each by name and (performing whatever ceremonies are customary for your pack and troop)
After all have crossed - Pack (number) please stand and show your pride to the new Boy scouts from this Pack. (Cheer (Blast Off), Applause)...
We are very proud of you all.
FITNESS
PHYSICAL SKILLS GROUP
Circle Ten Council
The body is a wonderful machine. It is much more complicated than the fanciest car or fastest computer. But the body needs the same kind of care that experts give to machines. What does that mean? It means that a body must be given the right fuels in a balanced diet. Avoid putting harmful substances into it. The body needs rest and exercise, just as a car needs maintenance. As your Cubs earn the Fitness activity badge, they will learn how to take care of the world's most wonderful machine – their own body.
Den Activities
Circle Ten Council
· Invite the grade school gym teacher to your meeting. Get to know them on a personal basis. Why did they become a teacher? What kind of background do they have? What sports are they currently active in? What do they like about teaching kids?
· Invite a nurse, doctor, or dentist to your den to answer questions about health. Have the boys write the questions on cards do they are anonymous.
· Have your den write a skit depicting ways to say "NO" to drugs.
· Have the den make a poster designed to encourage people to say "NO" to drugs.
· Have a police officer involved with drug prevention attend a den meeting. Have the boys interview him and ask questions concerning drugs and alcohol.
· Have the boys find out what the policies in their school are about drugs and what would happen to students with drugs in their lockers, etc.
· Collect newspaper and magazine articles about accidents and crimes that are drug or alcohol related.
· Find out what some organizations are doing to stop use and availability of drugs, especially to children.
· Check with Circle Ten Council for the video, "Drugs, A Deadly Game."
· Ask a Speaker – YMCA director, health class teacher, personal trainer, coach, CPR instructor, marathon director, little league coach, gym instructor.
· Visit your local YMCA or fitness club.
Games
Circle Ten Council
Remember that any fitness program will not be sustainable unless it is fun. Below are a few ideas for games to incorporate into your meetings. The Cub Scout How To Book and the Webelos Activity Book as well as your local library will also give you some ideas.
Jump the Bean Bag
A small beam bag is tied to the end of a rope or heavy cord. The leader stands in the center of the circle made up of the players facing him. The leader swings the bean bag around the circle at ankle height. Once a player is hit he must leave the circle. The last player left is the winner.
A. B. C.
Two players hold the end of a rope about 10 feet long. With the rope laying flat on the ground [A] each player jumps over the rope. The rope is then raised about four inches high [B] and every body jumps over. Continue raising the rope four inches with each letter of the alphabet until only one player is left.
Shuttle Run
Area and Equipment – you'll need two blocks of wood, 2 inches by two inches by 4 inches and a stopwatch. Mark two parallel lines on the ground 30 feet apart. Then put the blocks of wood behind one of these lines. The Cub will start from behind the other line.
Procedure:
1. The timer should raise his arm and say, "Get ready!"
2. Then the timer simultaneously says 'Go!" lowers his arm, and starts the stopwatch.
3. The Scout runs from the starting line to the blocks, which have been placed just behind the second line. He picks up one of the blocks, runs back with it to the starting line, and places the block behind the line. The block must be placed, not thrown, on the ground.
4. Then the Scout runs back to the other block, picks it up and carries it back across the starting line.
5. As the Scout crosses the starting line with the second block, the timer should stop the stopwatch. The boy's time should be calculated to the nearest tenth of a second.
6. The Cub should then be given a chance to do the event again. The better of the two times will become his time for the shuttle run.
Activities
Diet and Drugs
Circle Ten Council
1. <![if !vml]>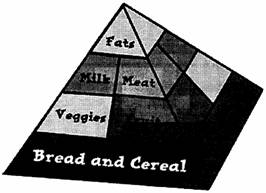 <![endif]>
Explain to your Scouts that exercise is only one part of fitness. A balanced diet is also important to being physically fit.
2. Let them make up a menu for a week using the 5 basic food groups. See if they can stick to it for the whole week.
3. Explain drug abuse.
4. Plan a field trip to a drug abuse center.
5. Have a nurse or doctor visit one of your meetings to explain the hazards of drug abuse.
For more information about drugs, diet, and alcohol, contact organizations in your area –
Circle Ten Council
Alcoholics Anonymous
American Caner Society
American Heart Association
MADD (Mother's Against Drunk Driving)
SADD (Student's against Drunk Driving)
Talking about Diet and nutrition –
Last month I had a typo for one of the Nutrition Websites I mentioned in Commissioner's Corner – It is www.5aday.org (not .com) The site is all about kids and eating enough fruits and vegetables – games, activities, charts, fun stuff. They sent me lots of stuff for my RT and unbeknownst to me the nutritionist from The Memorial Hospital of Salem County was featuring them in her talk so it worked out great!!
Be sure to try www.3aday.org for Dairy products, too CD
How Much Do You Know About Drugs?
Fill in the blanks or circle the letter beside the best answer or the most appropriate response.
1. Drugs are chemical substances that cause
a. growth of vital organs
b. changes in the human body
c. elevations in temperature
d. decreases in blood pressure
2. Almost all drugs work by altering the __________ of cell activities.
a. number
b. shape
c. size
d. speed
3. Which of the following is not a source of naturally occurring drugs?
a. animals
b. laboratories
c. minerals
d. plants
4. In the United States, what government agency must approve every new drug before it can be sold?
a. American Medical Association (AMA)
b. Federal Trade Commission (FTC)
c. Federal Bureau of Investigation (FBI)
d. Food and Drug Administration (FDA)
5. Drugs that can be sold lawfully without a prescription are called
a. hallucinogenic drugs
b. illegal drugs
c. over-the-counter drugs
d. prescription drugs
6. Match each group of drugs with the primary effect these drugs have on the human body
a. analgesics______________
b. anesthetics_____________
c. barbiturates_____________
d. depressants____________
e. stimulants______________
1. slow down the activity of the central nervous system
2. speed up the activity of the central nervous system
3. make a patient feel relaxed and fall asleep more easily
4. relieve pain without deadening other senses
5. produce loss of feeling and sometimes loss of consciousness
7. Which drug is found in chocolate, coffee, cola drinks, and tea?
a. alcohol
b. caffeine
c. cocaine
d. nicotine
8. Which drug is a factor in at least half of all fatal traffic accidents?
a. alcohol
b. amphetamines
c. caffeine
d. nicotine
Answers: 1 – b, 2 – d, 3 – b, 4 – d, 5 – c, 6 / a – 4, b – 5, c – 3, d – 1, e – 2, 4 – 2, 7 – b, 8 – a
Materials found in Baloo's Bugle may be used by Scouters for Scouting activities provided that Baloo's Bugle and the original contributors are cited as the source of the material.

Materials found at the U. S. Scouting Service Project, Inc. Website ©1997-2004 may be reproduced and used locally by Scouting volunteers for training purposes consistent with the programs of the Boy Scouts of America (BSA) or other Scouting and Guiding Organizations. No material found here may be used or reproduced for electronic redistribution or for commercial or other non-Scouting purposes without the express permission of the U. S. Scouting Service Project, Inc. (USSSP) or other copyright holders. USSSP is not affiliated with BSA and does not speak on behalf of BSA. Opinions expressed on these web pages are those of the web authors.