<![if !supportEmptyParas]>
September Cub Scout Roundtable Issue

Volume 10, Issue 2
October Theme

Once Upon A Time
Webelos Citizen and Showman
Tiger Cub Achivement #

2
DEN CEREMONIES
Denner Installation
West Michigan Shores Council
This ceremony should be held as soon as a new denner and/or assistant denner is shoes.
Equipment: Table, candle, denner and assistant cords.
Den Leader: (Lights the candle) Will ___ and ___ please come forward. On the table in front of you stands the candle representing the Spirit of Cub Scouting. The spirit can be kept alive as long as we all work together to a common goal.
_______ and _____ , you were elected as our new denner and assistant denner. You both know the duties involved with each job. Do you willingly accept the duties and will you do your best to perform them? If so, answer yes.
I'm happy and proud to present to you your badge of office. Wear it on your shoulder with pride and honor.
Den Advancement (Led By Den Chief)
Viking Council
Set up the den doodle in a convenient spot where all the boys can see it. Have the boys stand facing the den doodle, in a circle around it, or in a semi-circle or line facing it.
DEN LEADER: Today we have a boy (or boys) who is ready to add another achievement marker to his string on our den doodle (or who has completed three more achievements and has earned a bead for his Progress Towards Rank.) He has been working hard en achievements to earn his (Wolf or Bear) badge.
Will _____ please come forward? 1 would like to present you with your doodle marker to add to your string. (Or bead to add to your thong).
Now while _____ is adding his doodle to his string on our den doodle (or adding his bead to his thong) our Den Chief will lead us in an Achievement Cheer.
DEN CHIEF:
We the boys of Den _______
Promise to do our best
To keep working on achievements
So our den will be better than the rest
DEN LEADER: Let's give ________ Big How's. (Match the number of How's to number of achievements completed) HOW! HOW! etc.
This ceremony can easily be changed for variety. Sometimes the boys could give the den yell or sing a Cub Scout Song instead of the cheer led by the Den Chief.
The Living Circle Closing
Southern NJ Council
Note from Commissioner Dave – I remember learning this ceremony at my first Den Meeting at Mrs. Kneale's house in September 1957. We have taught it to our dens.
Based on an Indian custom, the living circle may be used alone or as a part of another ceremony. It reminds a Cub Scout of the fine friendships he is making in Cub Scouting.
Form the Living Circle by standing with your Den Leader and den in a close circle, facing inward. Ask everyone to turn slightly to the right in the circle and extend his left hand into the center, palm downward and left thumb pointing to the right. Have each boy grasp the extended thumb of the person on this left, thus making a living circle.
<![if !vml]>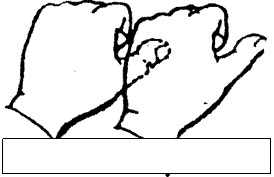 <![endif]>

Each person should hold his right hand high above his head in the Cub Scout sign. The Cub Scout Promise or Law of the Pack may then be said as part of the closing ceremony.
<![if !vml]><![endif]>


After the Promise or Law, everyone can pump the left hands up and down, say "Ah-KAY-la, we'll do our best!" or "We'll be Loyal Scouts"
(As you see sports teams break a huddle)
Handclasp Closing
Heart of America Council
Cub Scouts form a circle and give the Cub Scout handclasp, completely around, ending when it has reached the boy who started it. As each boy receives the handclasp he makes a wish, silently, and pledges to do his best.
Materials found in Baloo's Bugle may be used by Scouters for Scouting activities provided that Baloo's Bugle and the original contributors are cited as the source of the material.

Materials found at the U. S. Scouting Service Project, Inc. Website ©1997-2003 may be reproduced and used locally by Scouting volunteers for training purposes consistent with the programs of the Boy Scouts of America (BSA) or other Scouting and Guiding Organizations. No material found here may be used or reproduced for electronic redistribution or for commercial or other non-Scouting purposes without the express permission of the U. S. Scouting Service Project, Inc. (USSSP) or other copyright holders. USSSP is not affiliated with BSA and does not speak on behalf of BSA. Opinions expressed on these web pages are those of the web authors.