The Cub Scout program is chuck full of opportunities to recognize the achievements of your Cub Scouts. This training handout is not even close to a comprehensive list of all the recognitions possible. Instead this is a starting point for learning about the wide variety of awards available. For more information on specific awards visit our Awards Page.

AWARDS
AWARDS & ADVANCEMENTS

TIGER CUB PAWS AND BADGES
BOBCAT
PROGRESS TOWARD RANKS BADGE & BEADS
WOLF
ARROW POINTS
WEBELOS
ACTIVITY BADGES
COMPASS BADGE AND COMPASS POINTS
ARROW OF LIGHT

HONOR MEDAL
HEROISM MEDAL
MEDAL OF MERIT





RELIGIOUS EMBLEMS
BADGES, BELTLOOPS & MORE
ACADEMIC BELTLOOPS, PINS AND LETTER
ATTENDANCE AWARDS
CAMP PATCHES


CUB SCOUT WORLD CONSERVATION AWARD


DENNER CORD
DISTRICT CAMPOREE AND PINEWOOD DERBY PATCHES
FAMILY CAMPING PATCH
HIKING AND TRAIL PATCHES
INTERNATIONAL ACTIVITY PATCH
INTERPRETER STRIPS


NATIONAL SUMMERTIME RECOGNITION PIN
PINEWOOD DERBY PATCH AND MEDAL


QUALITY UNIT AWARD
RECRUITER
REGATTA PATCH AND MEDAL
SCOUTING EXTRAVAGANZA PATCHES
SERVICE STARS
SPACE DERBY PATCH AND MEDAL
SPORTS BELTLOOPS, PINS AND LETTER
SPORTS PARTICIPATION PATCH
TIGER GRADUATION PATCH
HIKING AND TRAIL PATCHES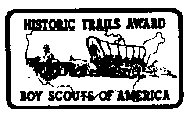 If you use this as a template for making a training handout in your own District, please insert a list of local hiking trails here and note their location, cost, times of operation, availability of patches and medals and other related information.