Welcome to the USSSP Cub Scout Activity Guide web pages. These pages were developed with the help of experienced Cub Scouters to give brand new Cub Scout leaders some ideas to get started with a successful program. This web area includes the following subjects: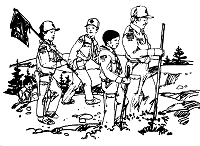 Planing Den and Pack Activities

Resources - Literature Available

Please click on one of the highlighted terms.