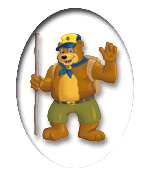 CONTACT BALOO


Write to Baloo (Click Here) to offer contributions, suggest ideas, express appreciation, or let Commissioner Dave know how you are using the materials provided here. Your feedback is import. Thanks.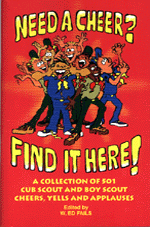 August 2005 Cub Scout Roundtable Issue

Volume 12, Issue 1
September 2005 Theme

Theme: Cub Scout Roundupl
Webelos: Communicator & Citizen
Tiger Cub Activities
ONE LAST THING
Texas Wisdom
Now, pardner, these might not make a lot of sense to us easterners, what with all this western talk and not one mention of a mall or road rage...but they sure kinda cut to the chase and make sense...
Don't squat with your spurs on.
Good judgment comes from experience, and a lot of that comes from bad judgment.
Lettin' the cat out of the bag is a whole lot easier than puttin' it back in.
Never drop your gun to hug a grizzly.
If you're riding ahead of the herd, take a look back every now and then to make sure it's still there.
If you get to thinking you're a person of some influence, try ordering somebody else's dog around.
A good horse never comes in a bad color.
Never miss a good chance to shut up.
Never kick a cow chip on a hot day.
Never ask a barber if he thinks you need a haircut.
Don't worry about bitin' off more than you can chew. Your mouth is probably a whole lot bigger'n you think.
If you find yourself in a hole, the first thing to do is stop diggin'.
Never slap a man who's chewin' tobacco.
It don't take a genius to spot a goat in a flock of sheep.
Always drink upstream from the herd.
When you give a lesson in meanness to a critter or a person, don't be suprised if they learn their lesson.
When you're throwin' your weight around, be ready to have it thrown around by somebody else.
Always take a good look at what you're about to eat. It's not so important to know what it is, but you might need to know what it was.
The quickest way to double your money is to fold it over and put it back in your pocket.
There are three kinds of people: The ones that learn by reading, The few who learn by observation, and the rest of them who have to touch the fire to see for themselves if it's really hot.
Return to Top of Page - Click Here

Materials found in Baloo's Bugle may be used by Scouters for Scouting activities provided that Baloo's Bugle and the original contributors are cited as the source of the material.

Materials found at the U. S. Scouting Service Project, Inc. Website ©1997-2005 may be reproduced and used locally by Scouting volunteers for training purposes consistent with the programs of the Boy Scouts of America (BSA) or other Scouting and Guiding Organizations. No material found here may be used or reproduced for electronic redistribution or for commercial or other non-Scouting purposes without the express permission of the U. S. Scouting Service Project, Inc. (USSSP) or other copyright holders. USSSP is not affiliated with BSA and does not speak on behalf of BSA. Opinions expressed on these web pages are those of the web authors.