CUB GRUB
A History of the Chuck Wagon
San Gabriel, Long Beach Area, Verdugo Hills Councils
From the Chuck Wagon Cooks & Friends Website
http://groups.msn.com/ChuckWagonCooksFriends/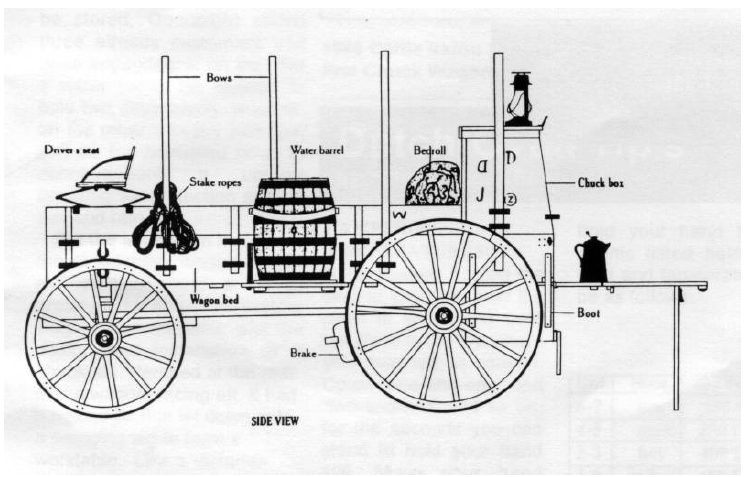 Side view of chuck wagon
In 1866, when cattleman Charles Goodnight needed a way to keep his drovers fed while trailing cattle from Texas to points north, he merely took an old Army supply wagon, and bolted to its back a wooden box divided into different compartments. He covered the box with a hinged lid that when opened and supported by a single leg could serve as a work table or wide shelf.
The box was a simple contraption, but it revolutionized the cattle industry. Food and cooking utensils were stowed in the pigeonholes of this traveling kitchen cabinet. There were other uses for the wagon as well. Bedrolls, medicine, lariats, branding irons, whiskey and water--they each found a place attached somewhere on the wagon.
It was no difficulty coming up with a name for Goodnight's invention. Since early 17th Century England, individuals involved in the meat business referred to a lower priced part of the beef carcass as the "chuck." Although less glamorous than other cuts, the chuck was an important source of nutrition for the working man.
By the next century "chuck" became a catch-all phrase for good, honest, heart-warming food. The term encompassed beef, vegetables, bread, dessert, coffee and anything else that could be eaten. On the ranch, the hands ate "chuck" at the "chuck" house.
Goodnight's all-purpose compartment on the back of the Army wagon became the "chuck" box. And a wagon with a chuck box became a "chuck" wagon. The chuck wagon quickly gained independent status.
While the wrangler or trail boss set the rules outside the camp, he and all the other hands obeyed the cook within the sphere of the chuck wagon. The cook brooked no interference with his cooking or his utensils, but the cowboys never rebelled against his rule. They paid him tribute each day by roping dead mesquite or oak wood and dragging it into camp for the fire.
Chuckwagon Etiquette
San Gabriel, Long Beach Area, Verdugo Hills Councils
From the Legends of America website
http://www.legendsofamerica.com
No one eats until Cookie calls
When Cookie calls, everyone comes a runnin'.
Cowboys eat first, talk later.
Hungry cowboys wait for no man. They fill their plates, fill their bellies, and then move on so stragglers can fill their plates
It's okay to eat with your fingers. The food is clean.
If you're refilling the coffee cup and someone yells "Man at the pot" you're obliged to serve refills.
Don't take the last serving unless you are sure you're the last man.
Food left on the plate is an insult to the cook.
No running or saddling a horse near the wagon. And when you ride off, always ride down wind from the wagon.
If you come across any decent firewood, bring it back to the wagon
Strangers are always welcome at the wagon.
Happy Trail Honey Bars
San Gabriel, Long Beach Area, Verdugo Hills Councils
The pioneers and cowboys liked to find a wild beehive and have fresh honey. Enjoy making these bars and pack them up to take on a hike or on a camp out under the stars.
Ingredients:
3 eggs
1/3 cup butter, softened
1 cup honey
½ cup milk
3½ cups all purpose flour
2 teaspoons baking powder
½ teaspoon baking soda
½ teaspoon salt
1 teaspoon ground cinnamon
½ teaspoon ground nutmeg
1 cup raisins
Directions:
Preheat oven 375°F.
Beat eggs; add milk;
Stir in honey and butter; add raisins.
Stir together dry ingredients, add to egg/honey mixture.
Spoon into lightly greased 9x13" pan.
Bake 30 minutes or until done.
Let cool on rack; cut into bars.
Makes approximately 1 dozen bars.
Lazy B Corn Fritters
San Gabriel, Long Beach Area, Verdugo Hills Councils
Ingredients
1¼ cup flour
2 cups corn
1 tsp. baking powder
2 tsp. salt
½ cup sugar
¼ tsp. paprika
2 eggs - separated
¼ cup milk
Directions:
Beat egg yolks until thick
Using a cold bowl, beat egg whites until stiff
Stir dry ingredients together and add corn.
Then add the beaten egg yolks
Fold in the stiff egg whites.
Fry in hot oil or lard
Git Along Gingersnaps
San Gabriel, Long Beach Area, Verdugo Hills Councils
It is your misfortune if you don't try these cookies. Eating ginger is a natural way to repel flies so feed some to your horse.
Ingredients:
¾ cup shortening
1 cup brown sugar
¾ cup molasses
1 egg
2¼ cups flour
2 teaspoons baking soda
½ teaspoon salt
1 teaspoon ground ginger
1 teaspoon ground cinnamon
½ teaspoon ground cloves
Granulated sugar for coating
Directions:
Preheat oven to 375°F.
Beat shortening, sugar, molasses and egg together until creamy.
Sift the remaining ingredients together then add to the shortening mixture.
Form into balls,
Roll in granulated sugar
Place 2" apart on greased cookie sheets.
Bake for about 10 minutes,
Let cool slightly on sheets before removing to cooling rack.
Makes about 48
Johnnycakes
San Gabriel, Long Beach Area, Verdugo Hills Councils
Ingredients:
2 eggs, beaten
2 cups buttermilk
2 tablespoons honey or molasses
2 cups cornmeal
½ cup flour
1 teaspoon baking soda
1 teaspoon salt
2 tablespoons butter
Directions:
Beat eggs until light.
Add buttermilk and honey or molasses.
Combine dry ingredients
Stir dry ingredients into batter along with melted butter
Pour into buttered dripper pan
Bake at 425°F for about 20 minutes.
Cut into squares.
Cowboy Beans
San Gabriel, Long Beach Area, Verdugo Hills Councils
Ingredients:
2 cups dried red beans
2 cups dried pinto beans
1 large yellow onion, chopped
3 tablespoons garlic, chopped
3 green chili peppers, grilled and diced
3 vine-ripened tomatoes, grilled, seeded and chopped
1 tablespoon vegetable oil
7 quarts water or vegetable stock
1 smoked ham hock
1 teaspoon toasted coriander seed
1 bay leaf
2 whole dried red chili peppers
Salt and pepper, to taste
Directions:
Soak beans overnight in water to cover.
Change water once; drain.
When beans are ready, sauté onion, garlic, green chilies and tomatoes in oil in a large soup pot or Dutch oven over medium-high heat.
Add water or stock and ham hock; bring to a boil.
Add beans, coriander seed, bay leaf and dried chilies. Continue to boil for 30 minutes,
Lower heat, cover and simmer for three to four hours, until beans are tender.
Season with salt and pepper to taste.
Makes 16 servings.
Apple Candy
San Gabriel, Long Beach Area, Verdugo Hills Councils
Ingredients:
2 tablespoons gelatin
1¼ cups cold applesauce
2 cups sugar
1 cup chopped nuts
1 tablespoon vanilla
Directions:
Soak gelatin in ½ cup cold applesauce for 10 minutes. Combine remaining applesauce and sugar
Boil 10 minutes.
Combine gelatin and applesauce mixture with gelatin and sugar mixture and boil 15 minutes longer, stirring constantly.
Remove from heat, add nuts and vanilla
Pour into slightly greased pan.
Let set overnight in refrigerator.
Then cut in squares and roll in powdered sugar.
Boiling Bag Omelets
Baltimore Area Council
Ingredients:
Eggs
Cheese
Green Onion
Mushrooms
Whatever else you'd like...
Directions:
Heat large pot of water over fire.
Put all desired ingredients in a zip-lock plastic bag.
Seal and drop in boiling water.
Cook until done, unseal, enjoy.
Watch out for steam when opening!
Old-Fashion Muffins
Baltimore Area Council
Ingredients:
2 C. uncooked oatmeal
1 1/2 C. sour milk
1/3 C. sugar
1/4 C. melted shortening
1 well-beaten egg
1 t. baking soda
1 t. baking powder
1/2 t. salt
1 C. flour
Directions:
Pour sour milk over oatmeal and allow to stand for a few hours or overnight.
Combine sugar, shortening, egg, and stir in oatmeal mixture.
Sift together remaining ingredients and blend.
Bake in greased muffin tins at 425 degrees for 20 minutes.
Ranch-Style Fruit Punch
Santa Clara County Council
Ranch cooks made a variety of cold fruit drinks. Citrus fruits, like lemons, limes and oranges, were favorite ingredients because they were great thirst quenchers and they also prevented a common disease called scurvy. (Scurvy is caused by not having enough vitamin C and leads to bleeding gums and loss of strength.) Citrus fruits were shipped by railroad from citrus groves in California. The fruits were so highly prized on the frontier that it was not unusual for miners, farm families, or ranchers to pay a dollar for one lemon.
Supplies:
Measuring cup, small saucepan, mixing spoon, cutting board, paring knife (for adult use), 1½-quart pitcher
Ingredients:
½ cup water
¼ cup sugar
1 cup orange juice
1 cup grape juice
½ cup lime or lemon juice
1 orange, lemon, or lime
2 cups club soda
Ice
Directions:
Measure ½ cup water into a small saucepan.
Have a leader boil the water in the saucepan, and then turn off the heat.
Stir in the sugar while the water is still hot. Keep stirring until the sugar has dissolved.
Pour the orange juice, grape juice, and lime or lemon juice into the pitcher.
Have a leader cut a lemon, lime or orange into thin slices. Add the slices to the juice.
When the sugar water has cooled, pour it into the pitcher and stir well to blend all the ingredients.
Store the pitcher in the refrigerator until you're ready to serve it. Chill the club soda, too.
Just before serving, add the club soda. Stir. Pour into tall glasses. Add ice cubes.
Makes about 4 10-ounce servings.
Pioneer Snack Food
Santa Clara County Council
Supplies:
3 to 4 apples
Peeler (optional)
Sharp knife for slicing
3-foot cotton string
Cotton sack, glass jar, or plastic bag for storing
Directions:
Cut apples into thin slices (No need to peel first).
Lace the apple slices onto at string by pushing the string through a hole in the core (no needle needed). Allow for plenty of space between the slices so the air can dry them on all sides.
Hang the string in a sunny, sanitary window for about a week. When the slices have dried out, place them in a plastic bag or airtight container for a nice Pioneer treat.
McQuick Oven Fries
Santa Clara County Council
Instead of the traditional deep-fried potatoes, try these oven-baked fries.

Ingredients:
4 baking potatoes
1 Tbsp. oil
1 tsp. kosher salt
Vegetable oil cooking spray
Directions:
Preheat oven to 425°F.
Wash and scrub the potatoes. Peel the potatoes and place them on the cutting board.
Use a paring knife to slice each potato into ¼-inch slices. Cut each slice into 4 long, thin pieces.
Place the fries in the bowl and toss with the oil.
Lightly spray a cookie with vegetable oil spray.
Place the fries on the sheet and bake for 25 minutes or until they are golden brown.
Use oven mitts to remove the cookie sheet from the oven. Dust the fries with salt and serve.
Coca Cola Barbecued Chicken
Santa Clara County Council
I am definitely going to do this in my Dutch Oven!! Save this recipe for your next pack family camping trip. It will be a great hit!! The Cubs will not believe you are using Coca Cola to cook!! I had a Coca Cola recipe for pork chops when I was a Scoutmaster. The Boy Scouts thought it was great. CD
Ingredients:
12 ounces chili sauce
8 ounces Coca-Cola
1 garlic clove, peeled and chopped
½ cup chopped peeled onion
2 Tbsp. light brown sugar
1 Tbsp. soy sauce
½ tsp. dry mustard
Several drops hot pepper sauce
Salt and ground black pepper
2½ pounds chicken drumsticks and thighs
Directions:
Combine the all the ingredients in a slow cooker/crock pot or Dutch oven.
Coat each piece of chicken well with the sauce.
For slow cooker, cover and set cooker at high setting. Allow sauce to come to a simmer, reduce heat to low setting and allow chicken to cook, cover ajar, about 8 hours or until chicken is fork tender. Skim off any fat from sauce and discard.
For Dutch oven, bake, uncovered, in a very slow oven (275°F) for 3 to 4 hours, or until fork tender. Skim off any fat from sauce and discard. Adjust seasoning and serve chicken accompanied with sauce.
Outback Steak Seasoning
Santa Clara County Council
Ingredients:
1 envelope Taco Seasoning
1 envelope Good Seasons Italian dressing
1 tablespoon olive oil
1 bottle Coca Cola
Your favorite cut of steak
Directions:
Combine taco seasoning and Italian dressing mix.
Pierce steak with a fork, rub with oil, and coat with seasoning.
Pour Coke around steak in deep plastic or glass container and cover with plastic wrap. Refrigerate for 24 hours.
Grill; basting with marinade.
Model Log Cabin
Santa Clara County Council
Create a model of a log cabin that you can also break down and eat.
Supplies:
Empty and clean 8-ounce milk cartons,
Masking tape, plastic knife, paper plate
Small jar of smooth peanut butter
Thin pretzel sticks and pretzel nuggets
½ cup raisins and ½ cup assorted nuts for decorating
Directions:
Seal milk carton shut with masking tape.
Spread peanut butter thickly on all sides, including roof.
Press the thin pretzel sticks into the peanut butter so they look like logs. Be sure to include windows and doors (break the thin pretzels into small pieces for this).
Use the pretzel nuggets for the roof shingles.
Add the raisins and nuts for fancy decorations.
The edible ingredients make this a nutritious snack, which is also fun to demolish and eat heartily with your fingers.