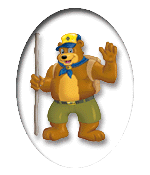 February Cub Scout Roundtable Issue

Volume 7, Issue 7

Man's Best Friend
Webelos Athlete & Engineer
Tiger Big Ideas 12 & 13
R ecently I read some reminders about behavior management and wanted to share them. Listening is an important technique. That means giving the boy the opportunity to express himself, whether as part of the group or alone in private conversation. Be patient. It may take a number of listening sessions. Praise and encouragement are indispensable; even when a youth does not succeed; he should be really praised for trying. Rewarding proper behavior will likely cause that behavior to occur again. Reward can be in the form of a 'thank you' or recognition made by the group for helping perform at a higher level. It can also take a material form such as a badge, a prize, or a chance to go on a trip or to camp. Focus reward on proper behavior. As a leader, you are to be a number of persons all at once to the Scouts in your unit. The are times when for any one boy you are a friend, an authority, a rewarder, a disciplinarian, a source of order, a resource person, and a teacher.
Materials found in Baloo's Bugle may be used by Scouters for Scouting activities provided that Baloo's Bugle and the original contributors are cited as the source of the material.

Materials found at the U. S. Scouting Service Project, Inc. Website ©1997-2002 may be reproduced and used locally by Scouting volunteers for training purposes consistent with the programs of the Boy Scouts of America (BSA) or other Scouting and Guiding Organizations. No material found here may be used or reproduced for commercial or other non-Scouting purposes without the express permission of the U. S. Scouting Service Project, Inc. (USSSP) or other copyright holders. USSSP is not affiliated with BSA and does not speak on behalf of BSA. Opinions expressed on these web pages are those of the web authors.

The U.S. Scouting Service Project is maintained by the Project Team. Please use our Suggestion Form to contact us. All holdings subject to this Disclaimer. The USSSP is Proud to be hosted by Data393.com.
Visit Our Trading Post