WEB SITES
Great Salt Lake City Council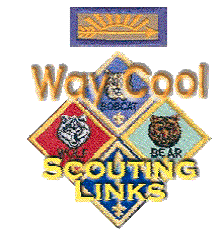 ADHD Training - Jamie of Coon Rapids, MN told me - There is a new supplemental training module on ADHD posted on the National Council web site. Most of the information is useful for leaders dealing with all ages: http://www.scouting.org/boyscouts/supplemental/pdf/ADHDTips.ppt
From Karen, CS RT Commissioner in Jersey Shore Council
Here is a great site www.enchantedlearning.com that looks like it is set up for teachers but certainly can be used by us. You have the option of using it without joining with a membership fee. You just can't download the worksheets without the banner (oh, well). But $20.00 isn't bad either. They have a broad subject range-I used it this month in my newsletter for fossils, dinosaurs, and geology, etc for the theme "Diggin' in the Dirt" I wanted to give them something besides bugs and worms to consider also.
Jamie also recommends reading "Introducing Your Kids to the Outdoors", by Christopher Van Tilburg. ISBN: 0811731936. He found the book at his library and says it has lots of great tips for parents who aren't sure how to get their kids outside, or parents who aren't very comfortable in the outdoor themselves. Some ideas are applicable to pack camping, others work for family outings.
Ruth wrote me to share some information on a new book that fits in with April's Cub Scout theme, "Our Feathered Friends." It is a book-and-CD package, "Sing, Nightingale, Sing!", published by Kane-Miller ($13.95). The book lets readers learn about plumage, biology, behavior, and more.
After reading about any of the 60 different birds in the book, you can then listen to its song on the enclosed CD. The author is Francoise de Guibert, and illustrated by Chiaki Miyamoto. The book can be ordered from: www.kanemiller.com , or by phone: 1-800-968-1930
Win, a Webelos RT trainer in California recommends this site for help with Citizen badge.
www.nationstrail.com/awards/awards_ushgold.html