WEBELOS
Note – I had a misstatement last month. Groups of Webelos are dens. They are not patrols. They may take a name and wear a patch representing the name, but they are still dens not patrols. One of the articles in Baloo last month had this wrong. Sorry and Thanks. I know at least one person read Baloo last month. CD
Arrow Of Light Ceremony - Like An Acorn
Heart of America Council
When you first see an acorn, it may seem quite small and insignificant. Who could guess the great potential lying inside its small shell? A Cub Scout is like an acorn. Although he may appear to be small, he has the potential of greatness within him. As an acorn sprouts and grows, it turns into a majestic tree - sought after for its strength and admired for its beauty. It is very popular and its useful purposes seem unlimited.
Would (Full name of Scout) please come forward with his parents? (First name of Scout) was like the acorn when he first joined Cub Scouts. He was full of potential and ready and willing to learn and grow. In the Wolf, Bear, and Webelos dens, he grew by learning the ideals of scouting. He developed character along the way and has gone above that which is required to gain his Webelos and has earned the Arrow of Light, He is reaching to new heights each day as he follows the Cub Scout Motto to "Do Your Best."
This is the highest award you can earn in Cub Scouting but it is not the end to your growth. Just as the mighty oak grows each day for years, you too will continue to grow and learn. Follow the path that leads onward in scouting - and one day you will reach above the oaks and soar with the Eagles.
Trusty Tommy, The Trustworthy Scout
San Gabriel Valley, Long Beach Area, Verdugo Hills Councils
tune: Yankee Doodle
Use this to help teach your Webelos learn the Scout Law....and have some fun.
Trusty Tommy was a Scout,
Loyal to his Mother,
Helpful to the folks about and
Friendly to his brothers.
Courteous to the girls he knew,
Kind unto his rabbits
Obedient to his father, too and
Cheerful in his habit.
Thrifty saving for a need
Brave but not a faker
Clean in word and thought and deed and
Reverent to his Maker.
Ideas for Webelos Activity Badges
Longhorn Council
Make it fun.
Make sure there is a fun element to every outing. For example after the boys have worked on Aquanaut have free swim time. If you do a service project make sure you play a game afterwards.
Make up games for dry topics.
Use outside community resources and your parents rather than you leading all the meetings.
Make sure the boys are doing rather than listening.
Many of the Activity Badges will take 2 or more meetings to complete. They are intended to be done one a month. Some councils have a special "Twentier" patch if a Webelos Scout earns all 20 activity badges. If yours doesn't have this, feel free to make one up. Start a tradition in your pack!
Get the boys involved in deciding which items they want to do for the Activity Badge.
Have the boys plan and present to the den some of the items from the Activity Badges.
The boys should read the complete text in their Webelos books for each Activity Badge they earn. There is a lot of good information in the book.
Fitness and Citizen are required for the Webelos Badge. Readyman and Outdoorsman are required for the Arrow of Light.
Webelos is an OUTDOOR PROGRAM!!
Take Outdoor Webelos Leader (OWL) Training to learn how to put the outdoor in your program. It will give you lots of great ideas!!!!
Take your den to Webelos Resident Camp in the summer. They can attend the summer after they get their Bear rank. It is usually held in August. Check your Council calendar (hard copy or web). Or call your DE!
OUTDOORSMAN
OUTDOORS GROUP
Sam Houston Area Council
The Outdoorsman Activity Badge requirements are FUN, and give the Webelos a chance to learn new skills that will prepare him for Boy Scouting. Camping, outdoor cooking and fire safety are all part of enjoying living in the outdoors.
SUGGESTED PATROL ACTIVITIES
Practice putting up different kinds of tents.
Demonstrate how to make an improvised bedroll
Practice building a fire for cooking and a campfire, and have a patrol cookout.
Have a knot-tying contest or play knot-tying games to learn and improve skills.
Study and learn fire safety rules including no flame lights in tents and no liquid starter for charcoal fires.
Learn several cooking techniques, including the foil pack method.
Contact a local Boy Scout troop and arrange to camp with them.
Make camp gadgets and go camping
Have a Scout visit a patrol meeting and show the boys his pack. Have him describe the different kinds of packs and what he carries in his.
WHY DO WE CAMP?
The primary reason for camping is so that the boys learn conservation and respect for nature. Your example as a leader is very important. They should see in you the concern for our environment that they will learn. Make sure that they understand that it is best to leave a campsite in better condition than when you came. It is okay to pick up litter that you did not place there, etc.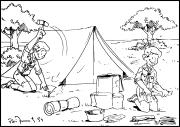 UP AND DOWN
Plan a whole patrol meeting on the camping theme. First demonstrate how to set up a tent properly, including precautions on handling to avoid damage. Then divide the patrol into two teams and give each a tent bag. On signal they must race to set up the tents.
Once both tents are up, allow boys to climb inside to have a secret meeting. Take off shoes first. Inside, they have ten minutes to plan a song or a short skit to entertain the other boys at their campfire. Ring a bell to call the boys out to the campfire. Choose one team to lay the firewood. Talk about fire safety. Have the boys circle around the campfire. Teams take turns entertaining each other. Leader gives closing and the other team put out the campfire properly. Take down the tents, sing taps and go home.
Taps lyrics are "Day is done. Gone the sun, from the lakes, from the hills from the sky. All is well, safely rest. God is nigh."
TEACHING KNOTS
Try to teach basic knots over an extended period. Do not try to teach them more than two knots in any given meeting. Most boys will start to get confused after the second knot. Master the square knot and clove hitch first, and then add the others.
Repetition and using them for a real purpose is the key to learning knots. Once you have introduced them, keep including the skills in various games and other activities. Using rope of two different colors helps some boys see more clearly how knots are correctly tied and lessens confusion. Boys will need individual attention in learning and demonstrating these knots; so try to get some help in watching them tie them. Your den chief would be good at this.
There are six taught in this activity badge. Be sure to teach them in practical situations so that they will know what to use them for! The uses of the required knots are listed in the Webelos Scout book along with the instructions. Use a lot of knot tying games (Webelos Leader Guide) to make it fun, and use ropes for other games as well.
HOW DO I USE IT?
Even though we teach the boys about the outdoors, we often forget to help them think about how to use the equipment that they have in an emergency. This is a fun discussion exercise to use with your boys. Here is a list of equipment the boy has been left alone with, in a remote location:
Pail Flashlight Large blue tarp
FM radio Compass Pocket knife
Rope Fishing pole Whistle
Map
If he were lost in the woods, which items might help him find his way back?
Which items might be used to get help?
Which items might be used to make himself comfortable?
Would your choices be different if you might be lost for many months?
If he only had one of these items, which would it be? Two items? Three items? …
EDIBLE CAMPFIRE
Use this for a patrol activity to teach proper fire building techniques. As boys are building their individual fires, explain why each step is important. After the fire is built, enjoy eating this treat!
Napkin – designates a cleared area

Miniature marshmallows – for fire circle

Small cup of water – to extinguish fire

Shredded coconut – kindling

Skinny pretzels – tinder

Fat pretzels – fuel

Candy corn – fire
NO SLEEPING BAG? NO PROBLEM
Do you have to have a sleeping bag when you go camping? Certainly not, and during the warm months in many states (e.g. Texas), lighter sheets and blankets can be much more comfortable that a warm sleeping bag.
What is most important is:
Provide a barrier between you and the ground that keep you dry if the tent gets wet. This can be as simple as a sheet of plastic.
Provide some padding under you, so that the rocks and roots under you don't keep you awake. An extra blanket or a closed cell foam pad will work nicely.
No pillow is required. A cloth laundry bag or pillowcase holding your extra clothes makes a nice pillow at night, and your next day's clothes are easy to find.
Blankets are the best things to use as a sleeping bag substitute. Wool in the winter and synthetic in the summer can keep you toasty warm. A piece of plastic over the blanket and under your body can add to how warm it keeps you on a chilly night.
Whether using blankets or a sleeping bag, it is more comfortable to have a sheet next to your body. Fold a twin-size sheet in half and safety pin it on the sides.
SUCCESSFUL OUTDOOR COOKING
It is important that Webelos are allowed to cook on their campouts. With a little bit of supervision for the sake of safety and health, the boys should be able to prepare their own breakfasts, lunches and dinners. Don't be afraid to give them a chance to cook your food AND to clean up afterward. If they clean up, they will learn not to be so messy while cooking.
Simple breakfast items:
Pre-mixed Pancakes, just add milk or water. Don't forget the oil on the griddle.
Dice potatoes and fry. For more flavor add salt, pepper, onions and bell peppers.
Bacon, and this can provide cooking oil for the pancakes and potatoes.
Boiled mini link sausages.
Toast bread over a fire, with sticks holding the bread.
Simple lunch items:
Keep simple quick and easy with sandwiches. Grilled ham and cheese sandwiches can add some challenge.
Open a can of their favorite soup.
Simple dinner items:
Foil dinners. Best if you use Extra Heavy Duty Aluminum Foil. Foil dinner success comes when the raw potatoes, vegetables and meats are cut very small, there is a lot of moisture in the food or added with barbeque sauce, and you carefully seal folded edges. Use a Sharpie marker to write names on the outside, and cook on edge over hot coals.
Hotdogs on a stick over hot coals.
Bake rolls in a Dutch oven or wrap dough on a stick over hot coals.
Bake a fruit cobbler in a Dutch oven (the official Texas state cooking implement). Line the Dutch oven with heavy duty foil to avoid any clean-up.
Baltimore Area Council
The best way to work on the Outdoorsman Activity Badge is on a Father-Son overnight campout. Policies of the Boy Scouts of America encourage one or two Father-Son overnights during the year when a boy is a Webelos Scout. This is not full-fledged Boy Scout camping---only a taste of what is to come when the boy joins a troop. After a Cub Scout becomes a Boy Scout, he will become proficient in handling himself in the woods. As a Webelos Scout, he should not be expected to completely master any of these skills--only to have a little fun in the woods.
Most Webelos cannot wait for the first campout. But some are really not ready for it when they go. Good planning and assistance from the parents is important to make the first campout away from home successful.
Make sure that new boys that have not camped have the back yard experience first. They will probably be in and out all night, but it will help raise their confidence.
If you are using state parks, call ahead for reservations. Most will save you a space if you send in the required deposit on time. Make sure you get permission to use private property, and fill out a Tour Permit to get clearance from the Scout Service Center. When you are planning, use these topics as brain teasers. Make sure you consider these for a successful campout.
Adult assistance - Son and one, not more than two boys to one adult.
Location - Distance, time and transportation
Food - Dietary problems, weight, water, refrigeration, trash disposal.
Cooking - Basic food groups. Keep it simple. Try it at home first.
Sanitation - Safe water, proper dish washing, showers, hand washing, latrines.
Safety - No hatchets, axes, or chain saws. Buddy system everything! Follow fire rules. Gas fuels - adults only!
First aid - Medication for boys, allergies, nearest medical facility, good first aid kit (you can make it yourself).
Activities- Activity Badges, Tracking, Hiking, Orienteering, Campfire, Swimming, Fishing, Knots.
Plan B- Something to do if the above activities cannot be done because of weather, etc.
Camping
Campsite - Watch for low areas that may be a runoff or stream if it rains. Check for dead branches overhead that may fall if the wind blows.
Tents - Seams need to be sealed before first use. Practice set-up and teardown, in daylight and darkness, before the trip.
Bedding - Make sure it's suitable for the weather. Remind the boys to change into clean, dry clothes at night before bed, not in the morning.
Packing
Use checklist in book.
Have a "shakedown"; see what the boys pack early.
Raingear (big plastic bags are cheep).
Put things in small plastic bags. It keeps them dry and organized.
Homemade Mess Kit: Staple together two aluminum foil pie plates for thickness. Staple together two more. Use one double thickness pie plate for the top of mess kit, the other for the bottom. Fasten together on opposite sides with paper clamp. Tie a leather shoelace through hole in paper clamp. To make a strap to hang on belt or bicycle handlebar. This mess kit will hold a collapsible cup, and plastic fork and spoon.
Roasting Tools -- Wiener or marshmallow roasting utensils are made from wire coat hangers, which have had the paint sanded or burned off. Handles are either pieces of wooden dowel or spools glued together. Be sure the holder is long enough so you can stand back from the fire when using it.
Hand washer:
Materials needed:
1 large bleach bottle or milk jug
1 bar of soap
Leg of old panty hose
String and knife
1 roll of paper towels
1 sturdy stick and small twig
Directions:
Punch a hole in each side of the bottom of a bleach bottle or milk jug.
Run a string through one hole and out the other.
Wrap each end of the string around the ends of a sturdy stick. (First slide the roll of paper towels onto the stick.)
Bring ends of the string together and tie.
Then hang over tree limb.
Slip the bar of soap into the toe of the panty hose.
Tie to handle of the bottle.
Punch a small hole about 1 inch from the bottom and plug with a small twig.
Remove twig to use.
You may wish to tie the twig to the handle with strings so as not to lose it.
Den First Aid Kit
A number of kits are on the market, but as a Webelos den project, you can make one for the den. The first aid kit is best packed in a waterproof container such as a plastic refrigerator box. (I hope they mean a food storage box for refrigerator not the box that your refrigerator arrived in. No one could lift one of those if it was full of First Aid supplies J J CD) Here are some items that can be considered standard; soap, box of adhesive bandages (assorted sizes and waterproof), adhesive tape, sterile gauze pads (small and large), burn ointment, small scissors, tweezers, a packet of needles, safety pins, ammonia inhalant capsules, chopsticks, salt tablets, snakebite kit, poison ivy lotion, tablets for digestive upsets.
Trail Snacks
Have the boys prepare a trail snack to take with them. See recipes below:
Hiker's Nosebag This and That
Ingredients
1/4 lb. seeded raisins
1/4 lb. seeded raisins
1/4 lb. Cheese
1/4 lb. peanuts
1/4 lb. Chocolate
1/4 lb. chocolate bits
1 apple
Some favorite sugared cereal
Directions
Put all ingredients in a plastic bag)
Mix well
Eat and enjoy
Games
Map Concentration: Let the boys make sets of map symbols on index cards and play a game of concentration.
Clock Hike: Each boy picks a time, then using a compass with north as 12 o'clock, you simply hike a predetermined number of paces that the "time" dictates. Then use the next boy's selected time for the new direction. Teaches a little of compass usage and provides some exposure to what they will get into in Boy Scouts.
Webelos Handbook -- Aside from the fun the boys will experience on the overnight campout, they should complete enough requirements to earn the Outdoorsman Activity Badge by the time they return home.
In addition, certain requirements for other badges can be accomplished while on a campout. For example:
Geologist- Collect 5 geological specimens that have important uses.
Naturalist - Be able to identify the poisonous plants and reptiles in your area. Observe wild animals in their natural habitat. Describe what you saw and what they were doing.
Forester - Identify 6 forest trees and tell what useful wood products come from them.
Traveler - Make a list of 4 nearby trips. Act as navigator on one of them at least 25 miles long. Pack a suitcase for the trip. Check the First Aid Kit in the car.
HANDYMAN
TECHNOLOGY GROUP
Baltimore Area Council
Handyman is one of the easiest and flexible activities in the Webelos program. There are fourteen requirements from which the den can choose a minimum of six. These can be selected on the basis of aptitude and availability. Also, the activity can be worked for the month allocated in the Webelos calendar, or it can be done in fewer meetings, if the den meetings are prepared and organized. Some of the requirements can be used for den meeting fillers, if you exhaust a topic early or some of the resources you need for another activity are unavailable.
However, though Handyman is an easy topic, the den leader should handle it with care and thoroughness. Handyman allows the Scout to learn new skills and gain self-reliance and confidence in helping with activities around the house. There are also several safety and environmental issues inherent to several of the requirements.
Den Activities:
At a hardware store, visit the repair shop, and acquaint the Scouts with a few specific and varied sections in the store, like electrical supplies and hand tools.
Arrange a presentation at a well equipped home workshop.
Build a sawhorse.
Arrange for a local mechanic to visit your den or visit his garage, perhaps he can show your den the safe way to change a tire, light bulb and to check the oil and transmission fluid.
Put on a bicycle rodeo for your pack or den.
Check with the local fire marshal or poison control center to find out how to store household cleaners and materials that will be safe from small children.
Check the garage or storage shed in your house to ascertain the tools or implements are properly and safely stored.
Have a clinic on the care and repair of bicycles. Set it up like a shop and have each boy bring his bike and do repairs, etc.
Have Webelos bring tools to a den meeting and demonstrate different ways to mark them.
Hold a nail hammering contest. See who can hammer a nail in the fewest number of strokes.
Have a family car inspection.
Speakers
Carpenter, electrician, plumber, car mechanic
Field Trips:
Visit a local bicycle shop and talk with the mechanic to see if he will show you how to do a safety check upon your bike and perform minor adjustments.
Visit an auto dealership.
Arrange a visit to a service station, auto repair shop or your local tire store, Have the attendant explain the use of different types of equipment Hijack torque wrench, etc. If possible have the attendant show them how to check oil level, check fluids and belts, check tire pressure, and change light bulbs. Organize a pack bicycle rodeo. See Cub Scout sports Bicycling Manual for details.
Visit a lumber yard, hardware store, or bicycle shop.
How to Fix a Leaking Faucet
A leaking faucet is usually due to a defective washer and is a problem that can easily and quickly be resolved.
Shut off the water! If there isn't a valve under or near the sink, turn off the main supply valve.
Unscrew cap nut of faucet.
Using a flat wrench, unscrew nut on faucet and pull out stem assembly. (Cloth or cardboard under wrench jaws prevents scratching.) Remove screw on stem assembly, pry out old, worn washer, wipe out grime and put in same size new washer.
Replace screw and reassemble faucet. Turn water on.
Clean a Drain Trap
A drain trap is a U shaped piece of pipe in a sink drain that gives a low spot to hold water. Drain traps keep gas from the sewer from coming into the house. Sometimes it clogs up and it must be taken off and cleaned out.
To clean a trap, first put down plastic sheeting or newspaper below the trap. The trap is full of water, so protect the area beneath the sink from spills. Use a pan to catch the water. Use a large pipe wrench to loosen the two screw collars that hold the trap. They have right-hand threads, which means that you turn them clockwise (the way a clock's hands move) to tighten them. You will need to turn them the other way (counterclockwise) to unscrew them. They may be tight to start with, so you will need help from an adult with this job. After each collar has been unscrewed two or three turns with the wrench, you can probably unscrew them the rest of the way by hand.
When both collars are loosened, you can lift out the trap. Be careful; it is full of water, soap scum, and other trapped things that you won't want to spill. First, unscrew one collar and hold the trap with one hand while you unscrew the second collar by hand, so it won't fall off when the collar loosens.
Carefully place the trap in the pan so it won't spill. Carry it to where you can to dump it. The water can be poured into another drain, but the sludge and solid waste should go in the trash. Flush the trap outdoors with a hose.
Reverse the steps to replace the trap. Turn both collars at least two turns by hand to make sure the threads are matched up, then make them as tight as you can with the pipe wrench. An adult should do the final tightening job to make the joints as leak-proof as possible. Run some water in the sink to check for leaks. If you see any drips, tighten the screw collars more, or remove the trap and replace the rubber seals before putting it back.
Take Care of Your Bicycle
Create a checklist you review every time you before you begin to ride, Items to always check include:
brakes _________ chain __________
pedals _________ reflectors ______
spokes _________ tires ___________
seat ___________ lights _________
Make sure you keep your chain well-lubricated and the tires inflated properly.
Visit a bicycle shop. Learn about the different kinds of bikes. Ask about bike maintenance. At your den meeting, take apart an old bike then put it back together.
Changing a Light Bulb
Make sure you do not have power going to the light fixture, by unplugging a plug or make sure the wall switch is turned off. Replace the bulb with the correct wattage for the fixture or the bulb will burn out quicker.
Handyman Day
Have all the boys wash parents' cars and with the help of an adult, check the oil and any other fluids in the car. Have the boys check their bicycles.
Sam Houston Area Council
The Handyman Activity Badge is designed to help teach the Webelos about home and automobile repairs and maintenance. This is a good opportunity to instill responsibility on how to care for their most expensive future purchases.
SUGGESTED PATROL ACTIVITIES
With proper adult supervision, wash a car.
Help an adult change a tire on a car.
Replace a bulb in the taillight, turn signal, parking light, or headlight on a car.
Visit a bike repair shop and learn how to repair a bike tire. Make a repair to a bicycle, such as tightening the chain, fixing a flat tire, or adjusting the saddle or handlebars.
Properly lubricate the chain and crank on a bicycle.
Properly inflate the tires on a bicycle.
Visit a lawnmower repair shop and see how engines are repaired.
Arrange a storage area for household cleaners and materials, safe for small children.
Mow a lawn and properly rake and dispose of the grass clippings.
Arrange a storage area for hand tools or lawn and garden tools.
Build a sawhorse or stool to be used around the home.
Visit an auto repair shop. Learn about tread indicators on tires.
Insulate each home's water heater.
Check with your church to see if there is an elderly or disabled person in the area. Do a service project for this person, by mowing and trimming their yard.
SIMPLE THREE-LEGGED STOOL
Three-legged stools have the ability to stand without wobbling regardless of how unevenly the legs are cut. For this project, with permission, obtain a 4" diameter oak limb. Perhaps the ranger at your Scout camp has some limbs from forestry work being done at camp or a neighbor has had some tree work done. Saw it to 16" lengths. Strip the bark and branches. Buy a four foot length of 1" diameter doweling or a similar rounded piece of wood like a broomstick, and cut this stick into three 16" sections. With a drill bit the same diameter as the sticks, drill a 2"-deep hole in the exact middle of the side of the limb (be sure to drill toward the center of the limb). Now turn the limb a quarter turn, and drill two more holes, each 4 inches on either side of the middle of the limb. Coat each hole with wood glue and hammer the three sticks into the holes. Stand the stool on its new legs and let the glue dry.
TOOL BOARD
Screw a 18" x 20" pegboard to a 20" x 24" piece of ½" plywood using 3/8" spacers between to create a space for the hooks. Use a paint pen to draw outlines of where each tool is to be hung on the board. Attach directly to garage wall.
For nails, nuts, bolts, etc
Place each in separate small jars. For each jar, put two hooks in pegboard on either side of the jar. Stretch a rubber band between the hooks and slip the jar between the rubber band. (or buy jar and lids that have hooks attached)
DRILL BIT HOLDER
Use a 7" piece of 2" x 4" wood. Drill two rows of holes, about one inch apart, for a total of twelve holes. Insert drill bits upright in the holes.
BICYCLE HANDYMAN IDEAS
Have the boys bring their bikes to a patrol meeting at a local park. Do requirements 5, 6, and 7. Then go for a bike ride to help earn the Bicycling Belt Loop.
Have the boys help plan a mini bike rodeo for a park meeting where all the Cub Scouts are invited to bring their own bikes. Webelos Scouts can set up a "safety station," where they check the condition of safety equipment on the bikes and go over safety tips with the younger boys. Ask a local bike dealer if someone can come and help with the safety check. Contact the police department to see if someone can come to register bikes in case of theft. In some areas, the police department will run a bike rodeo and safety program for you if the entire pack is involved.
Ride to the neighborhood park and have a picnic.
Go to a bike shop and have an expert demonstrate different bike types and show how to take care of them.
HANDYMAN KIM's GAME
Divide the patrol into two teams. Have two laundry bags of household items at the front of the teams. Place an empty grocery sack at the end. Begin by having the first boy pull out one item and pass it on. When the item is deposited into the grocery sack, the end boy yells, "Next." Continue until all items are passed. Let the boys think that the object of the game is to be the first to empty their laundry bag and fill the grocery sack.
Take the bags away and give each boy a piece of paper. They have two minutes to write down what objects they remember passing.
NAIL HAMMERING CONTEST
Divide into teams, each with a similar log, and hand each boy a nail. As a relay, the first team to complete hammering their nails into their log wins.