THOUGHTFUL ITEMS FOR SCOUTERS
Thanks to Scouter Jim from Bountiful, Utah, who prepares this section of Baloo for us each month. You can reach him at bobwhitejonz@juno.com or through the link to write Baloo on www.usscouts.org. CD
Roundtable Prayer
Cub Scout Roundtable Planning Guide
We give thanks for the beauty of our earth. We hop to show our Cub Scouts the wonderful things in the dirt of our earth and we hope to guide them in making good decisions as they learn to love and care for our earth. Amen.
Pioneer Nurseryman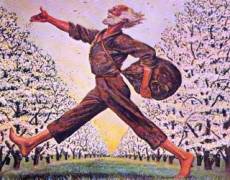 In about 1797, a young twenty-two-year-old man packed a bag with some personal belongings, a sack of apple seeds harvested from Pennsylvania cider mills and headed west into the new American frontier. His name was John Chapman, but he would become known as "Johnny Appleseed. He just didn't travel around scattering apple seeds, he was a practical businessman. It was required by law that settlers plant fifty apples trees the first year on a new homestead. Apples were a good food source and stored well. John took his bag of seeds into the wilderness, and found a likely spot for growing trees. He would clear out the land by chopping the weeds and brush by hand. He then planted his apple seeds in neat rows and surrounded them with brush fences. He had many plots of land where he would raise apple trees. He never carried a gun and had no fear of man or beast. The Indians accepted him as a friend, and it was said, he would talk to the animals while he worked. He stayed ahead of the pioneers as they moved west. He would sell his sapling trees for a few pennies each or trade them for whatever people had to trade. Sometimes he would take used clothing in trade for his valuable trees, which was usually worn and too large for his small frame. Each fall he would travel east on foot and by canoe to acquire new seeds for new crops of trees. John never married but loved, and was loved, by those he lived among. No one knows how many millions of seeds he planted in the hundreds of nurseries he established in the Northwest Territory, now the states of Ohio, Michigan, Indiana and Illinois. Many of his seedlings traveled across the plains of North America in covered wagons to grow to feed families in the west. John Chapman worked the soil and left the land and everything and everyone else better than he found them.
Monthly Quotes
"There are many tired gardeners but I've seldom met old gardeners. I know many elderly gardeners but the majority are young at heart. Gardening simply does not allow one to be mentally old, because too many hopes and dreams are yet to be realized. The one absolute of gardeners is faith. Regardless of how bad past gardens have been, every gardener believes that next year's will be better. It is easy to age when there is nothing to believe in, nothing to hope for; gardeners, however, simply refuse to grow up. Thomas Jefferson said once, "Though an old man, I am but a young gardener." Allan Armitage
"A flower is an educated weed." Luther Burbank
"And when your back stops aching and your hands begin to harden...You will find yourself a partner in the Glory of the Garden." Rudyard Kipling
"He plants to benefit another generation." Caccilius Stativs
"Spring shows what God can do with a drab and dirty world." Virgil A. Kraft
"No winter lasts forever. No spring skips its turn. April is a promise that May is bound to keep. And we know it." Hal Borland
"There's little risk in becoming overly proud of one's garden because gardening by its very nature is humbling. It has a way of keeping you on your knees." Joanne R. Barwick, in Readers Digest (1993)
"Trees are the earth's endless effort to speak to the listening heaven." Rabindranath Tagore, Fireflies (1928)
"Nature does have manure and she does have roots as well as blossoms, and you can't hate the manure and blame he roots for not being blossoms." Buckminster Fuller
"Sometimes you have to step in it to learn how to avoid it." Anon
"Gardening is an exercise in optimism." Anon
"The best thing that can come out of a garden are gifts for other people." Jamie Jobb
"A garden is a grand teacher. It teaches patience and careful watchfulness; it teaches industry and thrift; above all it teaches entire trust." Gertrude Jekyll
"I live in the garden; I just sleep in the house." Jim Long
"Roses are red,
Violets are blue;
But they don't get around
Like the dandelions do." Slim Acres
"Gardening requires lots of water - most of it in the form of perspiration." Lou Erictson
"But each spring...a gardening instinct, sure as the sap rising in the trees, stirs within us. We look about and decide to tame another little bit of ground." Lewis Gantt
"In the spring, at the end of the day, you should smell like dirt." Margaret Atwood, Bluebeard's Egg (1986)
"I was determined to know beans." Henry David Thoreau, Walden (1854)
"What a man needs in gardening is a cast-iron back, with a hinge in it." Charles Dudley Warner, My Summer in a Garden (1871)
"Those who labour in the earth are the chosen people of God." Thomas Jefferson
"If dandelions were rare and fragile, people would knock themselves out to pay $14.95 a plant, raise them by hand in greenhouses, and form dandelion societies and all that. But, they are everywhere and don't need us and kind of do what they please. So we call them weeds and murder them at every opportunity" Robert Fulgham.
"Time began in a garden."
"Tickle the earth with a hoe, it will laugh a harvest."
"You can bury a lot of troubles digging in the dirt."
"We come from the earth, we return to the earth, and in between we garden."
"Though an old man, I am but a young gardener." Thomas Jefferson
"There are no gardening mistakes, only experiments."
Janet Kilburn Phillips
"A garden is a friend you can visit any time."
Develop a passion for hoeing. To cut down a weed is, therefore, to do a moral action. My hoe becomes an instrument of retributive justice. Hoeing becomes, not a pastime, but a duty. Nevertheless, what a man needs in gardening is a cast-iron back with a hinge in it. Charles Dudley Warner "My Summer in a Garden" 1872
Flowers seem intended for a solace of ordinary humanity. John Ruskin
Heaven is beneath our feet as well as over our heads. Henry David Thoreau
What Do We Plant
Heart of America Council
What do we plant when we plant a tree?
We plant a ship which will cross the sea.
We plant the mast to carry the sail.
We plant the planks to withstand the gale,
The keeps, the keelson, the beam, and knee.
We plant a ship when we plant a tree.
What do we plant when we plant a tree?
We plant the house for you and me.

We plant the rafters, the shingles, the floors,
We plant the studding, the lath, and doors.
The beams and Siding are all Parts we need.
We plant a house when we plant a tree.
What do we plant when we plant a tree?
A thousand things that we daily see.
The paper for books from which we learn,
Tools to help us do a good turn.

The wood for a Pinewood Derby car,
For model planes that we fly so far.
We plant the staff for the flag of the free,
Yes, we plant all these when we plant a tree.
But what do we plant when we plant a lad?
With the help of his mother and his dad.
We plant a Cub who'll become a Scout,
We plant ideas that will round him out.

The skills, the games, the joy to be had.
We plant a Scout when we plant a lad.
What do we plant when we plant a lad ?
We plant a Scout when we plant a lad.


Leaders Soliloquy
Heart of America Council

That no household task was left undone
In my home, I will not say,
Dust feathers are under my bed,
But I was building today.

I went with my boys on a nature hike
In a woodland beside a stream.
We say spring stretch and yawn and grow,
Awaking from winter's dream.

We talked together and laughed together,
We saw the robin's return.
We cooked together and ate together
And watched the campfire burn.

Yes, a household chore was left undone
In my house just over the way;
But I've been busy, as busy can be,
Building tomorrow today.
Give Him A Day:
Heart of America Council
What shall you give to one small boy?
A glamorous game, a tinseled toy,
A pocket knife, a puzzle pack,
A train that runs on a curling track?

A picture book, a real live pet?
No, there's plenty of time for such things yet.
Give him a day for his very own
Just one small boy and his Dad alone.

A walk in the woods, a romp in the park,
A fishing trip, from dawn to dark,
Give the gift that only you can
The companionship of his "old man."

Games are outgrown, and toys not much fun,
But he'll never forget, if you "give a day in the sun"