WEBELOS
Webelos Graduation Feathers
Heart of America Council
Props: one blue, yellow, and red feather for each boy
Through your Webelos activities you have had many opportunities to experience the outdoors, including activities such as Day Camp, camping with your Webelos den and with Boy Scouts. You now know the OUTING is the essences of Scouting.
Now as you complete the transition from Cub Scouting into Boy Scouting you will experience more of the outdoors. As you cross over into Boy Scouts you will begin as a Scout and then earn the right to be known as a Tenderfoot. You must learn to walk before you learn to fly. And fly you will as you expand your horizons and build your endurance to someday become an Eagle. An eagle of nature is a creature of God that has learned to be one with the Outdoors and is not satisfied with just watching the world pass by. You are developing to be such a creature of God.
Are you willing to make the commitment to work hard to build your strength and work with your fellow scouts to develop your wings to soar as an eagle? (Scouts says yes)
To encourage you on the trail, here are your first Eagle feathers. The blue feather represents your progress through Cub Scouts and into Webelos. The yellow Eagle feather is for earning the Arrow of Light. Not all Webelos scouts earn the Arrow of Light. The yellow feather represents your first flight over the first steps of Boy Scouting toward the Tenderfoot rank. You are indeed at least two steps ahead of those boys who enter Boy Scouts without progressing through the Webelos program. (Give blue and Yellow feathers to the boy)
As you cross the bridge to Boy Scouting, your Scoutmaster will present you with a red Eagle feather, representing you first step as a Boy Scout toward becoming an Eagle Scout.
Remember these first Eagle feathers as you progress though the hardest years for a young Eagle, the teenage years. You will be pulled in many directions and often lose sight of your objectives. Remember that an Eagle flies above those thing they confront him in order to gain a better perspective. He does not always fly past his problems but does see more clearly the obstacles that confront him. Only in the Outdoors can the Eagle truly arise above his troubles and not lose sight of this objectives.
Go now and join your fellow Scouts who will teach you to walk with tender feed as you develop your strong wings to fly. Go my son, get your education!
SPORTSMAN
PHYSICAL SKILLS GROUP
Sam Houston Area Council
Sports are high on the list of favorites of Webelos-age boys. Most members of your patrol will show real interest in the Sportsman badge. Chances are the boys spend much of their leisure time in organized sports and loosely organized neighborhood games. Some of them probably already know enough about rules, scoring, and techniques of play for several sports and can pass those requirements immediately. But that's not really enough. On of the prime purposes of the Scouting program is to encourage good sportsmanship and pride in growing strong mind and body. If the boys learn all the skills and rules involved in every sport this month, but don't get an inkling of what good sportsmanship means, then everyone has wasted their time, including the den leader. Sportsmanship is important whether you win or lose.
Suggested Patrol Activities
Invite a referee or official to your patrol meeting to teach signals and talk about teamwork, fair play and sportsmanship.
Hold a parent/son sports tournament, such as bowing, tennis, volleyball, archery, etc.
Have a patrol board game marathon. Provide treats and boys bring their favorite board games to play. Allow time for rotation to different games.
Have Webelos figure out a football, soccer or basketball play and diagram it. Local high school or little league coaches are sources of assistance.
Go roller-skating or ice-skating.
Visit an archery range and receive instructions on safety and procedures.
Play some backyard games such as horseshoes, croquet, volleyball or badminton.
Visit a sports shop and talk with the owner about selecting equipment.
Have a patrol outing to a sports event.
Hike around a golf course. Explain rules of etiquette and play to boys first so as not to disturb players.
Watch a pro or college game on TV and have the boys practice the officials' signals.
Earn Sports belt loops for two sports that are new to the boys.
BALLOON VOLLEYBALL
You will need
1 - large inflated balloon and
1 - long piece of string.
Divide boys into two teams
Seat them on the ground in volleyball positions.
The net is the string fastened between two trees, poles or attached to the walls for indoor use.
The balloon is put into play by a serve
Normal volleyball rules apply, except that the players cannot move from their seated positions on the floor or ground.
BALL OVER
You will need
1 - You will need a ball about volleyball size.
Draw a line.
One team on each side of the line.
Players cannot cross the line.
The leader with a whistle is blindfolded or stands so he cannot see players.
When he blows the whistle, the ball is put into play.
Object of the game
To keep the ball in the opposing team's territory.
When the leader blows the whistle again, a point is counted against the team on the side where the ball was when the whistle blew.
THE PENALTY BOX
Match the Officials' Signal Calls to the correct sport.
FOOTBALL BASKETBALL BASEBALL
SOCCER HOCKEY
In which of the above listed sports would an official call -
Pass interference_____________________________
Illegal Dribble_______________________________
Technical Foul_______________________________
Holding the Face Mask________________________
Kneeing____________________________________
Time-in____________________________________
Slashing____________________________________
Time-out___________________________________
Charging___________________________________
Fair Ball___________________________________
Offside_____________________________________
Substitution_________________________________
Ball_______________________________________
Hooking____________________________________
Corner Kick_________________________________
Incomplete Pass______________________________
Strike______________________________________
Touchdown_________________________________
Penalty Kick________________________________
Out________________________________________
Delay of Game_______________________________
Holding____________________________________
Clipping___________________________________
Foul Ball___________________________________
Safe_______________________________________
Unsportsmanlike Conduct______________________
Traveling___________________________________
Tripping____________________________________
Illegal Motion_______________________________
Foul_______________________________________
INDOOR BASEBALL GAME
You will need
1 - large sheet of cardboard (can be any size so long as it is square).
Marking pens,
Using the pens, draw a baseball diamond like one shown.
Mark home plate and the three bases.
Outside of the baselines write as shown: home run, strike, single, out, double, ball, triple and out.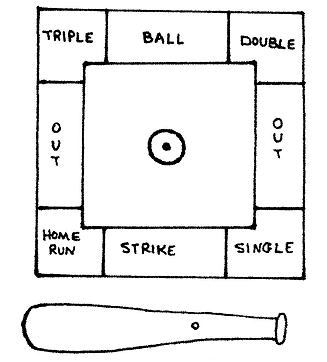 Draw pitcher's mound in the center.
Cut a bat shape spinner from cardboard.
Punch small hole in bat and center of pitcher's mound.
Attach bat with a paper brad to pitchers mound.
Be sure that the hole is not too small or too large, needs to be large enough for the bat to spin freely.
Follow regular baseball rules when playing. Keep score. Each player keeps his turn until he has three outs.
TOUGH SPORT
Want to give your Webelos Scouts the idea of "Good Sportsmanship?" Pick any really easy game to play like Red Light, Green Light. Leader is the light. Make it so tough that nobody wins. Usually after a short time they will start to complain about being too hard, not fair, no one can win. That's a great opening for a sportsman-like conduct, good loser vs. bad loser discussion. It's not just winning but playing and how you play. Then continue to play the same game in the same way. They should laugh a little longer this time.
FAMILY MEMBER
COMMUNITY GROUP
Sam Houston Area Council
Families are important. Every member is important. In some families there are only three people. Other families may have 12 people. It doesn't matter much who is in the family or where they live—being a member of family is what the Webelos will earn from the Family Member Activity Badge.
Suggested Patrol Activities
Have the boys bring family favorite recipes from home and have a recipe exchange meeting. It might be fun to have the boys make a recipe book with their favorite recipes from home or a campout recipe book for patrol campouts. Have a cooking contest.
Tour an energy conservation home.
Invite a homebuilder to come to your meeting to tell you what measures he uses in house building to save energy.
Invite a home economics teacher or dietitian to your patrol meeting.
Tour a power facility and get an employee to explain ways to save energy
Tour a local water facility and ask about water conservation.
Ask the boys to list things their families spend money for each month. This can be done individually, or in teams. Compare lists, and award a small prize to the boy or team with the most items not mentioned by the others.
Hold a family game night for the patrol. Have the families play and share their favorite games, or play charades. Include popcorn and juice for refreshments.
Have the boys fix a meal and invite the parents to your meeting for the feast. The boys must plan the meal, shop for the food, and cook it.
Have the boys make a family tree, which covers their family back to their grandparents. Let each boy show his tree after completion.
Find The Wasted Electricity
Have a lot of lights and appliances on in your house??
Go outside your house to the electric meter and have the boys observe how fast the meter is spinning.
Then have them go inside and turn off as many things using electricity as possible.
Observe the results.
Have them look at an electricity bill to see how big a difference they can make.
Have them find and list the things using electricity in the house:
Lights on
Washing machine
Refrigerator
Air conditioner
TV
They may find other things using power, based on your meeting place's facilities.
Family Key Board
Materials:
1 - One foot long 2½" x 1" pine board
2 - picture hangers
5 - small brass cup holders
Spray paint or stain and polyurethane
Directions:
Spray paint or stain and poly the board a color that will work in each Scout's home (white is usually safe)
When dry, screw picture hangers on back of the board.
Then screw the cup holders to the front of the board, evenly spaced, and 7/8th's inch from the bottom.
Above each cup holder have each boy cut out and glue, or draw, a picture
The pictures may be of members of the family or pictures of the car and house. Let them be creative.
Household Chore Charts
Materials:
Poster board,
stickers,
straight edge,
sharpie markers
Directions:
At your Patrol meeting have the boys create their own family chore tracking chart.
Cut the poster board into 11"x 17" charts for each boy.
Having light lines on the poster board makes cutting and drawing easier.
Decorate with pictures of their family members and types of chores.
They need to be able to track two months of chores.
Family Trees
Materials: White and light green construction paper
Great Grandparents
Grandparents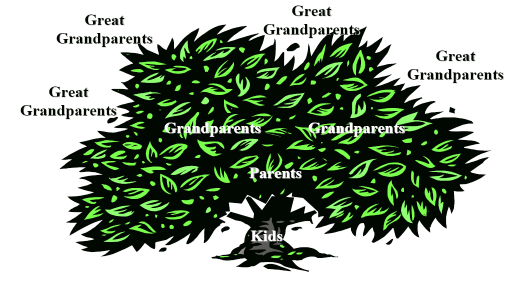 Directions:
Have the boys cut trees out of the green construction paper and paste them onto the white paper.
Have them write their name and their siblings' names, birthdates and birthplaces on the trunk of the tree.
Above this near the bottom of the leafy part of the tree write their parents' names, birthdates and birthplaces.
Above each parent write the grandparents' information.
Above the tree add Great-Grandparents, if possible.
Connect lineages with lines.

Home Inspection Check List Additions
There is a good home inspection checklist in the Webelos handbook, but there are other important inspections to do. Here are a few that Webelos can do at their homes and at their grandparents' homes: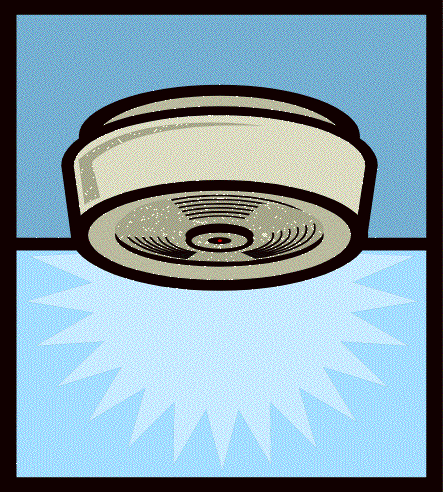 Check to see that there are smoke detectors on every floor of the house, near all bedrooms and in hallways that connect sleeping areas to living areas of the house.
Test the batteries of all of the smoke alarms.
Use a "polarity tester" on every outlet inside and outside the house. Outlets are often wired with the black and white wires backwards or without a good ground wire. Inexpensive testers are available.
Are any power plugs hot or extra warm to the touch?
Check to see that appliance, telephone and lamp cords are not in places where people typically walk, so that they are unlikely to trip on them.
Check to be sure that power cords are not under any furniture legs, rugs or carpeting.
Are all power cords in good shape; not frayed or cracked?
Are several cords going into an extension cord that is not rated for the load?
Are any of the area rugs able to slip or slide?
Is there a list of emergency numbers near every telephone, including poison control, local police (911 and non-emergency), and fire?
Check the wattage of every light bulb versus the rating of the sockets.
Make an emergency exit plan so that the whole family knows how to get out of the home from any room. Everyone needs to know what the emergency gathering spot will be. Are there any safe alternative ways out of upstairs windows? Do a practice emergency escape from the home to see how long it takes.
Does the stove vent out smoke properly?
Are any appliances plugged in too near the sink in the kitchen of bathroom?
At night, is kitchen lighting bright enough to see adequately and be safe?
Does the fireplace have something to keep sparks from entering the room?
Are they any rugs or flammable objects near the fireplace?
Are hallways well-lit and free of clutter?
Do bathtubs and showers have non-skid surfaces to stand on?
Are poisons and household chemicals out of reach of small children?
Are there light switches at both the top and bottom of all staircases?