OPENING CEREMONIES
"B" Is For Birds
Heart of America Council
Set Up: Four Cubs with placards featuring pictures of birds. The First Cubs placard, also, has a letter B. The parts are on the back in LARGE letters
Ceremony:
Narrator:The Great Master who made us all, gave humans other creatures to be here on earth with us. Besides the creatures in the seas and the animals walking the land, we have creatures with wings.
(with large sign with a "B" and several pictures of beautiful birds.)B Stands for beauty. Some birds live near man
Look around and see them if you can In your yard or on the street, listen and you can hear them so sweet.
The peacock, the pheasant, some others too,
Are birds of beauty for us to view.
Displaying a magnificent rainbow,
As they put on a beautiful strutting show.
The farmer raises birds for us to eat
The chickens, ducks, turkeys are a treat. '
Besides, how could we have scrambled eggs and more
If these birds didn't do their laying chore? '
There are many different kinds of birds in our land
If you wish to see them, look to the sky not to the sand.
Over the mountains, cities, farms, valleys, and lakes,
To see them, just keep your eyes open, that's all it takes.
Narrator: Now as we begin our pack meeting, with our pledge to the flag, remember one of our symbols of America IS the eagle. Will everyone please stand and join with me in the pledge.
Birds I
Heart of America Council
Set Up: Cub Scouts wear costumes to represent the birds listed below
Ceremony:
Narrator: Tonight we would like to take you on a visit to an aviary Where we can meet some of our fine feathered friends.(Introduces each bird as it walks by.)
Woodpecker: (Makes noise like Woody Woodpecker) If you sit in my tree I can shake you up. (Nods head like pecking).
Crow: (Bright trinket in beak) I'm a bit of a rascal, you know. Just a scavenger at heart. Hummingbird: (Darts back and forth, humming) I'm always coming and going , coming and going . Must hurry to find that sweet nectar.
Owl: (Comes out slowly, blinking eyes slowly and looking straight ahead.) The less I speak the more I hear. The more I hear, the more I know.
Nondescript Bird: (Has alarm clock around neck and large dangling worm; flaps a few times as he walks by.) I'm the early bird, and I've got the worm!
Narrator: It looks like well start our pack meeting egg-actly on time. We may not get the worm, but we have lots of awards for many of our fine-feathered Cub Scouts.
Birds II
Heart of America Council
Set Up: Five Cubs with placards each with the appropriate letter, pictures of birds, and the parts on back in LARGE letters
Ceremony:
B is for Birds, if you let them, can be a delight.
I is for Impossible to keep them out of sight.
R is for Ready to sing at dawns early light.
D is for Definitely delightful to watch in flight.
S is for So lets talk about them if it's all right.
All: It's Cub Scout Bird Watchers tonight!
Eagle Puzzle Opening Ceremony
Heart of America Council
Participants: Narrator and 6 Cub Scouts
Props:
Microphone
Flashlight
Spotlight
Puzzle pieces
Backing and Frame for Puzzle
U ..S . Flag
Setup:
Place back and frame of puzzle in center of stage with the spotlight shining on it.
Narrator is off stage with the flashlight to shine on script.
Cub Scouts are in uniform with their puzzle pieces and lined up on side stage.
Cubs cross to center stage with their puzzle pieces and place them on the backing and say their parts.(Or alternatively, have the Narrator read the parts)
Room is darkened and the U.S. Flag is also on stage.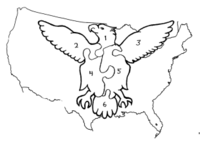 Ceremony:
(first puzzle piece) My wings extend from the sun kissed shores of the Pacific Golden Gate to the rock bound coast of the Atlantic.
(second puzzle piece) My head and beak kiss the northern shores of the Great Lakes ;: and the Canadian border.
(third puzzle piece) I sharpen my beak on the Rocky Mountains and trim my talons in the snow of Alaska
(fourth puzzle piece) My shadow falls on the Gulf of Mexico while flying high above the land and sea and my keen eyes survey all below.
(fifth puzzle piece) I have spread my wings around the world as I defended our shores against our common enemies. I am victorious, both on the earth and in the sky. I am the symbol of America.
(sixth puzzle piece) I stand for Peace and Democracy and for Human Rights and the freedom of all men. I sit atop many of your countries standards and appear on the I Seal of the United States. I AM THE AMERICAN BALD EAGLE.
Spotlight shines on US. Flag as lights come up and Narrator leads everyone in the Pledge of Allegiance.
A Tree is a Good Scout
By Lord Baden Powell
Sam Houston Area Council
A different Cub reads each line. You could have each Cub make a placard with a picture of a tree on it. Perhaps have them put birds in the trees, too.
Did you ever pause to think about how helpful a tree is?
It provides a nesting place for birds, shade from the sun, and protection from the rain.
It discards its dead branches, providing wood for building fires and cooking food.
A tree adds beauty to the countryside and to camping areas. We much admit that a tree gives a lot more than it receives.
We can learn a lesson from the tree—by doing our best to always be helpful to others and by putting our fellow Scouts first and ourselves second.
Remember the lesson we learn from the tree—to give others more than we receive.
Eagle Opening
San Gabriel Valley, Long Beach, Verdugo Hills Councils
Den carries the flags to the front of the room.
Before posting the colors one or more boys present either or both of the following with the Pack:
The bald eagle was chosen as our National Emblem on June 20, 1782 as the emblem of the United States of American, because of its long life, great strength and majestic looks, and also because it was then believed to exist only on this continent.
"The Eagle"
He clasps the crag with crooked hands;
Close to the sun in lonely lands,
Ring'd with the azure world, he stands.
The wrinkled sea beneath him crawls;
He watches from his mountain walls,
And like a thunderbolt he falls.
---Alfred Tennyson
You might want to have the Cubs make up placards with pictures of Eagles on the front and their parts on the back.