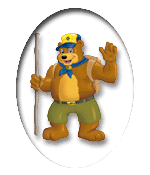 CONTACT BALOO


Write to Baloo (Click Here) to offer contributions, suggest ideas, express appreciation, or let Commissioner Dave know how you are using the materials provided here. Your feedback is import. Thanks.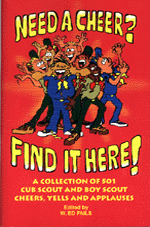 March 2006 Cub Scout Roundtable Issue

Volume 12, Issue 8
April 2006 Theme

Theme: Our Feathered Friends
Webelos: Sportsman and Family Member
Tiger Cub Activities
PACK ADMIN HELPS
Den Chiefs
What Are They And How Do I Use Them?
Great Salt Lake Council
What is a den chief?
A den chief is a leader and friend to the Cub Scouts.
How does the den chief fit into Cub Scouting?
He is EARNEST about his job and doesn't horseplay.
He is kind and fair to all and does not show favoritism.
He is an assistant, playing rough and tumble games with the Cub Scouts.
He sets a good example, and teaches the younger boys to do things.
He knows his stuff and is prepared for meetings. He is willing to learn more.
He is ready to be of assistance to the den leader and help in planning meetings.
He maintains an active relationship with the den and attends meetings regularly.
He helps prepare the Cub Scouts for Scouting.
He expects every Cub to "Do His Best" and encourages them by his knowledge and example. He, too, enjoys the feeling of being needed and admired by younger boys.
There are five elements which the den chief should provide in his relationship with his den:
Make the den meetings interesting, in advancement as well as games.
Help the Cub Scouts work on advancements and motivate them to complete the achievements and electives needed for advancement and/or Arrow Points.
Sees that there is fun in every meeting.
Lets the Cub Scouts show initiative and push ahead, while encouraging them to do their best.
Provides a light touch of inspiration to the meetings.
It should be remembered a den chief is still a boy and will not act like an adult. But, if you TREAT HIM AS A LEADER, HE WON'T ACT LIKE "ANOTHER BOY." You can run a meeting without him, but it is a lot easier when he is there.
IMPORTANT STEPS
There are four important steps that must be taken when choosing, and in the proper use of, a den chief for your den.
OBTAIN:

The den chief is a Boy Scout (or Varsity, or Venturer Scout) selected by the Scoutmaster (or other Scouting Advisor) in cooperation with the Cubmaster, committee chair, and/or den leader.
He may be of any rank, but it is suggested that he be at least a First Class Scout. Age is not a factor, although it is recommended that he is 3-4 years older than the boys he will be working with since his maturity and experience will be of great value. He can be of the greatest help when he has been a Cub Scout and knows how the Cub Scouting program works. The Scoutmaster will know which boys are qualified, dependable, and interested. The den chief will need to commit to attending a weekly den meeting and the monthly pack meeting along with a den leader/den chief planning meeting. The den chief position satisfies the leadership requirement for Boy Scout Advancement. Leaders should be aware that den chief service should not interfere with his troop membership.
The den chief becomes a member of a leadership team which includes the den leader and assistant den leader. He encourages the boys to advance in their Cub Scout achievements, and to live up to the Cub Scouting ideals in their everyday life. Since the boys look up to the den chief, he is a natural leader and role model for the boys.

TRAIN:

This Scout will only be as good as you make him. He needs to be trained. Check with your district training Chairman to find out if you have a Den Chief Training Conference. He will need his Den Chief Handbook. His den chief cord is presented at pack meeting, his patch is presented at troop meeting. There are requirements for him to complete for his Den Chief Service Award. If there is no district or council training, then the Cubmaster or den leader is responsible for providing temporary training. There are some things your den chief needs to know:

Relationships...How to work with a den leader and other pack members.
Discipline…How to help maintain discipline by leading and setting an example.
Patience…Important when dealing with Cub Scouts.
Boy nature…How the viewpoint of a Cub differs from older Scouts.
Skills…How to lead songs, games, yells, skits, run-ons, other activities and advancements.
Unless you make it fun, your den chief may not be interested in spending time learning to be a den chief.
USE:

Your den chief will be as effective and helpful as you will let him. Make him feel important to the den and value his input. He will probably lose interest unless you make it fun for him. Give him enough to do that he feels useful, but not more than he capable of doing. Remember, he is a youth leader.
Keep in mind that den chiefs are busy people, too. Each week he attends troop and patrol meetings and works on his Scouting advancements. He may also have school and sports activities.
The den chief should meet with the den leader (they always love something to munch on during this time) in a monthly planning meeting to plan the activities which he will be responsible for preparing. Develop a good relationship with your den chief. You should never be too busy to listen to him or his ideas. A follow up call each week will probably be necessary to make sure that you are both on line together. He could be responsible for calling the boys to remind them of den or pack meeting (provide him with a list of the boys and their phone numbers). The den chief should be given specific assignments, but should not be responsible for the whole den meeting. The den chief can help with ceremonies, answer questions, show how to do a craft project, and encourage good behavior.
At den meetings, the den chief's responsibilities are:

Before -- Arrive 10 minutes early. Help set up the room. Check equipment and supplies. Prepare to greet the boys and show them where to put their things and where to gather.
Gathering -- Greeting the boys. Teach tricks, puzzles, songs, yells or cheers and games while the den leader is busy.
Opening -- Holding uniform inspection. Assist Denner with opening ceremony, i.e. Prayer, Flag Ceremony, Motto, Promise, etc..
Business -- Make announcements, or reminders. Provide extra ideas for theme projects, service projects, field trips, and so forth. Assist in planning den's participation in pack meeting.
Activities -- Have him be your activities assistant by helping with crafts, projects, games, and songs, or demonstrating physical activities for the Cubs.
Closing -- Helps to call the boys to order, and helps make announcements. Helps with closing ceremony and immediate recognition.
Afterwards -- Clean-up. Evaluate meeting, and go over next week's assignments.

At pack meetings, den chiefs can help with:

Setting up the room and/or displays.
Getting boys seated and organized.
Den yell, songs, skits, stunts, run-ons and activities.
Maintain good behavior through presence and attitude (be a good example).
Escorting adults & parents to accept awards.
Take down and general clean-up after the meeting.

PRAISE:

Everyone likes to be recognized for their good work. Den chiefs are no different. Never criticize him in front of others.
Recognize him at the first pack meeting after becoming a den chief.
Congratulate him before your den/pack meeting each time he receives a Scout advancement.
Recognize him on his birthday or other special occasion.
Give him an important job and let him do it.
Be PATIENT with him. He is just a boy.
Praise him during den meetings. Compliment him on a job well done.
Build him up every way you can.
Understand his limitations and abilities.
Let him know that there are some things that he can do that you can't do.
Let him feel successful.
Do NOT leave discipline solely up to him.
It isn't just an accident that we use Scouts as den chiefs. Because of his association with den members, he can encourage them to advance in Cub Scouting and live up to the ideals in everyday life. He is already what every Cub Scout wants to be—a Boy Scout. He is a person whom Cubs most like to follow. This makes him a natural leader to them. By directing this natural leader wisely, we influence all the Cubs under his leadership.
Your den chief should wear his uniform to your den meetings. This will encourage the Cubs to wear theirs. The Webelos will be encouraged by the insignias and badges and thus create an interest in Scouting.
Recognize the den chief at the end of his service for a job well done. Present him with the Den Chief Service Cord if he has served at least a year and completed the requirements listed in the Den Chief Handbook, but at the very least recognize his service and a job well done.
A LITTLE FELLOW FOLLOWS ME
Great Salt Lake Council
A careful den chief I want to be,
A little fellow follows me;
I do not dare to go astray,
For fear he'll go the selfsame way.
I cannot once escape his eyes,
Whate'er he sees me do, he tries;
Like me, says he's going to be,
The little Cub Scout who follows me.
I must remember as I go,
Through summer's sun and winter's snow,
I am building for years to be,
That little Cub Scout who follows me.

Materials found in Baloo's Bugle may be used by Scouters for Scouting activities provided that Baloo's Bugle and the original contributors are cited as the source of the material.

Materials found at the U. S. Scouting Service Project, Inc. Website ©1997-2005 may be reproduced and used locally by Scouting volunteers for training purposes consistent with the programs of the Boy Scouts of America (BSA) or other Scouting and Guiding Organizations. No material found here may be used or reproduced for electronic redistribution or for commercial or other non-Scouting purposes without the express permission of the U. S. Scouting Service Project, Inc. (USSSP) or other copyright holders. USSSP is not affiliated with BSA and does not speak on behalf of BSA. Opinions expressed on these web pages are those of the web authors.