MIKE BOWMAN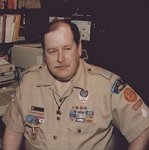 Mike has joined our team in June 1995, but had been for quite some time a contributor of a variety of pages on training, historical, and general interest topics. He also has developed much of the artwork you will see in our newer web pages and is busy developing several USSSP subsites. He is the webmaster of The NetCommish website, most of the U.S.S.S.P. websites, and the WEBnME Developers website.
He has served on the National Capital Area Council (NCAC) College of Commissioner Science Board of Regents; NCAC Eagle Dinner Committee; NCAC Religious Relationships Committee; National Capital Area Council, Monmouth Council, Jersey Shores Council, and Baltimore Area Council Pow Wow Staffs; and George Washington District Committee. He has served as a District Cub Scout Leader Training Committee Vice Chairman and Cub Scout Roundtable Staff member, and Staff for the Northeast Region's 1995 Akela Calls Cub Scout Leader Conference.
At the unit level he has been a Den Leader, Den Leader Coach, Assistant Cubmaster, Cubmaster, Assistant Scoutmaster, Troop Committee Member, and Explorer Post Committee Member. He has been a Unit Commissioner and a Deputy District Commissioner in the National Capital Area Council. Over the years he has been Camp Program Director in Harrison Trails Council (Indiana - now Sagamore Council), Camp Ecology Director in Crossroads of America Council (Indiana), Camp Commissioner and Camp Program Director in Anthony Wayne Area Council (Indiana), As a youth he attended one National Exploring Conference and two National Order of the Arrow Conferences.
Mike has been honored with the Silver Beaver Award, Distinguished Commissioner Service Award, Cub Scout Trainer Wood Badge, National Capital Area Council College of Commissioner Science - Masters Degree, District Award of Merit, George Washington District Key 6 Award, Commissioner's Arrowhead Honor, Cub Scout Den Leader Coach Award, Cub Scouter Award, Scouter's Key, Scout Leader Training Award, Eagle Scout, Vigil Honor - Order of the Arrow, Firecrafter, God and Country Religious Emblem (Methodist), and Arrow of Light.
Mike serves on the USSSP, Inc. Board of Directors and is the USSSP Vice President. mfbowman@usscouts.org (2/2002)