April 2006 Cub Scout Roundtable Issue

Volume 13, Issue 9
May 2007 Theme

Theme: Cubs and Bugs
Webelos: Outdoorsman & Artist
Tiger Cub Activities
FOCUS & CORE VALUES
Cub Scout Roundtable Leaders' Guide
Bugs and Boys!! They go together like peanut butter and jelly. All boys love creepy, crawly, slimy bugs and things that crawl, jump, and slither. This month is the perfect opportunity to satisfy the natural curiosity of the boys and teach them about our multilegged, crawling friends. Where do bugs go in the winter?? Where does honey come from?? The coming warm weather and new growth of spring offer many occasions to teach your Cub Scouts about our exciting bug friends.
CORE VALUES
Cub Scout Roundtable Leaders' Guide
Some of the purposes of Cub Scouting developed through this month's theme are:
Personal Achievement, Boys will increase their knowledge of the world around them.
Respectful Relationships, Boys will learn about our relationship with nature and how all life deserves respect.
Fun and Adventure, Cub Scouts will enjoy the great outdoors and explore new territories.
The core value highlighted this month is:
Citizenship, Respecting our great country means taking care of all of its inhabitants, including humans, critters, plants, and animals.
Can you think of others??? Hint – look in your Cub Scout Program Helps. It lists different ones!! All the items on both lists are applicable!! You could probably list all twelve if you thought about it!!
COMMISSIONER'S CORNER
A little rearrangement his month –
First - the general help items – Focus, Core Values, Commissioner's Corner, Thoughtful Items, Training Tip, Pack Admin Helps, and Special Opportunities. put all the Pack Meeting stuff –
Second the Pack Meeting helps – Gathering Activities, Ceremonies, Songs, Stunts and Applauses, and Skits
Third, the Den items – Games, Den and Pack Activities (I try not to call them crafts), Cub Grub and Webelos.
Now obviously, Gathering Activities are (or should be) used at Den Meetings, too. And boys should sing a song at every meeting. And Pack Meetings should have a game. So the rearrangement is not perfect but maybe it will make Baloo easier to use. Comments are always welcome!
Thanks to the many Scouters who wrote me last month to provide encouragement. I guess I came on a little strong and my attitude was leaking through. I am doing better now thanks to your help and especially my wife's help. Anita, Omaha; Vickie, Minneapolis; Joe & Jennifer; Jennifer, Boise; Trent, Utah; Michelle, Farmington; and Kathy, Davenport. I hope I got them all
And a Big Baloo Bear Hug for Alice in Golden Empire Council. A dedicated Scouter with over 30 years experience who has stepped up to help me with Baloo. She says her personal files are extensive so you should all be seeing some new material in Baloo. Her only handicap, she says, is a missing Technology gene. But her material arrives here fine!
Be sure to check out Alice's item on Hug A Tree and Survive With more Pack's going camping, this is important to know!!!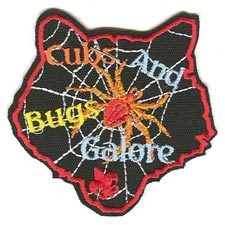 Every month National puts out a Cub Scout theme related patch. Here is this month's patch. Check them out at
www.scoutstuff.org
I used to buy several of these each month to give away at my Roundtable but it seems National has changed their distribution pattern. The patches are now held until just before the month and then released (often late for use with the theme). I deal with two National Scout Shops (Valley Forge and Wilmington) and both have told me they cannot get the patches ahead of time. Wilmington only got their Aloha patches in March!! Not sure why this has happened, sure wish I could get them for my Roundtables. CD
Months with similar themes to
Cubs and Bugs
Dave D. in Illinois
| | | |
| --- | --- | --- |
| Month Name | Year | Theme |
| August | 1940 | Natural Adventures |
| July | 1942 | Nature |
| June | 1945 | Nature |
| August | 1948 | Nature |
| August | 1951 | Nature |
| May | 1953 | Mother Nature's Backyard |
| October | 1955 | Cub Scout Beekeepers |
| September | 1956 | Cub Scout Naturalist |
| July | 1959 | Mother Nature's Back Yard |
| April | 1964 | Cub Scout Naturalists |
| June | 1965 | Backyard Adventure |
| April | 1966 | Mother Natures Backyard |
| May | 1970 | Mother Nature's Backyard |
| May | 1971 | Growing, Flying, Crawling |
| June | 1972 | Backyard Adventure |
| April | 1975 | Cub Scout Naturalists |
| April | 1984 | Bugs & Things |
| August | 1987 | Back to Nature |
| June | 1991 | Backyard Fun |
| May | 1992 | Bugs and Things |
| May | 1994 | Back to Nature |
| June | 1995 | Bugs `n Things |
| April | 2000 | Bugs & Things |
| June | 2002 | Critters, Cubs and Campfires |
| May | 2006 | Diggin' in the Dirt |
| May | 2007 | Cubs and Bugs Galore |

Materials found in Baloo's Bugle may be used by Scouters for Scouting activities provided that Baloo's Bugle and the original contributors are cited as the source of the material.

Materials found at the U. S. Scouting Service Project, Inc. Website ©1997-2006 may be reproduced and used locally by Scouting volunteers for training purposes consistent with the programs of the Boy Scouts of America (BSA) or other Scouting and Guiding Organizations. No material found here may be used or reproduced for electronic redistribution or for commercial or other non-Scouting purposes without the express permission of the U. S. Scouting Service Project, Inc. (USSSP) or other copyright holders. USSSP is not affiliated with BSA and does not speak on behalf of BSA. Opinions expressed on these web pages are those of the web authors.