April 2006 Cub Scout Roundtable Issue

Volume 13, Issue 9
May 2007 Theme

Theme: Cubs and Bugs
Webelos: Outdoorsman & Artist
Tiger Cub Activities
PACK ADMIN HELPS
Here is something every Pack should get learn about and practice. It can be a fun activity on your Family Camping trips. CD
Hug-A-Tree and Survive!
Alice, CS RT Commissioner
Pioneer District, Golden Empire Council
HUG-A-TREE & SURVIVE is a Search and Rescue Program. It is aimed at children from kindergarten to grade six (although it has also saved a four-year old who overheard the presentation), and has as its purpose the goal of teaching them:
How not to become lost in the Woods.
What to do if they do become lost.
How not to come to harm
How they can help searchers find them.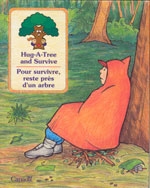 The HUG-A-TREE and SURVIVE! Program originated in San Diego, California, following the tragic death of a nine year old boy who had become lost. Founders Ab Taylor and Thomas R. Jacobs developed the program to teach children how to keep from getting lost, what to do if they did become lost, how to stay warm and dry, and how they can help searchers to find them. You are encouraged to discuss the program and ideas with your children. We hope your children will never become lost. But if they do, this knowledge can help your child remember the information that will make the search both short and successful!
The main feature of this program is impressing upon the children that they can help by looking after themselves and by assisting the searchers.
The Principles of the Program are:
ALWAYS TELL SOMEONE WHERE YOU ARE GOING so that the searchers will know where to begin their search.
ALWAYS CARRY A GARBAGE BAG AND WHISTLE on a picnic, hike or camping trip. If lost, make a hole in the bag for your face and put it over your head. It will keep you dry and warm. A bright colored bag (orange) is preferable. The noise from a whistle will carry further than your voice and require less energy.
ADMIT TO YOURSELF WHEN YOU BECOME LOST. It can happen to anyone, even adults. When you become lost, admit it, and take actions to be comfortable and maintain a positive outlook until the searchers arrive. Use your head. It is your best survival tool.
HUG A TREE once you know that you are lost. Choose one near the edge of a clear space if you can. One of the greatest fears a person of any age can have it being alone. Hugging a tree, sitting by a tree (and even talking to it), will calm you down and prevent panic. By staying in one place, with your tree, you will be found far more quickly, and won't be injured trying to find your own way out.
BUILD A NEST of leaves and twigs to sit on next to your tree if the ground is damp.
YOUR PARENTS WON'T BE ANGRY WITH YOU. Time and time again, children have avoided searchers because they were ashamed of getting lost, and afraid they would be punished. Sometimes they are afraid of the searchers because they have been told not to talk to strangers. Please assure your children that both you and the searchers will be happy to find them. If children know a happy reunion filled with love is waiting, they will be less frightened, prone to panic and will want to be found.
HELP THE SEARCHERS FIND YOU. Listen for their yells and whistles, and blow your whistle. Children need to know that searchers are friends and volunteers who do it because they care and want to return them to their parents, safe and sound. Children need to know that searchers are not strangers who want to hurt them. They also need to understand that if they stay in one spot it's easier for searchers to find them.
MAKE YOURSELF BIG. From helicopters, people are hard to see when they are standing up, when they in a group of trees, or wearing dark clothing the same color as the ground or trees. If you have found a tree near a little clearing, and if you have feel rested, you could also make a cross, or spell out your initial, or make an arrow pointing to your tree – use rocks, pieces of plants, or your foot in the dirt. Remember to blow your whistle when you hear searchers.
THERE ARE NO ANIMALS OUT THERE THAT WANT TO HURT YOU. If you hear a noise at night, blow your whistle. Don't yell – it will make you tired and you might lose your voice – and a whistle can be heard a lot farther away. If an animal hears the whistle it will run away. If a searcher hears the whistle, they will know it is a person. Fears of the dark and of "lions and tigers and bears" are a big factor in panicking children into running. In fact, it is when they are running that they would be see as prey by an animal. They need strong reassurance to stay put and be safe.
Additional information for parents that might be helpful:
TRY TO KEEP YOUR CHILD FROM GETTING LOST in the first place. Children are easily distracted off the trail, so teach them to stay on the trail. Never let your children walk trails alone. Teach them to pick out a high landmark such as a big hill, and not the direction of the sun.
MAKE A CAST OF THEIR SHOE – it takes less than five minutes and could cut down the search time by hours when searchers need to distinguish your child's prints from lots of others. Place a piece of aluminum foil on a soft surface such as carpeting or a folded towel. Have the child step on the foil wearing the shoes they will wear camping, hiking or walking. Make sure the pattern of the bottom of the shoe is there, then label the print with your child's name and take it along on any outdoor activity. Show this print to searchers right away.
CALL THE POLICE QUICKLY if your child may be lost. The search area expands quickly when a child is moving, so a quick response is critical. A slow response can be dangerous, especially if bad weather wipes out the track. Exposure and hypothermia are also very dangerous, and can happen quickly, especially at night or in cold weather.
BE AVAILABLE FOR INTERVIEWING. Clues which lead to finding the child in good health usually come from family and friends who remain on the scene and talk openly and accurately with the search team. Any personal information will be kept confidential.
This program is dedicated to the memory of
Jimmy Beveridge, who didn't make it home.
See activities and ideas for Hug a Tree – And Surviveunder "OUTDOOR ACTIVITIES" and "PACK AND DEN ACTIVITIES"
If you Google the name – "Hug a Tree And Survive" you will get 281 hits from almost everywhere that uses the program. I was unable to find and official national website. If you find it, please E-mail me. Thanks CD
Safety Rules for Outdoor Activities
"Cub Scout Leader Book"
Always have a first-aid kit handy. If possible, have an adult trained in first aid and cardiopulmonary resuscitation (CPR) attend pack functions.
Remember that adequate leadership and supervision help prevent accidents.
Encourage the boys to use the buddy system and pair up so that they are aware of each other's whereabouts at all times.
Have a plan for personal or natural emergencies (such as lightning storms, high winds, or flash floods) that could occur during an outdoor activity. Know where emergency care can be obtained quickly.
Check out the location in advance for hazards.
Avoid such dangers as buildings in disrepair or under construction, fire hazards, stinging insects, poisonous plants, tools improperly used, and sports or games that are inappropriate for the age and size of the boys. Accidents can be prevented.
Select a well-identified gathering place in the event the group is separated.
An adult should always supervise when Cub Scouts are building fires and cooking. If the den is using a ground fire, clear a space ten feet in diameter of all burnable materials. Stay away from trees with low-hanging branches. The use of chemical or liquid fuel stoves must be limited to adult.
The "Cub Scout Leader Book" is
available at your Scout Shop.
Recognition Ideas
Amy, Pack 7480, Southern NJ Council
As summer approaches, it is time to recognize all the leaders who have helped you be successful
HELPING HAND AWARD -- Stuffed glove on a dowel rod for the person who always lends a helping hand.
WET SPONGE AWARD -- A piece of sponge mounted on cardboard. For the newest leader who needs help soaking up all the new info in the Cub Scout program.
ON THE BALL AWARD -- A Styrofoam ball with a pipe cleaner Cub Scout on top for the energetic person who has it all together.
GOOD EGG AWARD -- An egg made out of felt mounted on a piece of cardboard for the special person who has been a good sport by helping the pack.
BIG HEART AWARD -- A big stuffed heart pillow in red. For someone who shows real dedication to the Cub Scout program.
LIFE SAVER AWARD -- A roll of lifesavers mounted on cardboard. This might be for someone who has assisted the Pack with a problem.
FIRST AID AWARD -- Home made first aid kit for a dedicated unit leader.
GO-FOR AWARD -- Plastic or model car on a handmade trophy stand. For the person who picks up awards or runs errands for the Pack.
GO GETTER AWARD -- This is an inflated balloon full of 'Hot Air' for the "Go Power for the Go Getter".
OLD FOSSIL AWARD -- A rock or an arrowhead for the person who has been in scouting the longest.
BOUNCE AWARD -- A sheet of 'Bounce' fabric softener for the Den Leaders to bounce back and to soften their hearts.
BRIGHT IDEA AWARD -- Spray a light bulb gold and mount to a plague. Present to the person who always has good ideas.
BANQUET AWARD -- A large wooden spoon painted Blue and Gold. Attach a ribbon and present to the Chairman of the Blue and Gold Banquet.
GOLDEN PEAR AWARD -- Attach a plastic fruit pear to a plaque. Present to the pair (Couple) who has done so much for the Pack.
LINK TO SCOUTING AWARD -- Attach a few pieces of chain link fence to a plaque and present to the leader who has helped prepare the boys for Boy Scouts.
GOLDEN KNOT AWARD -- This is a good award for a Cubmaster. Use rope, tie an overhand knot and spray gold. Attach to a plaque and award to the person who has tied it all together.
MARF AWARD -- MARF (Maintain Absolute Rigid Flexibility). Cut a piece of wood or cardboard in an odd shape. Put the letters M-A-R-F on it and present to anyone who works with the boys.
Or the ARF AWARD – Picture of Sandy, Little Orphan Annie's Dog, saying "ARF." Given to the Leader who best represents Absolute Rigid Flexibility.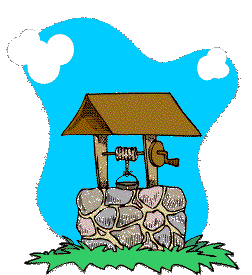 JOB WELL DONE AWARD – Present the leader who did a good job a model of an old time well structure with a bucket hanging on the rod across the structure.
Here is another good one –
Attach this to a large plastic bug -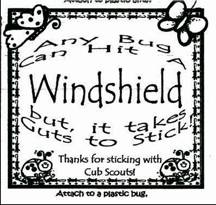 This could, also, be given to the Cubs at your Pack Meeting or Picnic to encourage them to keep going CD

Materials found in Baloo's Bugle may be used by Scouters for Scouting activities provided that Baloo's Bugle and the original contributors are cited as the source of the material.

Materials found at the U. S. Scouting Service Project, Inc. Website ©1997-2006 may be reproduced and used locally by Scouting volunteers for training purposes consistent with the programs of the Boy Scouts of America (BSA) or other Scouting and Guiding Organizations. No material found here may be used or reproduced for electronic redistribution or for commercial or other non-Scouting purposes without the express permission of the U. S. Scouting Service Project, Inc. (USSSP) or other copyright holders. USSSP is not affiliated with BSA and does not speak on behalf of BSA. Opinions expressed on these web pages are those of the web authors.