April 2006 Cub Scout Roundtable Issue

Volume 13, Issue 9
May 2007 Theme

Theme: Cubs and Bugs
Webelos: Outdoorsman & Artist
Tiger Cub Activities
GATHERING ACTIVITIES
Note on Word Searches, Word Games, Mazes and such – In order to make these items fit in the two column format of Baloo's Bugle they are shrunk to a width of about 3 inches. Your Cubs probably need bigger pictures. You can get these by copying and pasting the picture from the Word version or clipping the picture in the Adobe (.pdf) version and then enlarging to page width. CD
Bug Match
York Adams Council
Have someone cut out a bunch of different insect pictures and mount them on paper to hang around the Pack Meeting room. (Make sure you know the names of the different bugs.)
Label the pictures with letters or numbers.
Hand out sheets of paper with the names of the different bugs listed in a mixed up order.
Ask people to match the pictures with the names.
After the opening ceremony, read off the answers and ask everyone how they did.
Give an appropriate cheer/applause to the one(s) who got the most matches.
Funny Words
My Aunt Betty in Florida
Figure Out What These Words Have In Common......
Banana Dresser
Grammar Potato
Revive Uneven
Assess
Are You Peeking Or Have You Already Given Up?
Give It Another Try....
The answer is at the end of this issue of Baloo's Bugle
Creep Crawly Word Search
Three Rivers Council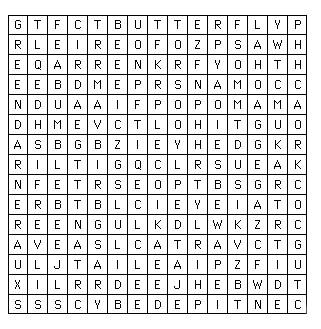 Find the following words in the Word Search
Ant Beetle Bumble Bee
Butterfly Caterpillar Centipede
Cicada Cockroach Cricket
Earwig Firefly Grasshopper
Green Darner Hornet Ladybug
Locust Moth Silverfish
Spider Termite Tick
Wasp
Find the Sting
Heart of America Council
Give your boys the list with out the answers an se how many they ca n fill in while the others are arriving -
A sting that cures fatigue – resting.
A sting that cures hunger – feasting.
A sting that tidies you room – dusting.
A sting that makes you laugh – jesting.
A sting that cooks your meat – roasting.
A sting that browns your bread – toasting.
A sting that bragging people indulge in – boasting
A sting that spoils your tools – rusting.
A sting that makes you read a book to the end –
interesting.
A sting that tries your knowledge – testing.
A sting that we observe during lent – fasting,
A sting that cooks are always doing – tasting.
This could, also, make a great AUDIENCE PARTICIPATION if the Cubmaster reads out the questions at the pack meeting show and asks the audience for answers. CD
Insect Word Search
Baloo's Archives
Find the following words in the Word Search
ANT FLY MOSQUITO
APHID GNAT MOTH
ASSASSIN GRASSHOPPER ROACH
BEDBUG GRUB SCALE
BEE HORNET SILKWORM
BEETLE KATYDID SPIDER
CATERPILLAR LACEWING STINK BUG
CENTIPEDE LADY BUG TERMITE
CHIGGER LOCUST TICK
CRICKET LOUSE WALKING STICK
DIRT DOBBER MANTIS WASP
EARWIG MEALY BUG WEEVIL
FLEA MITE YELLOW JACKET
Insect Food
Southern NJ Council
Match the insect with the food you would feed it if you caught one:
Insects
Praying Mantis
Field Cricket
Click Beetle
Grasshopper
Caterpillar
Tarantula
Meal Worm
Food
feed soft-bodied insects and water. in small pieces
feed oatmeal or bran meal with small pieces of potato or apple.
bits of bread soaked in water, lettuce, or peanut butter.
feed types of leaves from the location you found him.
grass sod and water
eats flies or small insects, raw meat
eats most all insects and needs water.
Answers: 1. f, 2. c, 3.a, 4. e, 5. d, 6. g, 7. b
Buggy Crossword
Heart of America Council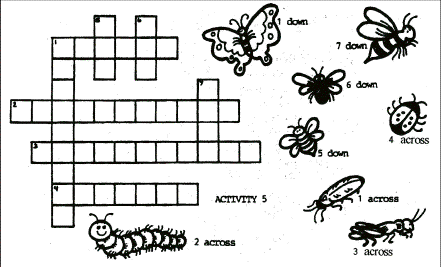 Materials found in Baloo's Bugle may be used by Scouters for Scouting activities provided that Baloo's Bugle and the original contributors are cited as the source of the material.

Materials found at the U. S. Scouting Service Project, Inc. Website ©1997-2006 may be reproduced and used locally by Scouting volunteers for training purposes consistent with the programs of the Boy Scouts of America (BSA) or other Scouting and Guiding Organizations. No material found here may be used or reproduced for electronic redistribution or for commercial or other non-Scouting purposes without the express permission of the U. S. Scouting Service Project, Inc. (USSSP) or other copyright holders. USSSP is not affiliated with BSA and does not speak on behalf of BSA. Opinions expressed on these web pages are those of the web authors.