April 2006 Cub Scout Roundtable Issue

Volume 13, Issue 9
May 2007 Theme

Theme: Cubs and Bugs
Webelos: Outdoorsman & Artist
Tiger Cub Activities
CUB GRUB & FUN FOODS
Cub Cakes
Alice, CS RT Commissioner
Pioneer District, Golden Empire Council
Cupcake Caterpillar: Or use green frosting, line up a wavy row of cupcakes. Finish off with M&M or Skittles, coconut, licorice or other candies to make a fuzzy beastie.
Moth or Butterfly: To make a butterfly, pour the cake mix in a cupcake liner inside the cupcake pan – now take 2 little balls of tin foil and put it between the paper liner and the cupcake pan at the top and bottom of the cupcake – it will keep the cupcake from baking in a round shape – instead you will have a moth or butterfly shape. Once baked and cooled, decorate with frosting, licorice antennae, and other candies or sprinkles for a unique butterfly!
Lady Bug Cupcakes: Use red frosting and chocolate chips turned upside down and pushed part way into the frosting to decorate your lady bug. Add black licorice antennae.
Buggy Bake Off: Each boy makes his own cupcake "bug" – and brings it to the pack meeting to be judged – Everyone gets a prize made by attaching plastic bugs available at dollar and party stores to a cardboard or scrap wood base with appropriate titles - things like "Most Colorful Bug" or "Best Use of Sprinkles" or "Scariest Bug."
Caterpillar
Utah National Parks Council
Cut half a banana into fat slices.
Put them back together again using peanut butter between the pieces to hold them together – make sure some of the filling pops out from between the banana sections.
(Check for allergies – you could also use
cream cheese, plain or flavored)
Now add slivers of carrot for antennae and raisins for feet. Or use various other veggies or fruits or even candies to really dress up your creation!
Cub Scout Classics
Trapper Trails Council
Ants-On-A-Log : Slice stalks of celery, and spread peanut butter in the groove. Sprinkle with black raisins.
Variations:
1) aphids-on-a-log (sunflower seeds),
2) gnats-on-a-log (currants).
Ant Treats: Use cinnamon twists (glazed donut-like pastries formed into the number eight) as the insect body, stick bendable plastic straws in the sides (three on each side) to be the legs, and they should look like giant ants. Use 'donut holes' for ant eggs.
Bee Bread: Combine
1 c. corn syrup, .
1/14 c .powdered sugar,
1 c. peanut butter and
1-1/4 c. powdered milk;
Roll into balls and then roll balls in powdered sugar.
Fly in the Batter Recipes
Cookies: Just a "buggy" name for chocolate chip or oatmeal cookies, with raisins (flies) and chocolate sprinkles (gnats).
Pudding: Vanilla pudding with raisins – try adding a plastic fly – a hidden treat? Or scary surprise?
"Cow" Pies: A blob of chocolate pudding with slivered almonds (maggots) – add a plastic fly "adult" on top – The boys will LOVE it! Moms may HATE it!
Bug Blood: Mix a yellow drink (citrus pop or lemonade) with a blue one (Kool-Aid). You'll end up with a radioactive shade of green.
Caterpillar In A Cocoon :
Use a Bundt cake & filling recipe or box, but bake in cupcake tins (greased-do not use cupcake papers).
When cool, dip or cover with a thin layer of frosting, and then roll in or sprinkle coconut on top.
Soften (but don't melt!) caramel candies, coat with melted chocolate and/or roll in nuts/sprinkles/coconut.
Butterfly Snacks: Use pretzels to form the butterfly wings, stuck together with softened caramel candy or peanut butter. Use two stick pretzels to make antennae.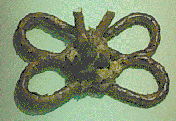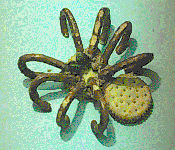 Chocolate Pretzel Spider: Stick two Oreo cookies together with chocolate frosting. Make 8 curved legs by breaking bow-tied pretzels, and attach them around the middle of the spider by sticking them into the chocolate frosting. Use M & M's for eyes on the front, 'glued' with frosting.
Butterfly Mouthparts
Trapper Trails Council
Ingredients
1 3-oz. pkg. flavored gelatin
1/2 cup warm water
1 1/2 cups mini marshmallows
Directions
Grease an 8-9" square pan VERY LIGHTLY.
Mix boxed gelatin (any flavor) with warm water in a 1 1/2 quart size bowl and microwave 1 1/2 minutes.
Stir to dissolve completely.
Add marshmallows, microwave 1 minute more or until marshmallows are puffed and almost melted.
SLOWLY stir mixture until marshmallows are melted.
Allow creamy layer to float to the top-don't mix it all together.
Pour mixture into pan.
Refrigerate until set (about 1 hr.).
Loosen edges with a knife.
Roll up tightly like a jelly roll, then (with seam-side down)
Cut into 1/2" slices with a sharp knife.
Serve immediately or refrigerate.
Dirt and Worm Cupcake
Southern NJ Council
These candy-clad chocolate cupcakes are for young mischief-makers
who believe that the "yuckier" food looks, the better!
Ingredients
1 pkg fudge-brownie mix
1/2 cup shredded sweetened coconut
1/2 cup semisweet chocolate morsels
2 tsp coconut extract
1/2 can (16 oz) prepared chocolate frosting
Optional toppings: candy worms, crushed chocolate-wafer cookies
Instructions
Preheat over according to brownie-mix package directions. Line 12 muffin pan cups with paper foil liners.
Prepare brownie mix according to package directions, using the "cake-like" variation. Stir coconut, chocolate morsels and coconut extract into batter
Divide batter evenly among prepared muffin cups. Bake 25 to 30 minutes. Remove to wire racks; cool completely. Spread cooled cupcakes with frosting. Decorate with desired toppings.
Makes 12.
Caterpillar and Butterfly
Southern NJ Council
Common ingredients for both:
Gummy Lifesavers
Taffy
Frosting
Gumdrops
Needed for just butterfly
String Licorice for the butterfly's tongue and antennae
Gum drop fruit slices
Needed for the Caterpillar:
Coated licorice candy
Instructions
Dampen gummy lifesavers, and press them together to form the body.
Roll a piece of taffy into a ball for the head.
Add frosting for the eyes and a gumdrop for the tail.
Use coated licorice candy for the caterpillar's legs and slices of string licorice for the butterfly's tongue and antenna.
Use gumdrop fruit slices for the butterfly wings.
Butterfly Sandwich
Southern NJ Council
Ingredients
Bread
Cream Cheese
Olives, chives
Bell pepper strips
Carrot curls
Directions:
Cut a slice of bread diagonally into halves
Arrange the halves on a plate with the cut edges facing out to resemble wings.
Spread cream cheese on the bread
Top with sliced olives, snipped chives and strips of fresh bell pepper.
For the body place a piece of pepper between the wings and add carrot-curls for antennae.
Spider Cookies
Southern NJ Council
PEANUT ALLERGY ALERT
Ingredients
2 ½ cups semi sweet chocolate chips
¼ cup milk
½ cup peanuts
¾ cup dry chow main noodles
waxed paper
Directions:
Melt 2 1/2 cups of semisweet chocolate chips and 1/4 cup of milk in a microwave on high for 1 minute and 40 seconds stirring every 20 seconds.
Stir in 1/2 cup of chopped peanuts and 3/4 cup of dry chow mein noodles.
Drop by tablespoons onto waxed paper.
Stick extra noodles into each cluster for legs.
Chill.
Chocolate Chirpie Chip Cookies:
Alice, CS RT Commissioner
Pioneer District, Golden Empire Council
For the adventurous – go to
www.ent.iastate.ed/Misc/InsectsAsFood.html
for this and other recipes, including where you can purchase dry-roasted crickets and other ingredients!
Fluttering Butterflies
Alice, CS RT Commissioner
Pioneer District, Golden Empire Council
Materials: gumdrops, small pretzels, string licorice, small candies, frosting, knife
For the body, cut two slits in a gumdrop.
For the wings, press 1 pretzel into each slit.
Use string licorice for antennae.
Decorate the butterfly with assorted candy.
Use frosting to "glue" the candy to the butterfly.

Materials found in Baloo's Bugle may be used by Scouters for Scouting activities provided that Baloo's Bugle and the original contributors are cited as the source of the material.

Materials found at the U. S. Scouting Service Project, Inc. Website ©1997-2006 may be reproduced and used locally by Scouting volunteers for training purposes consistent with the programs of the Boy Scouts of America (BSA) or other Scouting and Guiding Organizations. No material found here may be used or reproduced for electronic redistribution or for commercial or other non-Scouting purposes without the express permission of the U. S. Scouting Service Project, Inc. (USSSP) or other copyright holders. USSSP is not affiliated with BSA and does not speak on behalf of BSA. Opinions expressed on these web pages are those of the web authors.