April 2006 Cub Scout Roundtable Issue

Volume 13, Issue 9
May 2007 Theme

Theme: Cubs and Bugs
Webelos: Outdoorsman & Artist
Tiger Cub Activities
PACK AND DEN ACTIVITIES
Insect Activities
Alice, CS RT Commissioner
Pioneer District, Golden Empire Council
Have an entomologist visit your den or pack. Check at local colleges, universities or at your local library for contacts. And one of the best resources if your local library – Check with the Reference Librarian – they have lists of all kinds of clubs and can help you get in contact with a bug expert. Ask at Roundtable for contacts.
Bug Collections - Display bug collections and terrariums at the pack meeting for all to see. This should be a carry-over from your den meetings—you can make a really neat terrarium out of a 2-liter soda bottle!
What Am I? Have the boys make cards with pictures, descriptions, or names of different bugs. See if they can put each of them in the right column: insect, arachnid, or bug.
Invite a speaker to come from your local Mosquito Abatement District. Perhaps you can do a service project in the neighborhood by dropping off information from the district about what things people can do to prevent mosquitoes and protect themselves. Boys should go around their own homes and make sure standing water is dumped, even just in a cup! Your local district will have a web site, and probably kid's activities, too.
Visit a Park, Nature Center, Museum, or Special Event
Alice, CS RT Commissioner
Pioneer District, Golden Empire Council
Check out a park in your area, Many State and National Parks have friendly Rangers who give FREE nature talks to groups. Maybe your park has an insect expert. Don't know where to go?? Check this month's websites for www.museumregister.com and www.partyguideonline.com
Here are a few Special Events taking place around the country that involve Bugs.
Here is a small sampling of Bug Exhibits -
Grand Rapids, Michigan – Frederik Meijer Gardens & Sculpture Park – "Butterflies are Blooming"
Tucson, Arizona – Arizona Sonora Desert Museum (Feb 3-Apr. 22) large scale insect drawings, artist-educators, storytelling, hand-painted bug tattoos, also check out their live web-cam – Amazing! (520) 883-2702
Pittsburg, PA – Carnegie Museum of Natural History (Sat. April 21) Special Earth Day tours, children's activities including Lady Bug masks, lots of other great stuff – also online exhibits (412) 622-3131
(Special Scout event – March 31 from 10:30am to 3pm – uniformed scouts, must pre-register for events and activities that help fulfill badge work. $10 each, 1 free adult for every 5 boys – Call (412) 622-3289 to pre-register)
Cambridge, Mass. – Harvard Museum of Natural History (Feb 15-Dec. 31) "Arthropods: Creatures that Rule" – free for Mass. Residents on Wed, 3-5pm and Sun 9-noon (617)495-3045 hmnh@oeb.harvard.edu
New Mexico State Parks Division (Sat. April 14 – 11-12:30 – Butterfly Walk) ongoing programs, hikes at locations throughout state (505)531-2776 or http://www.emnrd.state.nm.us/PRD/parkseventcalendar
University of South Carolina (Feb 17-Apr.7) "Small Wonders: Insects Photos by Fran Hall" (803) 777-7251 http://cas.sc.edu/MCKS
Kachemak Bay, Alaska – Pratt Museum: Art, Science & Culture – (Apr. 6-May 24, 2007) "Beauty and the Bug"
North Carolina Natural Science Center of Greensboro – (thru 2007) "Don't Bug Me, Man!" (336) 228-3769
Wichita, Kansas – (June 9-Sept 4) "Backyard Monsters Traveling Exhibit"
(Also on March 31 @ 1 and 3 pm – a special Weather show) (316) 263-3373
San Francisco Insect Zoo – (ongoing) One of only 3 insect zoos in the US, a temporary exhibition in 1979 that proved so popular it became permanent!
San Francisco Zoo, 1 Zoo Road, San Francisco (415) 753-7080 (By the way, for links to all museums and arts organizations in the Bay Area, go to www.lasf.org/links/li_artss.html )

Walnut Creek, CA – Alexander Lindsay Museum (ongoing) In addition to regular programs, they have special Scout tours http://www.wildliffe-museum.org/programs/tours/scout.php Another great feature – you can RENT over 10,000 specimens (not live), including spiders, butterflies, rocks and minerals all set up for Webelos Geologist requirements. (925) 935-1978. You might want to check with museums in your area to see if they do the same thing.
Big Bugs Eco-Sculptures Exhibit, until June 24, 2007, Denver Botanic Gardens: www.botanicgardens.org. Get a bug's eye view of the world when you encounter a 1,200-pound praying mantis, a 7-foot assassin bug and eight other enormous natural sculptures at the Big Bugs exhibit at Denver Botanic Gardens, March 24-June 24, 2007. A swarm of events and educational activities that celebrate the world of plant and insect relationships will highlight the three-month exhibit.
Dr. Entomo's Palace Of Exotic Wonders - Insect Exhibit, Oshkosh Museum, until May 13, 2007. Step right up, step right up! Be the first to experience the strange, the unexplainable, the unspeakable underworld of bizarre crawling creature beasts. All alive! Enter if you dare! Is it true? Are they real? Investigate the wonderful world of bugs in all their strange splendor by exploring "Dr. Entomo's Palace of Exotic Wonders," an exhibit like no other that you've ever seen, opening February 3 and continuing through May 13, 2007. From glow-in-the-dark scorpions to "cow killing" ants, a replica Egyptian mummy sarcophagus crawling with interesting bugs, and other displays feature live creatures gathered from around the globe. "Dr. Entomo's Palace of Exotic Wonders" will fascinate visitors of all ages in this family-friendly exhibition seen at the Oshkosh Public Museum, the first museum in the nation and the only museum in Wisconsin to showcase this bizarre collection of bugs. It is truly a unique exhibit with hands-on interactive segments and definitely not to be missed! Museum hours are Tuesday thru Saturday 10 a.m. to 4:30 p.m., Sundays 1 to 4:30 p.m. and closed Mondays and holidays. Parking is free and facilities are handicap accessible. www.oshkoshmuseum.org
Don't forget to check your local newspaper event section (Especially for Earth Day Events), your librarian for ideas, the front of your phone book for listings of parks and the activities available and local museums with a schematic layout, local and regional park districts in your area for hikes and nature programs, and of course, other people at Roundtable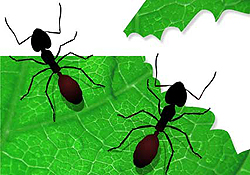 Smart Bugs, Newark Museum, Newark, NJ www.newarkmuseum.org Have you ever wondered what goes on inside a bee hive or underground in an ant's nest? Have you asked why bees buzz around their hives or why ants march in a line? Have you ever puzzled over how these small creatures find food on this big planet? Discover the answers to these and other intriguing questions by visiting our newest science exhibit, Smart Bugs: Insect Societies. Explore the amazing world of social insects by taking a journey through the dark, secretive and fascinating world of ants, termites and bees. This exhibit examines the social aspects of insects, whose colonies are often referred to as "Super Organisms." The extraordinary architecture, elaborate systems of chemical communication and division of labor is revealed through the displays of live ant, bee and termite colonies.
Morris Arboretum, University of Pennsylvania, www.morrisarboretum.org
May 5 – Garden Discovery Series - A Bug's Eye View: Get up close and personal with nature. While exploring the garden, we'll collect materials to make unique microscope slides. Then we'll observe the colorful differences in pollen grains (it's nothing to sneeze at!), the intricacies of fern spores, and the delicate beauty of lichens and mosses. Stop by anytime from 11:00am-3:00pm. For event locations, check the Discover the Garden Cart.
June 2 – Garden Discovery Series - Ladybug Lift-Off!: Did you know that ladybugs are a gardener's best friend? A single ladybug can consume as many as 5,000 aphids in a lifetime. Help us protect our plants by using these good bugs to get rid of bad bugs. After learning about these amazing creatures, you'll have the chance to release some at your favorite spot in the Arboretum. Stop by anytime from 11:00am-3:00pm. For event locations, check the Discover the Garden Cart.
Have a Pack Presentation of Hug a Tree – And Survive! Alice, CS RT Commissioner
Pioneer District, Golden Empire Council
We're approaching the season when families are going out of doors, picnicking, camping and hiking. This is also the season when some people get lost. In fact, the March-April issue of Scouting Magazine had an article about what to do if you become lost. (If you lost your copy, go to www.scoutingmagazine.org and check it out on-line) But Search and Rescue people have discovered that children who are lost react differently than adults. They often think their parents will be angry with them – and they often hide from rescuers because they have been told to stay away from strangers! The Hug A Tree and Survive Program originated in San Diego, California, following the tragic death of a lost 9-year old boy. Founders Ab Taylor and Thomas R. Jacobs developed this program specifically to teach children what to do if lost. If every child should had a whistle around his neck and a garbage bag in his pocket, a fanny pack or a day pack when out in nature away from home, and had practiced this program in advance, perhaps no child would be permanently lost again – at least that is the hope of the Search and Rescue people. At http://www.rcmp-grc.gc.ca/ccaps/hug_e.htm there is a printable coloring book. Free presentations are available in some areas – check with search and rescue or local police departments. Go online and get the details.
See item under "OUTDOOR ACTIVITIES"
If you Google the name – "Hug a Tree And Survive" you will get 281 hits from almost everywhere that uses the program. I was unable to find and official national website. If you find it, please E-mail me. Thanks CD
Ant Hike
Alice, CS RT Commissioner
Pioneer District, Golden Empire Council
My favorite spur of the moment "Plan B" den activity – for those times when the boys have cabin fever or your guest didn't show up or that 30 minute project took 2! Alice
First, take the boys outside and tell them to find an ant trail – no squishing ants, just find a trail and let you know where it is. Next, they are to follow the trail and figure out where the nest is – if they can! When someone finds the entrance to an ant nest, use a stick to partially block the entrance. What do the ants do? How do they solve the problem? How long does it take?
Second, have everyone go on a "Dead Ant Search." No fair killing one! When they find one, put it right down in the middle of the ant trail. What do the ants do? Find another kind of dead bug or worm and do the same thing. What do the ants do?
What do you think an ant will do when he gets lost? Let one crawl onto a leaf or twig and then put it down a little way away from the trail. What does the ant do? Now try putting an ant down on another trail of ants. What does it do?
Another way to disrupt the ant trail is to create a small wind – blow (softly, not too hard) on the ant trail – you can either blow through a straw or just wave a piece of cardboard. We're not looking for a hurricane here – just a little wind! Watch what the ants do.
Create a "rain shower" on an ant trail by slowly putting about 20 drops of water on the trail. Use a medicine dropper – and don't get carried away – just a little rain. What do they do? How long before the trail is back to normal? Now try using a sprinkler to fake a "rainstorm." What do the ants do? How long before the trail is back to normal?
Now block it with a piece of wood, a big stick or a rock. What do the ants do? How long before they have their trail going again? Now try giving the ants a reward – a piece of meat or part of a candy bar laid down near the trail. What do the ants do? How long does it take them to change the route of the trail? Which way made the ants change their trail more quickly – an obstacle, or a food reward?
Are You Smarter than a Cub Scout?
Alice, CS RT Commissioner
Pioneer District, Golden Empire Council
Use Bug Facts to make up a Trivia sort of game about bugs – You can either put them on cards or just use them to play a game. For lots of extra fun, have a parent – child competition based on the new game show "Are You Smarter than a Fifth Grader?"
Bug Hotel
Southern NJ Council
Materials: oatmeal container, markers, poster paints and brushes, utility knife, screen
Use markers or poster paint to decorate the outside of the oatmeal container, making sure you post the house rules
Paint or draw the shutters, then use a craft knife (adults only) to cut them out with sideways H shapes.
Paint the door, then cut it out, making sure its bottom edge is at least 1/4 inch above the floor inside (to keep guests from checking out too early.)
Roll the screening so it rests snugly around the inside of the container. Trim so the top edge fits beneath the lid and leave a 1-inch overlap where the sides edges meet.
Tips: Be sure to provide guests with food (notice what they were eating when you found them) and water (a filled plastic bottle cap should meet their needs).
INSECT ZOO
Southern NJ Council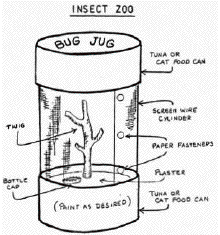 Materials
2 tuna or cat food cans
1 pop bottle cap
Casting plaster
1 piece screen 8" x 10 1/2"
3 round head paper fasteners
Stick or branch
Paint
Directions:
Set one tuna can (open side up) on work table.
Mix enough plaster to fill can to within 1/4" from top.
Roll screen wire into tube 8" high and as big around as the inside of the can.
Set screen down into wet Plaster.
Push small branch into plaster in center.
Push bottle cap, open side up, into plaster to make a 'watering hole' for bugs.
Use the paper fasteners to secure the screen wire shut.
The other lid serves as the lid.
If desired, the cans can be painted before assembling the bug jug.
A wire handle can be added at top, attached to screen, for easy carrying.
The lid sets on top so is easily removable.
Insects and Bugs should only be kept temporarily.
They must be returned to their homes
Be sure to see the feeding directions
Insect Feeding Directions
Southern NJ Council
If you capture an insect alive and plan to observe it, be sure to keep it alive by feeding it.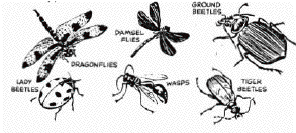 Praying Mantis - eats flies or small insects, raw meat on a toothpick in small pieces, and water.
Field Cricket - fill bottom of cage with one inch of soil. Water. Feed bits of bread soaked in water, lettuce, or peanut butter.
Click Beetle - feed soft-bodied insects and water.
Grasshopper or Walking Stick - put grass sod in bottom of cage. Water grass from time to time and add a dish of water for the insect.
Caterpillar - feed types of leaves from the location you found him.
Tarantula - eats most all insects and needs water.
Meal Worm - feed oatmeal or bran meal with small pieces of potato or apple.
String Along Hike
Southern NJ Council
Take a piece of string about a yard long on your hike. Every now and then, place the string in a circle on the ground. See how many different things you can find en closed within the circle. You may be in for a surprise, for ft is not unusual to find 20 or more things. Then stretch the string in a line and see how many things touch it.
Cricket Trap And Zoo
Southern NJ Council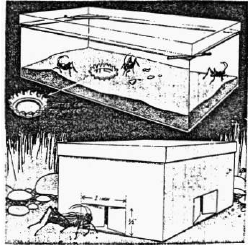 Trap
Trap is cardboard shoebox with cover.
Cut doors at bottom center of ends and sides, as shown.
Push doors in until they are 1/4' open.
Put bread crumbs and potato peels in center of box and add lid.
Listen outdoors for 'chirping' and set box in that area.
Zoo
Zoo is a clear plastic shoebox or deep glass bowl.
Put 2" of soil in bottom.
Push a bottle cap into soil, open end up.
Keep it full of water.
Punch air holes in cover or raise cover off box by placing match sticks at two corners.
Get the Travel Bug
Alice, CS RT Commissioner
Pioneer District, Golden Empire Council
Decide on a bug for which you want to write a travel brochure. Find out all you can about what the bug eats, where he likes to live, what time of year and what time of day or night he likes to be "out and about," what kinds of things might attract (or scare away) him or her. (Again, check with the Children's Librarian for a good bug book, or go to one of the websites suggested) Find out everything you can about your bug. Now use these facts, and make your own travel brochure or poster. You can draw pictures or cut them out of magazines. Display your poster or brochure at the Pack Meeting. You could even have each boy choose a different bug!
What's Next? Use a sectioned paper plate, or just draw sections on a paper plate. Draw the life cycle of your particular bug, one part of the cycle to a section – the caterpillar to butterfly cycle is one example.
Spider Watching Made Easy:
Alice, CS RT Commissioner
Pioneer District, Golden Empire Council
Keep an eye on a single spider web in your house. They have territories, so it will stay in the same spot. Notice what it eats – does it catch bugs in the web? Look for mummies – silk-wrapped insects or litter left over from a spider lunch. Watch for molting. Spider skins look like dead spiders, but look closely and you will see they are empty, like snake skins. What does the web look like? Each kind of spider spins it's own kind of web. Spider silk is the strongest fiber found in nature and it comes from silk glands at the rear of the spider's body. They use silk to build traps, homes, parachutes and slings to hold their eggs. Most indoor spiders build irregular webs called cobwebs. Watch your web for a female carrying an egg – or lots of little tiny babies, if you're lucky!
Go on a Bug Hike:
Alice, CS RT Commissioner
Pioneer District, Golden Empire Council
String Hike – Each boy has a 36" length of string – lay it down on the ground in a circle, then lie down and watch to see what you can find. Be very quiet, and don't move – stay there for several minutes – What kinds of bugs do you see? What are they doing? Have the boys compare what they saw in their circle.
Different Perspective Hike – Stop and get down to the level of a three year old at various places on your hike – what looks different from that angle?
Finders, Not Keepers Hike – Go on a Bug Scavenger Hike – but instead of collecting what you find, share it with everyone, make a list or check off items on a list you made ahead of time, maybe draw a picture of what you saw. "Bug" things to look for: something crawling, a flying bug, something fuzzy, a leaf chewed by a bug, a hopping bug, a white, yellow, green or red bug, aphids, ants, a Praying Mantis, a beetle, a "rollie pollie" sow bug…..
Harmless Bug Collecting: Did you know that you may have a bug collection right over your head? Check overhead light fixtures – they sometimes have lots of different bugs – and they're easy to catch!
AMAZING ANT FARM
Utah National Parks Council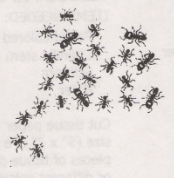 Materials:
Large glass or plastic jar
Soft drink can
Black construction paper
Tape
Dirt or sand
Ants from an ant hill*
Piece of sponge
Cloth to cover the jar
Rubber band
Food scraps
Fill the soft drink can with sand and seal the opening with tape. Or, use an unopened can of soda.
Carefully put the can into the jar.
Fill between the jar and the can with dirt or sand. Do not pack the dirt too tightly, but fill the jar almost up to the top. Because ants cannot enter the can, they will be forced to build tunnels around the outside of the jar where you can see them.
Pour some water over the dirt so that it's damp, not soggy.
Get the piece of sponge wet with water and place it on top of the soda can. This is the water supply for the ants. BE SURE TO KEEP IT MOIST.
Poke several holes in the dirt with a wooden spoon so the ants have some holes to start with.
Add the ants and cover the jar with the cloth.
Secure with a rubber band.
Tape the black paper around the jar. The ants are more likely to make tunnels around the jar if it's dark. It may take about a week for the tunnels to really begin developing. You can remove the paper later to observe the ants' behavior.
IMPORTANT: You must feed your ants. Place food on the top of the dirt and observe what happens. Try feeding them different things and see what they like the most. Different foods you can try include bread, crackers, dry pet food, sugar water (in the sponge) and pieces of fruit.
To catch ants, find an ant hill, and with a small shovel, dig up the ant hill and the ants. Until you place them in the habitat, keep the ants and dirt in another jar covered with fine mesh or cloth and secured with a rubber band. This will let air in but keep the ants from getting out.
Watercolor Butterflies
Trapper Trails Council
Materials: Paper coffee filters, watercolors and paintbrushes, markers, glue & glitter clothes pins (spring action or old fashioned are ok) colored paper
To color the filters, either dab on water color paint with a brush or draw on designs with markers or both.
Add glue & glitter designs.
Once the filter is dry, pinch it in the middle like a bow tie.
Slide or clip the clothespin onto it and fan out each side of the filter to resemble a butterfly's wings.
Cut two strips of constructions paper, approximately the size of matchsticks and glue them onto the clothespin for a pair of antennae.
Paper Towel Butterflies
Trapper Trails Council
Materials: newspaper, white paper towel, watercolor paints and paintbrushes, pipe cleaner
Lay the paper towel on the newspaper and paint the towel with watercolors. Try to cover as much of the towel as possible.
While the towel is still damp, fold it loosely, accordion style.
Wrap a pipe cleaner around the middle of the towel and extend the ends upward to form antennae.
Fold down the tips of the "antennae" to make little knobs.
Gently shape the wings by smoothing out the towel's creases.
As it dries, the towel will harden and hold its shape.
FLY SWATTER SLIDE
Trapper Trails Council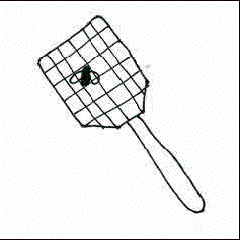 You will need:
Plastic needle point canvas
Popsicle stick
Plastic fake flies
Slide back
Hot Glue gun
Directions:
Cut a fly swatter shape out of the plastic canvas.
Glue a Popsicle stick onto the back and
Glue a plastic fly onto the front.
Glue on the slide back.
Leaf Creatures:
Alice, CS RT Commissioner
Pioneer District, Golden Empire Council
Collect various leaves and glue them to colored paper to create your own "bugs."
Use markers for eyes, features.
You can overlap, but can't cut the leaves –
Use your imagination to "see" the bug that's hiding in the shape of the leaf!
The April 2008 theme is "Leaf it to Cubs,"
this might be a good one then, too CD
Hershey Kiss Critter
Trapper Trails Council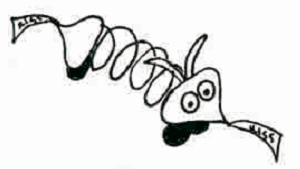 Materials
Pipe Cleaners
Jiggly Eyes
Craft Foam
Hershey's Chocolate Kisses
Low Heat Glue Gun
Directions
Curl a 6" piece of pipe cleaner around a pencil
Glue a Hershey's Kiss to each end
Fold a 1" piece of pipe cleaner in half and glue to the top of one Kiss to form the antennae
Cut two sets of feet out of craft foam
Glue the feet to the bottom of the Kisses
Glue on jiggly eyes
Can you take what you have learned and
create a butterfly? Dragonfly? Or some other bug?
Paper Maché Bugs
(for your own Bug's Life Mural at Pack Meeting?)
Alice, CS RT Commissioner
Pioneer District, Golden Empire Council
Decide which bug you want to make – then find a balloon or balloons that will make a good base:
Long, skinny balloons are good for butterfly, dragonfly, walking stick, praying mantis, caterpillar, and cricket bodies;
Long but wavy balloons are excellent caterpillar bodies;
Normal round balloons make good insect heads, fly and beetle bodies, depending on the size.
One piece at a time, dip strips of newspaper in flour and water paste, and
Squeeze off excess paste with fingers and completely cover the balloon –
Do several layers, let dry completely, at least two days,
Then apply paint and decorate.
Use window insulation film (e. g. 3M brand), clear contact paper or plastic wrap for see-through wings for dragonflies, flies, or wasps.
Use crepe paper or thin fabric for butterfly, moth or grasshopper wings.
Trace the wings with a permanent marker or pen.
Finally, use coat hanger wire or something a little thinner (florists' wire is too thin), shaped and glued to the outer margins of the wings to give the wings the rigidity they need.
Hot glue the inner wire portion of wings to the body.
With very heavy wings, you may have to cut a notch in the body wall for extra gluing surface area.
Mosaic Butterflies
Alice, CS RT Commissioner
Pioneer District, Golden Empire Council
Use a hole punch to make lots of rounds out of colored paper.
On another piece of colored paper, draw an outline of a butterfly.
Now glue the colored circles, overlapping them all over the butterfly.(This is actually like the small scales on a real butterfly, each one having a color and all of them together making a pattern – when you touch a butterfly, a fine powder comes off (the scales) – it doesn't look like much either, but all together the scales make beautiful patterns)
Variation: Tape a piece of waxed paper over your butterfly shape paper. Glue your circles to the waxed paper, then top with another piece of waxed paper glued on. Now cut out your butterfly, add antennae, and hang in the window – the light comes through the waxed paper for a beautiful effect.
I have also used the hole punch circles to help kids understand Pointillism, a type of painting, in which the paint is put on in dots of color – one of the Impressionist painting techniques – and using the paper punch dots helps us understand that kind of painting. So you can save this for the next time there is a theme about Art or Artists. Alice
OUTDOOR ACTIVITIES
Family Camping
Is your Pack doing Family Camping??
Do you have a B.A.L.O.O. Trained Leader?
Family Camping is a blast!!. 24 to 48 hours of quality time with your family – no interruptions – games, exploring nature, activities, good food!!!
And this theme gas so many activities that go better in the outdoors!!
If you are going to a state park, check with the Rangers before you go – you could probably
Visit a Nature Center
Cook lunch outdoors
Take a nature Hike
Have a bug hunt
Not going camping –
Make a day trip to see the ranger and do the above
Visit a farm
Visit a Zoo
Have a backyard or park picnic
Hug A Tree Round Robin:
Alice, CS RT Commissioner
Pioneer District, Golden Empire Council
An excellent program to do on your Pack's
Family camping Adventure!! CD
This is based on a program called "Hug A Tree and Survive!" developed by Search and Rescue members specifically to help children know what to do if they become lost. Set up 8 stations. Boys must go around to the stations and demonstrate that they know what to do at each one. Do it over several times. Reward the effort with a treat. Alice
Stations are:
Make a cast of your shoe.
Tell the "parent" where you are going.
Go pick up a garbage bag, make a hole for your face and put the garbage bag on
Hug a "tree." (Real, if outside, or imaginary if inside.)
Build a "nest" to sit on from leaves and twigs so you will be off the damp ground. (this could also be imaginary, but it's more effective if they actually do it)
Put a whistle around your neck – blow it.
Show how to make yourself big by waving your jacket.
Demonstrate how you would make an arrow pointing to your tree with your foot or a piece of shrubbery. (But don't lose sight of your tree)
Hug A Tree Relay:
Materials:
For each boy - a big garbage bag and a whistle
For each team - a basket containing bags and whistles, a "tree" to hug, and a scattered pile of twigs and leaves
Instructions:
Divide boys into two or more teams.
On signal, the first boy in each team
Runs to the line,
Digs out a garbage bag,
Makes a hole for his head,
Puts the bag over his head,
Hugs the "tree" and
Makes a nest out of the scattered twigs and leaves.
Blows the whistle three times and
Then runs back and tags the next boy in line,
The next boy repeats the actions.
Winning team finishes everyone first. (Leader should be making sure that each boy does every action)
Shoe Casting Hint:
Using several layers of foil on a soft surface, like a rug or towel, press your hiking boot or shoe down.
Make sure there is a "cast" of the size and pattern of the bottom of your shoe.
Write your name on the casting with a permanent marker.
Display at Pack Meeting and explain how this casting could be used to identify your tracks if you became lost and searchers needed to know which set of tracks to follow.

Materials found in Baloo's Bugle may be used by Scouters for Scouting activities provided that Baloo's Bugle and the original contributors are cited as the source of the material.

Materials found at the U. S. Scouting Service Project, Inc. Website ©1997-2006 may be reproduced and used locally by Scouting volunteers for training purposes consistent with the programs of the Boy Scouts of America (BSA) or other Scouting and Guiding Organizations. No material found here may be used or reproduced for electronic redistribution or for commercial or other non-Scouting purposes without the express permission of the U. S. Scouting Service Project, Inc. (USSSP) or other copyright holders. USSSP is not affiliated with BSA and does not speak on behalf of BSA. Opinions expressed on these web pages are those of the web authors.