April 2006 Cub Scout Roundtable Issue

Volume 13, Issue 9
May 2007 Theme

Theme: Cubs and Bugs
Webelos: Outdoorsman & Artist
Tiger Cub Activities
TIGERS
What Do You Do Now??
By now your Tigers have probably earned their Tiger Badges and are anxious to move on up. Two projects you may want to work on this Spring are
Earning the Leave No Trace Award at the Tiger Level
Earning the CS Outdoor Award at the Tiger Level
If your Pack has an active Outdoor Program with two camping trips and several other outdoor activities your Tigers may be well on their way to earning the Leave No Trace Award. The requirements are in the back of their Tiger books.
BUT MORE IMPORTANTLY – Have them complete their Bobcat Requirements before promotion to Wolfs. Then they will have their books (My pack presents books for the next rank in our graduation ceremony) and can start the Family Activities this summer while out of school and (hopefully) taking some sort of vacation with their parent(s) or other family. This will, also, help your life as a leader easier in the Fall when you (hopefully) get new Scouts who have to earn their Bobcat right away.
Have the Cubmaster Challenge the Tigers in one Pack Meeting to return next month as new Bobcats. One of my "Den and Pack Ceremonies" books has the Zulu Challenge, which I have used often for this purpose.
Don't just tell the boys to memorize the stuff, play games with it. Have flash cards for parts of the Promise and Law and have the boys place them in correct order. Have them draw posters of what the words mean to them. BSA used to have a comic book publication – "A Cub Scout Action Book – Bobcat" with lots of games and activities to help boys learn the Bobcat requirements. Maybe you can find a copy in your Pack Library. Check the requirements to make sure they are still current. Remember – WEBELOS is "WE'll BE LOyal Scouts" not "Wolf, Bear, Lion, Scout" as it says in my 1957 book.
Tiger Graduation Ceremony
Southern NJ Council
Remember, on June 1, all your current Tigers are to be promoted to Wolf Dens. (And the Wolf Dens to Bear and Bear to Webelos, …)
This is a simple ceremony outline designed to graduate Tiger Cubs and Adult partners into the next level. Remember, the best ceremony has not been written yet; so feel free to write your own or improvise on this one.
Materials: Four candles and candle holders. Wolf Cub Scout neckerchiefs and slides (one for each Tiger).
People: Cubmaster, Tiger coordinator and den leader(s).
Cubmaster: (Call boys and adult partners forward. Stand in front facing the pack. Candle holder with candles is in front of the Tigers.)
"Search-Discover-Share" has been the theme of your Tiger Cub Den for the past several months. You have been exploring new things and places using this method in your homes, schools and neighborhoods.
(Light the candle on left) You and your partner have SEARCHED in your home, your community, and the outdoors. You have worked together and had fun.
(Light candle in middle) You and your partner have DISCOVERED new things together with family and friends and had a sense of being a part of the community and your country.
(Light the third candle) You and your partner have SHARED with your family and friends and your fellow Tiger Cubs.
Now it is time to take your next move up the Scouting trail to Wolf. (Light the fourth candle) In Cub Scouting, your family is still important as it is throughout your whole Scouting experience. Support in earning each badge comes from your family as well as from your den leader. Your parents will help you each step of the way.
Tiger Cheers
Heart of America Council
Repeat this cheer three times.
The first time is spoken softly,
The second a little louder and
The third time is yelled loudly with a Tiger growl at the end.
The wonderful thing about Tigers,
is Tigers are wonderful things!
Give me a T--------T
Give me an I--------I
Give me a G--------G
Give me an E-------E
Give me an R-------R
Put it together and what does it spell?
"TIGER"
What does it say?
"GROWL"
Tigers have the spirit
Yes we do!
Tigers have the spirit
How about you?
After they do the yell, the Tigers point to the Wolf Den, who do the cheer for themselves. They point to the Bears and the Bears to the Webelos.
Motorized Bugs That GO!!
Alice, CS RT Commissioner
Pioneer District, Golden Empire Council
Motor Assembly

Materials:
A large wooden spool about 1 3/4" long by 1 5/16" diameter
Two washers
A thick rubber band about as long as the spool
A toothpick
A small nail or screw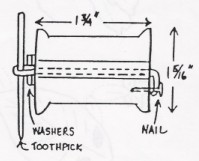 Directions:
Push the rubber band through the spool opening
Drive the nail into a spool end to hold one end of the rubber band
Push rubber band through the washers
Secure rubber band in place by the toothpick
Scrape paper off the spool ends and wax lightly to make for easy spinning
Power the motor up by winding the rubber band with the toothpick
When wound, set it on the floor and watch it go
Bug Body Assembly
Materials
Wire Frame
Paper Maché materials
Paint
Pipe cleaners, eyes, foam, buttons, as needed

Directions:
Make the basic body shell as shown
Make a wire frame
Cover with Paper Maché strips
Let dry (overnight)
Bottom rim must be smooth to glide
Paint and decorate as desired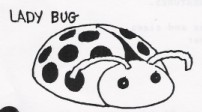 Pipe cleaner piece for antennae
Paint body red with black dots
Jiggly eyes or buttons for eyes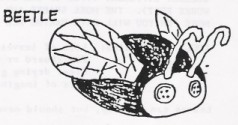 Wings are waxed paper
Eyes are buttons or jiggly eyes
Feelers are pipe cleaners
I am not sure where this came from originally but the scan I was sent looks like a Boys' Life reprint from when I was a Cub Scout! CD
Discovering Nature and Energy
The goal of these activities is to develop in your child an appreciation of the world around him. In addition, several of the activities provide an opportunity to explore energy conservation. You are given the opportunity through this Big Idea to reinforce your own values about environment, energy and even spirituality.
Activities
Family Camping
Nature walks
Nature Scavenger Hunt
This can be done in a local park, nature center or even your back yard. The boys should be warned that the only natural items that should be picked up are those lying on the ground. Don't break down trees and pick flowers.
In this scavenger hunt, provide each partner with a paper bag and a list of items. The person returning with the most items, within the time limit that you set, wins.
| | |
| --- | --- |
| Pine cone | Twig |
| 2 different leaves | Bug |
| Piece of moss | Litter |
| A seed | Worm |
| Clover - one | Feather |
| Flat oval stone | Dandelion |
Balloon Tennis
Make a Racket!
Materials:
Wire Coat hanger
Nylon stocking
Colored tape
Pull a wire coat hanger into a diamond shape and straighten the hook.
Push the hanger into a nylon stocking, making sure it fits snugly into the toe. Pull the stocking tightly over the hanger to form a taut net.
Gather the loose end by twisting it around the handle and taping it to the handle.
Bend half the hook of the hanger back to the base of the diamond. Twist tape around the entire wire to form a handle and you are ready to play.
Have a Balloon Tennis Race!
Mark start and finish lines about 10 yards apart.
Divide the group into pairs. Each should have two rackets and a balloon.
When the leader says, "Go", partners begin walking, hitting the balloon back and forth while trying to maneuver to the finish line. Players have to direct their balloons while avoiding other balloon batters.
The first pair of players to cross the finish line is the winner
The Trained Ladybug
Make Copies of this page
Have the boys cut the squares and staple back together in order
Flip the pages and watch the Ladybug do her trick!!!
T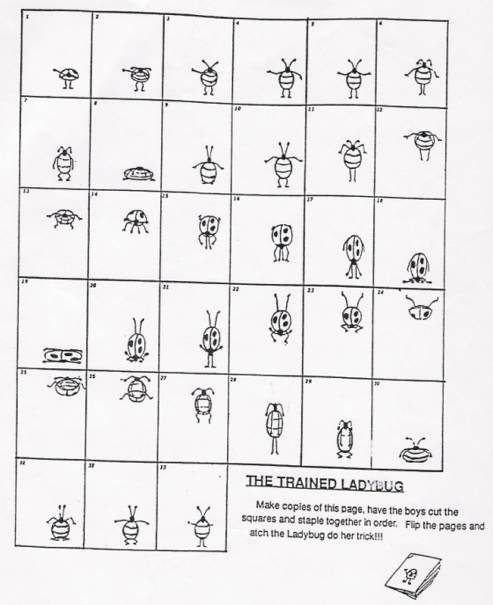 .

Materials found in Baloo's Bugle may be used by Scouters for Scouting activities provided that Baloo's Bugle and the original contributors are cited as the source of the material.

Materials found at the U. S. Scouting Service Project, Inc. Website ©1997-2006 may be reproduced and used locally by Scouting volunteers for training purposes consistent with the programs of the Boy Scouts of America (BSA) or other Scouting and Guiding Organizations. No material found here may be used or reproduced for electronic redistribution or for commercial or other non-Scouting purposes without the express permission of the U. S. Scouting Service Project, Inc. (USSSP) or other copyright holders. USSSP is not affiliated with BSA and does not speak on behalf of BSA. Opinions expressed on these web pages are those of the web authors.