<![if !supportEmptyParas]>
October 2004 Cub Scout Roundtable Issue

Volume 11, Issue 3
November 2004 Theme

Theme: Cub Scout Collectors
Webelos: Craftsman & Scientist
Tiger Cub:

Achievement 5 & Activities
PACK ADMIN HELPS
10 COMMANDMENTS OF DEN CONTROL
Connecticut Rivers Council
1. Regularly use the Cub Scout Ideals: the Motto, the Promise and Law of the Pack, in ceremonies, and as a guide to conduct. You must set the example.
2. Use Den Rules. Start using them immediately. Boys need to know what is expected of them. Make sure both boys and parents know what the rules are.
3. Make uniforms important. Have regular uniform inspections and instill pride in wearing their uniforms. Boys behave differently when they dress up.
4. Be firm, fair and consistent. They will test you from time to time to make sure that you really mean it.
5. Use positive incentives. When the conduct candle burns down or the marble jar is full, give them the special party or outing you promised.
6. Make each boy feel special. Use warm greetings, compliments, words of praise, and fond farewells, liberally for each boy. Make them feel appreciated and wanted.
7. Boys must have input to rules. If you want them to cooperate they should feel that they have some control of how the den operates. You empower them and teach responsibility when they help set the rules.
8. Den programs must be full of short, fun activities. Boys at this age are active and quickly become bored or frustrated. Long talking sessions and complicated craft projects make it difficult to keep control of the meeting.
9. Use lots of help. From time to time, boys require individual attention. They will need help, encouragement, reassurance, advice or just want to tell you something important. You can't give them that attention if your doing it alone.
10. Get to know each boy. Every boy in your den is a unique individual with his own dreams, fears, and sense of humor. He needs to know that you care about him.
Leader Induction Ceremony
Baltimore Area Council
Now that you have recruited new leaders, be sure to induct them properly into their positions. All leaders appreciate recognition even if they insist they donít. It is, also, one of the greatest tools for retention. CD
<![if !vml]>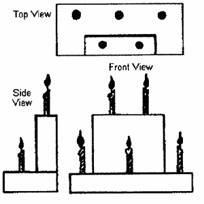 <![endif]>
Personnel: Pack Committee Chairman and new leaders.
Equipment: Candles and candle board
Committee Chairman: Before you is a ceremony board that has five candles on it. The top two, like the alert ears of a wolf represent the two upright fingers of the Cub Scout sign. They mean TO OBEY and TO HELP OTHER PEOPLE.
The three candles at the bottom represent the folded three fingers of our Cub Scout sign. These three fingers stand for the three important letters in our law: F-H-G. These letters represent FOLLOWS, HELPS, GIVES. They also mean FAIR. HAPPY and GAME. And finally, they remind us of something each Cub Scout, represents - FREEDOM, HOME, and GOD.
All of our leaders want to do their best to teach Cub Scouts to learn to follow, to help, to give, to be fair and happy whatever the game might be and to respect their freedom, home, and God.
Will the new leaders of our Pack please come forward? (Pause while the new leaders gather at the front of the meeting place.) Please repeat after me:
1, (your name), promise to do my best, to help the Cub Scouts in my Den and in my Pack to do their best, to help other people, and to do their duty to God and their country, and to obey the Law of the Pack.
As chairman of this Pack. I take pleasure in presenting to you your registration cards and personally welcome you into active leadership in Cub Scouting. May the days ahead be: FUN, HAPPY, and GIVING.
Materials found in Baloo's Bugle may be used by Scouters for Scouting activities provided that Baloo's Bugle and the original contributors are cited as the source of the material.

Materials found at the U. S. Scouting Service Project, Inc. Website ©1997-2004 may be reproduced and used locally by Scouting volunteers for training purposes consistent with the programs of the Boy Scouts of America (BSA) or other Scouting and Guiding Organizations. No material found here may be used or reproduced for electronic redistribution or for commercial or other non-Scouting purposes without the express permission of the U. S. Scouting Service Project, Inc. (USSSP) or other copyright holders. USSSP is not affiliated with BSA and does not speak on behalf of BSA. Opinions expressed on these web pages are those of the web authors.