<![if !supportEmptyParas]>
October 2004 Cub Scout Roundtable Issue

Volume 11, Issue 3
November 2004 Theme

Theme: Cub Scout Collectors
Webelos: Craftsman & Scientist
Tiger Cub:

Achievement 5 & Activities
ADVANCEMENT CEREMONIES
Pocket Ceremony
Southern NJ Council
As we all know, most boys begin their collections in their pockets. Cub Scouts takes this a step further and uses to pocket on the uniform as a place to build a collection. Here is a pocket - a very plain pocket - not very interesting, and it could belong to anyone. But wait, let's give this pocket to a Cub Scout.
[Narrator places Bobcat badge on pocket.]
Our pocket is turning into something with meaning. It represents a sense of belonging and will soon bring our Cub Scout knowledge, skills, enjoyment and good fellowship. We would like to present the following boys and parents their Bobcat badge.
[Narrator places Wolf & arrows on pocket.]
With the Wolf rank, our pocket turns into something more special. It proudly displays the first symbol of new-found knowledge of the flag, of keeping strong, of tools, of knots of safety, of books and reading. It means our Cub Scout has mastered feats of fun. Tonight we are privileged to recognize the following Cub Scouts who have achieved the rank of Wolf. Would the following Wolf candidates and their parents please come forward.
[Narrator places Bear & arrows on pocket.]
Adding the Bear badge has increased our pocket's meaning even more. It shows our Cub Scout is completing increasingly difficult achievements which show he is growing in knowledge and skill. Would the following Bear candidates and their parents please come forward.
[Narrator places Webelos and Arrow of Light on pocket.]
Our pocket has now had placed upon it the Webelos badge and Arrow of Light, the highest awards which our Cub Scouts can achieve. To receive these awards, our Cub Scouts must dedicate themselves to the hard work necessary in completing the required number of activity badges and prove themselves ready to join the ranks of Scouting. Tonight we wish to recognize these boys who have completed activity areas within the Webelos program. Will the following boys and their parents please come forward.
(With the Webelos Scouts together, a candle ceremony may be added at this time.)
Our pocket is very special now. It is very rich in new possibilities. It opens up a whole new world of challenges. Cub Scouting has taken our plain pocket, and turned it into a pocketful of adventure, fun, and excitement.
Congratulations to all you boys and your parents on your achievements. LEAD CHEER!!
Pocket Ceremony #2
Southern NJ Council
Preparation - Pockets of blue paper with different emblems on them ahead of time and hold up as each is referenced in speech).
Young boys and collections—I don't think they can be separated. Their collections hold the treasures of their lifetimes, yo-yos, shooters and aggies, a few baseball cards, and Canadian pennies. When a boy walks home from school anything of interest goes into his pocket to become part of his collection - stones, pine cones, nails, a rusty bolt. What neat stuff!
Unlike other boys' pockets, the pockets of the Cub Scout's uniform cannot only hold a lot of things; they are used to display a boy's accomplishments. Cub Scout achievements can be divided into four categories: God, Country, Family and Self.
A boy can earn separate awards for all these areas:
For God, he can earn the emblem of his faith;
For Country, the World Conservation Award;
For Family, the Cub Scout Family Award;
For Self, the camp, special events, and sports/academic program patches.
The most important part of this colorful shirt is the rank; Bobcat, Wolf, Bear, Webelos, and Arrow of Light. Tonight we have someone/boys who has/have earned…
Present awards to parents to give to boys. Give boys and parents a CHEER for a job well done.
Collections Advancement Ceremony
Baltimore Area Council
Equipment: Your choice of as many of the following you need for the various types of awards being presented: 35mm film canister, egg carton, poster board with some post cards attached, clear plastic "baseball card" collection page with some collectable cards inserted, matchbook, stamp collection album (can be a folded piece of poster board with "stamp collection" printed on the cover, jar with holes punched in the lid. POG holder, etc.
Set-up: Place badges in the baseball cardholder behind the baseball cards. They will be revealed when the page is turned around. Badges can be tucked behind post cards on the poster board or taped into the stamp album or fastened under the lid of the jar. Arrow points could be tucked into matchbooks. Webelos pins can go in the egg carton or the 35mm film canister. (You get the idea. Modify the sample script below to .fit your award needs.)
Cubmaster: Boys are natural collectors. Aside from being able to collect an amazing amount of dust and dirt in a normal day's activities, boys like to collect things. Bottle caps, pretty rocks, stamps. coins... the list is endless (hold up jar). How many of have had your son come to you with a jar and asked you to punch holes in the lid so he could catch some lightning bugs? Flashing brightly on a summer evening, they are one of the first things that our boys run after. Soon they are reaching higher and higher for the ones just out of their reach (open jar- and take out Bobcat badges,). Our new Cub Scouts are just like that. They have earned their Bobcat badges, but, with the help of their parents and families, they will soon be reaching for new heights in the Cub Scout program.
(Call parents and boys up and present Bobcat awards.)
As our boys grow, their horizons are widened. They may receive postcards from friends who are traveling on vacation, and these cards may spark an interest in traveling to far off places (Pickup poster board and show postcards). The boys may choose to collect post cards of all the places they have seen and gone. In the same way these post cards can serve as a visual history of our travels, these Wolf badges serve as a visual reminder of the hard work our boys and their families have done on the wolf trail.
(Call parents and boys up and present Wolf awards.)
As our boys continue to grow, it isn't long before they are choosing up sides to play games. Baseball, basketball, soccer... all of them being spurred on by their favorite sports heroes (show page of baseball cards). It's only natural for boys to collect and trade pictures of their sports heroes. building up a collection that suits them (turn page around). Each of the boys in our Bear Den has chosen just the right mix of twelve achievements out of the twenty-four available to complete his own personalized requirements for the Bear badge.
(Call parents and boys tip and present Bear awards.)
Boys have varied interests, and they will pick up any little thing that interests them. Once they have two of them, they have a collection. Then they need some place to keep them (.show 35mm film canister). Often, a little container just like this one is perfect for keeping a boy's prized collection from getting lost in the washing machine. Coins, paper clips, rocks, marbles... you name it. Every boy will have a different collection that interests him (remove Arrow Points from the .film container). That is why the Cub Scout advancement program helps boys to explore a wide variety of interests, and rewards them for completing electives based in these interests.
(Call boys up and present Arrow Point awards with appropriate verbiage for Gold and Silver Arrow Points.)
As our boys get older, their collections grow. They need some way of organizing and displaying their treasures (pick up and show egg carton). A simple display case like this one can be used to sort out any type of small treasure for safe keeping, and then be opened for display (open to show activity pins to be awarded). Our Webelos have worked hard this month to earn these Activity Badges. They have a special "display case" on the shoulders of their uniforms that is perfect for displaying these treasures.
(Call boys up and present Activity Badges with appropriate descriptions for the different pins being awarded.)
Our older boys work on their collections until they are highly refined, and they proudly display the results. Some collections will provide many hours of enjoyment far into the future (.show stamp album). These Webelos have worked for several months as active members of their Den and they have collected the required Activity Badges to earn their Webelos Badge (open stamp album to Show badges). I'm sure they will continue to work hard to continue to refine and polish their tine collection of activity pins as they work hard for their Arrow of Light award.
(Call boys up and present Webelos awards.)
Please, join me in congratulating these boys on their fine collection of awards. I almost forgot to mention one of the best collection holders here. The left pocket of a Cub Scout uniform shirt!
Bobcat Induction Ceremony
Baltimore Area Council
<![if !vml]>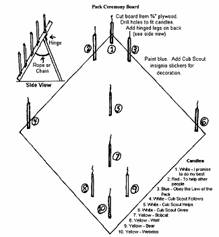 <![endif]>
If you are going to make one of these, you'll probably want to copy the picture of the board and enlarge it
Equipment: Pack Ceremony Board with candles
Personnel: Cubmaster, Bobcat candidates, parents
Cubmaster: The top three candles on our ceremony board represent the Cub Scout promise. This is a promise which binds all Cub Scouts together in a common goal. It is through this promise that we are guided and directed.
I light the white candle which stands for "I promise to do my best." This is not always easy to do. Cub Scouts should do the best they can.
I light the red candle which stands for the second part of the promise `To help other people." Helping others not only makes them happy, but it makes the Cub Scouts happy too. You help other people by doing a good turn each day.
I light the blue candle, which stands for loyalty and obedience. The third part of our promise "Obey the Law of the Pack" means that you will follow Akela, who is any respected leader. You will be loyal to our Pack and make the best Pack in the country. You give good will, which means that your attitude of helpfulness and friendship can benefit other people as well as yourself.
Together these three candles represent the Cub Scout Promise, (point to the white candle) I promise to do my best to do my duty to God and my country (point to the red candle). to help other people (point to the blue candle), and to obey the Law of the Pack.
In the center of the board are three white candies representing the Law of the Pack. (Light the 1st candle.) The Cub Scout follows Akela. (Light 2nd candle.) The Cub Scout helps the Pack go; the Pack helps the Cub Scout grow. (Light 3rd candle.) The Cub Scout gives goodwill.
These same three white candles represents the Cub Scouts loyalty to God, Home and Country ...when you give the Cub Scout salute, three of your fingers are hidden (show salute) and those three fingers stand for God. Home and Country. Please give the salute (they do) and remember the hidden meaning,
The remaining candles stand for the ranks of Cub Scouting. We will light the Bobcat candle and additional candles as the other badges of rank are presented tonight.
(Presents Bobcat badge to parents and boy. Handshakes and congratulations all around. Bobcats and parents return to seats.)
Materials found in Baloo's Bugle may be used by Scouters for Scouting activities provided that Baloo's Bugle and the original contributors are cited as the source of the material.

Materials found at the U. S. Scouting Service Project, Inc. Website ©1997-2004 may be reproduced and used locally by Scouting volunteers for training purposes consistent with the programs of the Boy Scouts of America (BSA) or other Scouting and Guiding Organizations. No material found here may be used or reproduced for electronic redistribution or for commercial or other non-Scouting purposes without the express permission of the U. S. Scouting Service Project, Inc. (USSSP) or other copyright holders. USSSP is not affiliated with BSA and does not speak on behalf of BSA. Opinions expressed on these web pages are those of the web authors.