<![if !supportEmptyParas]>
May 2004 Cub Scout Roundtable Issue

Volume 10, Issue 10
June 2004 Theme

Theme: Cub Rock
Webelos: Artist & Traveler
Tiger Cub:

Activities
GATHERING ACTIVITIES
Birthstone Match-up
Santa Clara County Council
Match up the correct birthstone for each month.
| | | |
| --- | --- | --- |
| ____ | January | 1. Amethyst |
| ____ | February | 2. Aquamarine |
| ____ | March | 3. Diamond |
| ____ | April | 4. Emerald |
| ____ | May | 5. Garnet |
| ____ | June | 6. Opal |
| ____ | July | 7. Pearl |
| ____ | August | 8. Peridot |
| ____ | September | 9. Ruby |
| ____ | October | 10. Sapphire |
| ____ | November | 11. Turquoise |
| ____ | December | 12. Topaz |
Answers: Jan-5, Feb-1, Mar-2, Apr-3, May-4, June-7, July-9, Aug-8, Sep-10, Oct-6, Nov-12, Dec-11
MATCH THE DINOSAURS
Circle Ten Council
This is a fun activity, I was amazed when my son was into dinosaurs how many he could recognize, but you may be better off using pictures from books you may have in your house and from the library rather than these. Or maybe your son (or a friend) has dinosaur models and you can set u a display and have the boys identify them. CD
Label the pictures in the left column A through E going top to bottom. Then label the pictures in the right column F through J going top to bottom. Then match the each picture to the proper type of Dinosaur.
<![if !vml]><![endif]>
CARCHARODONTOSAURUS
DRYPTOSAURUS-HADROSAURUS
EUOPLOCEPHALUS
GORGOSAURUS
SINORNITHOSAURUS
TYRANNOSAURUS
VELOCIRAPTORINE-PSITTACOSAUR
EOLAMBIA
GIGANOTOSAURUS
SHUNOSAURUS
ANSWERS: 1-a, 2-f, 3-j, 4-h, 5-b, 6-c, 7-I, 8-d, 9-e, 10-g
<![if !vml]>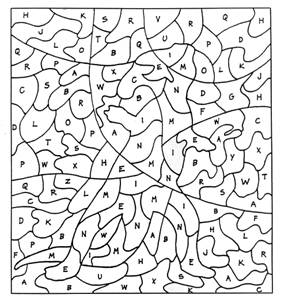 <![endif]>
Hidden Picture
Santa Clara County Council
Color the shapes in the puzzle below, which have letters that are in the word MINE, to reveal the hidden picture.
Materials found in Baloo's Bugle may be used by Scouters for Scouting activities provided that Baloo's Bugle and the original contributors are cited as the source of the material.

Materials found at the U. S. Scouting Service Project, Inc. Website ©1997-2004 may be reproduced and used locally by Scouting volunteers for training purposes consistent with the programs of the Boy Scouts of America (BSA) or other Scouting and Guiding Organizations. No material found here may be used or reproduced for electronic redistribution or for commercial or other non-Scouting purposes without the express permission of the U. S. Scouting Service Project, Inc. (USSSP) or other copyright holders. USSSP is not affiliated with BSA and does not speak on behalf of BSA. Opinions expressed on these web pages are those of the web authors.