<![if !supportEmptyParas]>
May 2004 Cub Scout Roundtable Issue

Volume 10, Issue 10
June 2004 Theme

Theme: Cub Rock
Webelos: Artist & Traveler
Tiger Cub:

Activities
SPECIAL OPPORTUNITY
The United States Heritage Award
Kommissioner Karl
<![if !vml]>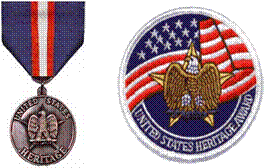 <![endif]>
Buckeye Council, BSA
The United States Heritage Award was designed by Scouts and adults to give recognition for learning about the heritage of the United States of America, and showing patriotism. By earning this award, youth can cultivate an appreciation for the wonderful heritage of the United States of America.
Award
A silver medal and patch can be awarded to each youth that successfully completes the requirements for the award. The request form must be completed to purchase the medals and patches. All requirements may be done with a unit, group, or individually.
Requirements
To earn the United States Heritage Award a youth must:
1) Tell when the Declaration of Independence was signed.
2) Learn the first verse of the national anthem "The Star Spangled Banner".
3) Know the Pledge of Allegiance. Explain what it means.
4) Learn about the United States Flag.
a) What colors does the United States flag have?
b) How many stars are on the blue rectangle (canton)? What do the stars symbolize?
c) How many stripes are on the flag? What colors are the stripes? What do the stripes symbolize?
d) How do you show respect for the United States flag?
5) Make a list of the thirteen original states of the United States of America.
6) Who is the President of the United States of America?
7) My America. Do one of the following:
a) Write a short story or poem about one of the following topics:
Why America Is Special To Me,
What It Means To Be Free,
If I Were President…
b) Draw a picture of a famous person in American History and tell what they did.
8) Render a service that benefits a neighborhood or community.
For more information go to –
http://www.nationstrails.com/awards/
Department of Defense Outstanding
Volunteer Service Medal
<![if !vml]>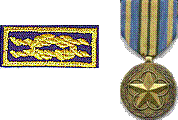 <![endif]>

Kommissioner Karl
Buckeye Council, BSA
The OVSM is an honor awarded to members of the armed forces who perform outstanding volunteer community service of a sustained, direct and consequential nature subsequent to 31 December 1992. This is considered a Boy Scout Community Organization Award, so recipients may wear the community service knot above on their BSA uniform, plus the medal or service ribbon is awarded for their military uniform.
To be eligible, an individual's service must:
· Be to a civilian community, to include the military family community
· Be significant in nature and produce tangible results
· Reflect favorably on the Military and Department of Defense
· Be of a sustained and direct nature
·
There is no specific time period, service should merit the special recognition afforded by this medal.
Here is an award I did not know about. I am sure most all of us have active duty personnel helping our units and councils. Lets see what we can do for them. I wish I had known about this a few months ago. Our District Commissioner just retired after 20 plus years of active duty. It sure would have been great to see him receive this.
For more information on this award or what other organizational awards are eligible fo rrecognition with a Boy Scout Community Service Award go to
http://www.usscouts.org/awards/community_org.html
Kommisoner Karl is a regular contributor to Baloo.
Thank You CD
Materials found in Baloo's Bugle may be used by Scouters for Scouting activities provided that Baloo's Bugle and the original contributors are cited as the source of the material.

Materials found at the U. S. Scouting Service Project, Inc. Website ©1997-2004 may be reproduced and used locally by Scouting volunteers for training purposes consistent with the programs of the Boy Scouts of America (BSA) or other Scouting and Guiding Organizations. No material found here may be used or reproduced for electronic redistribution or for commercial or other non-Scouting purposes without the express permission of the U. S. Scouting Service Project, Inc. (USSSP) or other copyright holders. USSSP is not affiliated with BSA and does not speak on behalf of BSA. Opinions expressed on these web pages are those of the web authors.