WEBELOS
It's Springtime – Let's get those Webelos outdoors!!!
How about planning an overnighter just for your den?? Or going along with a boy scout Troop?? Your Scouts probably can't wait to get out in the woods!!!
Here are Six Steps for you to follow to ensure a successful Webelos Overnighter. There is one step that comes before any of these – Take the Outdoor Webelos Leader (OWL) Training or as one council called it Webelos Outdoor Leadership Fundamentals (WOLF)
Six Steps to a Successful Webelos Overnighter
Clinton Valley Council
Determine who is going on the campout. Encourage all your Scouts to attend. One adult should accompany every Webelos Scout and be primarily responsible for his behavior.
What To Bring. Both the Webelos Scout Handbook and the boy Scout Handbook have excellent lists of what to bring on camping trips. Make sure you have a First Aid Kit . See what equipment people have ad what you may need to borrow from a local Boy Scout Troop.
Where to Go – When planning your trip keep in mind that this may the Scouts first experience beyond the backyard. Be sure to consider travel time, accessibility of cars to site, size of site and number of people, water, facilities.
When to Camp – Webelos traditionally camp in spring, summer and fall. You don't want a Scout on his first ever camping trip to be frozen the entire time.
Transportation to Camp - Make sure every boy has a seat belt and he wears it. Everyone who drives must have adequate insurance. File a Tour Permit!!
What to Do at Camp – Certain Activity badges are done more easily at camp. Outdoorsman and Traveler work well. You might be able to collect rocks for Geologist, bugs for Naturalist, leaves and plants for Forester. Work on Showman at the campfire. Use your imagination. Keep them busy!!
FAMILY MEMBER
COMMUNITY GROUP
Southern NJ Council
A family is a group of people who care for each other and share with each other. Your family gives you food, shelter, clothing and love. It teaches you religious beliefs and help's you to learn right from wrong. In return, you should give the other members of your family your love. And you should learn how to do your share of the work that must be done around your home.
The Family Member activity pin is one that will need to be worked on mostly at home. While you are working on Family Member, you might want to have a "family night" inviting the whole family for an evening (or maybe Saturday afternoon) of activities. Let the boys plan the event. You may be surprised at how creative they can be. /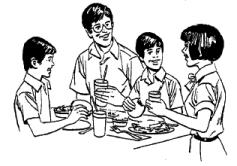 Making Family Decisions
Most families don't have formal meetings, but when you are all at the dinner table, you probably talk about jobs that need to be done around the house. Maybe you decide whether the whole family should go to the movies on Saturday night, or where you are going on -vacation. Family meetings are important. Talking about things brings all family members closer together.
Say what you think when you are asked for your opinion. Other family members may disagree with you. Don't get mad about it. Remember that they have their own interests and desires, just as you do.
Helping Your Family Save
It takes a lot of money to run a household and buy food for a family. As a good family member, you won't want to add to the cost.
How can you help your family save money? Here are a few ways:
Make your weekly allowance last for a week. Spend it wisely. Maybe you could have a paper route or mow lawns in the neighborhood.
Take good care of your clothes and shoes. That saves money.
Save energy. The bills for heating your home, electricity and water are a big part of your family's expenses. Save energy by turning off the light when you leave a room. Keep the refrigerator door closed, and not wasting hot water when you shower.
Trash and Garbage
Garbage attracts flies, roaches, mice and other pests that carry diseases. Garbage can be a health problem unless you dispose of it properly. It should be kept in cans with tight lids or sealed plastic bags. Trash and litter are unsafe. Trash is ugly to look at, and is also a fire hazard. It can also cause bad falls and injuries. Clean it up and get rid of it.
Activities
Have the boys make a chart showing the jobs that they and other family members have in their homes. Have them bring the charts to the meeting and tell what jobs they are taking on for the next two months, and how they will do them.
Before the boys inspect the home and grounds make a list of hazards or lack of security to talk over with them.
Contact the Police Department and ask if someone could attend one of your meetings and talk about security in your home.
Make a contest out of making a list of things for which families spend money. See who can make the longest list. Talk about the list and see what important expenses were omitted. Give one point for each item. Most boys will forget things like rent, car payments, stamps, insurance, etc. You might think up a list of things that you think most boys will omit and award 2 points if they happen to list one of these.
Have a contest - take a small piece of cloth, a button, needle and thread and have the boys sew on a button. Judge the button that is sewn best.
Have a cooking contest. Have each boy cook one dish and bring it to the meeting. Be sure they can tell how they made the dish. You might think about making a small recipe book for your den. This could include breakfast, lunch and dinner.
Have the boys fix a meal and invite the parents to your meeting for a feast! In the meal planning they must plan the meal, shop for the food and then cook it.
Arrange for the local fire marshal or one of his investigators to visit your den and talk or demonstrate fire safety in the home and community. Perhaps he can also provide you with a copy of a home inspection sheet.
Call the local health department to see if they can provide information about the dangers of trash and garbage piling up and ways in which your den might combat dump sites around your community.
Visit our local financial institution to find out how the monetary system works and how saving money as a family unit can be beneficial in the long run.
Contact the local public utility companies, or the environmental control agency to find out how your natural resources can be saved and what we can do as individuals -within the family unit to conserve energy.
With the help of a nutritionist teach your den to plan meals for the family that cover all the basic food groups and the order in which they re needed. Perhaps your den could also plan a weeks worth of meals for a family and visit a retail food establishment and price the food required to sustain this family and see how it relates to the budget of your family.
Family Activities:
Families need time to do things together that are not work. No family wants to work all the time. You can help suggest things to do.
Here are some ideas:
Visits to the park

Cook outs in the park

Church programs

Synagogue programs

School programs

Family reunions

Neighborhood events

Tour of your town

Holidays

Fishing Trips

Swimming

Zoos

Museums

Martin Luther King's Birthday

Block Parties

Fairs and Fiestas

Tribal celebrations (Pow Wows)

Sports activities

Fruit picking trip

Library visits

Visiting relatives

Movies

Walks and visiting in street
What else might you and your boys be able to suggest as family activities?
Circle Ten Council
Field Trips:
§ Tour an energy conservation home – underground or energy efficient
§ Tour the local water company and ask for ways to conserve water
Den Activities:
§
Make a list of fun activities of little cost and do them over several den meetings.
§ Switch chores with another family member for a month.
§ Have the boys make their chart showing the jobs that they and other family member have in their homes.
§ Before the boys inspect the home and grounds to make a list of hazards or lack of security you might want to talk over some of the home hazards they might find.
§ Have a contest – taking a small piece of cloth and button, needle and thread. Have the boys sew on a button – judge the button that is sewn on the best.
§ Have a cooking contest. Have each boy cook one dish and bring it to the meeting. Be sure they can tell you have they made the dish.
Genealogy
Tracing family roots can become a lifetime hobby. There are many books and classes on how to find information.
§ Ask if any den parents have organized charts or have studied their heritage.
§ Have the boys make a family tree for both their mother and father's family from a list of all the members of their family. What are their birth date, date of marriage and year of death?
Magazine Wall File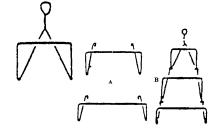 Materials:
3 wire coat hangers Enamel paint
Pliers Tin snips
Directions:
Snip off the hooks of two hangers

Bend hook of third to form circle.

Use pliers to straighten hangers
Bend as shown in figure A.
Paint.
Hang one over the other as in figure B.
They are ready to use.
How to Read Your Electric Meter
Electric meters are precision measuring devices which record, in units called "kilowatt-hours" how much electricity you use. One kilowatt-hour (Kwh)) is 1,000 watts of electricity consumed for one hour, or the power required to burn a 100-watt light bulb for 10 hours.
The meter reading is made up of one number from each dial. When the pointer is between two numbers, you read the number it has just passed – the lower number.
Try reading this meter yourself. Then check your answer against the one below.
Answer: 43,641 Kwh
House Name Sign
Materials:
Scrap lumber 2 S-hooks Ruler
Brush Sand paper Saw
Hammer Plastic letters 4 screw eyes
Nails Stain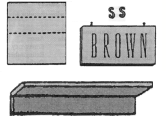 Directions:
Measure wood and mark center.
Divide one side in half.
Saw boards into three pieces.
Sand the wood smooth.
Nail narrow pieces at right angle and stain wood.
Tack plastic letters to the sign.
Attach two screw eyes to the sign and two to sign holder.
Fasten sign to holder with S-hooks.
Attach sign holder to the house.
Accident Prevention in the Home
Be Your Own Inspector
First - Locate unsafe conditions and eliminate all hazards promptly. The following questions will aid you in making an inspection of your home.
Is there a strong safe stepladder for reaching heights available?
Are halls and stairways safe and well lighted?
Are means taken to prevent rugs from slipping, particularly on polished floors?

Is a rubber mat provided for the bathtub to prevent slipping?
Are metal boxes provided for storing matches out of reach of children?
Is there a screen for use in front of open fires?
Are the furnaces and stovepipes clean?
Are all gas pipes and fixtures tight, to prevent leaks?
Is there a cabinet, which can be locked, for storing poisons and medicines out of reach of children?
Are emergency numbers for police, fire and poison control handy by the telephone?
Second - Discover and correct unsafe habits, which you or other members of the family may have. The following questions will be helpful:
Are toys, brooms, soap and other articles kept off stairs and walks?

Are ice, snow, grease, or other slippery substances removed from stairs and walks promptly?

Are flammable cleaning fluids used out of doors to use?
Have the children in your home been taught the danger of playing with knives, scissors, bottles, and matches or near stoves and open fires?
Is the garage door kept open when the car is inside with the engine running?
Are appliances checked twice to be sure they are off before everyone leaves the house?

Is the dryer lint filter cleaned after each load?
Are tools used safely and stored properly?

Are plastic bags and plastic materials kept out of reach of your children?
Find a Word for Fire Safety
Complete each sentence by choosing a word from this list:
Panic Explode Arson
Smoke Detector Ax Emergency
Escape Alarm Extinguisher
Fuse Plan Outlet
Scald Sparky Hazard
Flammable Crawl Call
Drill Roll Homes
Water Exit Burn
Hose Hot
If trapped in smoke, _____ under the smoke to safety.
Gasoline cans _____ near a flame or heat.
Electrical _____ covers protect little children from shock.
A _____ is used to put water on a fire.
Treat a minor burn with cool _____.
Use the enclosed stairs marked "_____" not the elevator, to escape from a burning building.
Have a home fire _____ now. It could save your life later.
Learn not to _____.

_____ is NFPA's Fire Safety dog.

If there is a fire, get out fast. Then _____call the fire department.
____ is a crime. It is a fire set on purpose that does harm.
Unless trained to use a fire _____, a person should get out and call the fire department.
Most fires in which people die happen in their own _____.
A _____ is an unsafe condition that exists in your home.

A _____ _____ can warn you of a fire before you might smell, hear, or see it.
If you smell smoke, don't open the door. Feel it to see if it's warm or _____.
Fire fighters and paramedics respond to _____ calls.

_____ causes more panic; set a calm example.
Make a home escape _____. Practice it twice a year.

In case of fire, you must have two _____ routes from your home.

A false _____ may prevent fire fighters from getting to a real fire.

_____ liquids catch fire easily.
Sometimes fire fighters need to use an _____ to break through locked doors.

A _____ disconnects overloaded electrical circuits.
If your clothes catch on fire, stop, drop, and _____.
A hot liquid burn is a _____.
Answers:
1 – Crawl 2 – Explode 3 – Outlet
4 – Hose 5 – Water 6 – Exit
7 – Drill 8 – Burn 9 – Sparky
10 – Call 11 – Arson 12 – Extinguisher
13 – Homes 14 – Hazard 15 – Smoke Detector
16 – Hot 17 – Emergency 18 – Panic
19 – Plan 20 – Escape 21 – Alarm
22 – Flammable 23 – Ax 24 – Fuse
25 – Roll 26 – Scald
Games
Feed the Baby
Divide the group into teams. Each team is either the feeder" or the "baby". Neither team knows before hand what the activity will be. The "babies" are seated in a row, facing the "feeders" who stand in front of the "babies". Each boy taking part is given a small cup or bowl of applesauce, a plastic spoon, and is blindfolded. At the signal, the "feeders" try to feed the applesauce to the "babies". "Babies" may not use their hands to guide the spoon to their mouths, but may give the "feeders" all kind of advice and direction as to how to reach their mouths. First pair to finish the applesauce wins points for their team. They switch positions.
Shopping
This is a variation of the Kim game. Fill a grocery bag with items from your food pantry or cabinet before the den meeting. Just before the activity time, add cold items from the refrigerator. To play the game, take one item at a time from the bag and place it on the table. When the bag is empty put everything back in quickly. Give boys a paper and pencil and ask them to write down what items were in your shopping bag.
Who Are We?
Ask boys to bring baby pictures and family pictures to the next meeting. Hold the pictures up one at a time and try to guess who it is. Bring in family vacation pictures and try to guess where the family went. Take some den pictures and make up an album of your Webelos family or take slides and play music while you are watching them.
Home Hazards
This would be a great gathering activity CD
Before the den meetings, set up as many possible hazards around your house as you can – safely, that is. Examples: pan on the stove with the handle sticking out over the front, metal pan in the microwave, bags of newspaper in the middle of the stairs, (empty) bottle of ammonia sitting in the corner, matches too close to the fireplace. When the boys arrive, give them a paper and pencil and ask them to write down any hazards they see.
Churning Butter
Put a small amount of half and half or cream into a jar and screw the lid on tightly. Boys shake jars, until butter us formed. (Try this in advance to determine just how long it will take.) The boy who finishes first is the winner. (You may want to add just a pinch of salt to the cream.)
SPORTSMAN
PHYSICAL SKILLS GROUP
Circle Ten Council
Sports are high on the list of favorites of Webelos age boys. Most members of your den will show real interest in the Sportsman badge. Chances are the boys spend much of their leisure time in organized sports and loosely organized neighborhood games. Some of them probably already know enough about rules, scoring, and techniques of play for several sports and can pass those requirements immediately.
But that's not really enough. One of the prime purposes of the Scouting program is encouraging good sportsmanship and pride in growing strong in mind and body. If the boys learn all the skills and rules involved in every sport this month, but don't get an inkling of what good sportsmanship means, then everyone has wasted their time, including the den leader.
Agree on the importance of learning sportsmanship. What does it mean in practice? It means the least skilled gets just as much instruction and encouragement as the best athlete. It means the better athletes learn not just to tolerate the awkward boy, but also to help him. It means all boys can win and lose with grace and good sportsmanship. The leaders example will help to achieve these goals. Put stress on the fun of the game, not on winning. During competition in the den, choose the teams so that ability is equally divided. If boys choose teammates, there is a good chance that most of the best players will wind up on one team. Encourage the less skillful players. Discourage others from belittling them. Sports in a Webelos den should be full for all!
Speakers
Coach

Sports player

Sports broadcaster

Team manager.
Resources
YMCA

Youth sports groups (Little League, Pop Warner, …)

Library

Cub Scout sports program
Field Trips
Go roller skating or ice skating

Visit an archery range and receive instruction on safety and procedures

Have a den outing to a sports event

Hike around a golf course. Explain rules of etiquette and play to boys first so as not to disturb players.
Activities
Invite a referee or official to your den meeting to teach signals and talk about teamwork, fair play and sportsmanship.

Hold a parent/son sports tournament, such as bowling, tennis, volleyball, archery, etc.

Have a den board game marathon. Provide treats and boys bring their favorite board games to play. Allow time for rotation to different games.

Teach a card game to the boys and set up a couple of stations for playing.

Make it easy on yourself and use the ready-made Cub Scouts Sports Program. The guide explain the rules, principles, and equipment for each sport, and the boys learn while earning the belt loops and sports pins.

Have the Webelos figure out a football play or a baseball play and diagram it. Local high school or little league coaches are sources of assistance.

Give Webelos a list of famous sports figures and have them name the sport involved.
Sportsmanship
A real sportsman follows these rules not only in each game, but also in his life. Good sportsmanship is part of good citizenship – for example, to lose a class election gracefully. The following is the code of sportsmanship of the Sportsmanship Brotherhood.
The "Spirit of Good Sportsmanship" means being modest in victory as well as accepting defeat gracefully after trying your best.
Sports Skills to Practice
Take the Snap – Throw the Ball
Try this basic drill at your den meeting, even if a boy is not the pitcher on his team or maybe he does not play this particular sport. Practicing this drill will help him become used to handling the ball. It will teach his hands, legs, eyes, and arms to work together.
For your target hang an old automobile tire about six feet above the ground. From the center, take three or four steps back and fire away. Take it slow at first to get the feel of the action. Your tire target should be about 10 yards away when you throw the ball.
The Lay-Up Shot
The lay-up shots are the ones that win the game. The reason is simple. They go in for a score 80-90% of the time.
The lay-up starts with a powerful leap from the floor but a soft finish as the fingertips lay the ball gently up against the backboard. If you shoot from the side, lay the ball against the backboard and 18" above the hoop. Avoid putting any spin on the ball. From the front, try to drop the ball through the basket without hitting the backboard.
Practice the shot until the motion becomes automatic. When you see an opening, you'll always have this game-winner ready.
How to Hit a Ball
Hitting a ball with a stick is the basis of two of our most popular sports, golf and baseball. As these sports have grown, some athletes have become so expert that their skills seem almost like magic. Some times a poor beginner gets so much good advice on the best way to become an expert that he forgets how to be a beginner.
Games
Sidewalk Tennis – played with a tennis ball on two squares of sidewalk or patch of level ground marked off in similar size. Ball is batted with the hands. Use regular tennis rules, except that there is no serving court.
Broom Hockey – give each player an old household broom or similar stick. The puck is a small ball. Play one any size field. The goals are marked by rocks places about six feet apart and centered on the end lines of the playing field.
Frisbee Baseball – played according to regular baseball rules. The pitcher throws the Frisbee toward the "batter" who then catches it. If he misses it, it is a strike and if it is outside the strike zone, it is a ball. The "batter", who has made a good catch, then throws the Frisbee and proceeds around the bases. If it is caught, the "batter" is out. The rest of the game follows baseball rules.
Soccer Ten Kicks – divide den into two teams. Each team tries to kick the ball between teammates 10 consecutive times while the opponents try to intercept and start their own sequence of 10 kicks. As he kicks the ball, each player calls out the appropriate number (1, 2, 3, etc.) Hands may not be used. The team making 10 kicks in a row without interception wins.
Soccer Triangle – on a large field, mark off a lane about 10 yards wide and 50 yards deep, using twine or lime. Three players are on offense, one on defense. Starting at one end of the lane, the three offensive players try to advance the ball by kicking and heading it, while the defensive player tries to intercept. The offensive players should stay in a triangle formation not more than 10 yards deep.
Potato Gold – draw concentric circles on the floor, and label each circle with a number representing the number of points it is worth – 10 in the center circle, decreasing outward. From a distance of 6 to 10 feet, each player putts a potato with a cane or an old hockey stick. Each player scores according to the numbers in the circles. No score is made if the potato stops on a line. Each Cub gets 10 tries, adding the scores together to get a total score. In place of a potato, use any durable fruit or vegetable – apple, grapefruit, etc.
Barrel Basketball – even the shortest Cub in your den can dunk if you play barrel basketball. All you must do is place 2 50-gallon steel drums 40 feet apart. Any asphalt parking lot not in use can be turned into a barrel basketball court. On this court, you can learn to pass, dribble, shoot, block, and set up plays. What's important is that you'll be learning how to play. If you have no steel barrels, use a big plastic garbage can. Even a pasteboard box will work if you put sand or dirt in the bottom to hold it down.
Sports Cards – make a set of 10 x 10 inch cards. On one side put a copy of the official signals for the game – football, basketball, hockey, baseball, soccer, etc. – of your choice. On the other side put an explanation of what the call means. The game can be played several ways.
Hold picture and ask for the proper call or
Read the explanation of the call and ask for its name or
Execute the call and ask for its name.
This game can be played as a competition
Divide den into two teams and give one point to the first person to guess the answer.
Divide den into two teams and assign each team a sport and show each team a card for its sport. Each team will have a different sport. The first team to get the answer gets a point
Hold-Em Ball – players stand in a semi-circle facing the Webelos who is "It" at a distance of about 10 yards. "It" throws the ball to any of the players. If the player misses, he goes to the "low" end of the line. The ball is thrown back and forth until "It" misses. He then goes to the "low" end of the line and the player on the "high" end becomes "It".
Foul Score – the leader gives the signal for a foul in any of the three sports: baseball, basketball, or football. Then he calls on a Cub to name the violation and the sport. If the Cub gets both answers right, he scores 2 points. If he gets only one correct, he scores 1 point and any other boy is allowed to try to correctly name the answer to the part missed and score a point. This can be played for individual scores. Just remember to ask each boy the same number of original questions. You can also divide the den into two teams.
Rec-Room Balloon Volley Ball – use a stripe or rope as a net and have the boys sit or kneel. Play as in volleyball with rules adapted to fit the size and shape of the room.
Penalty Box
Match the Official's signal call to the correct sport.
F- Football BK-Basketball BA-Baseball
S-Soccer H-Hockey
Signal Call
Pass Interference_________________________________
Technical foul___________________________________
Offside________________________________________
Ball Hooking___________________________________
Incomplete Pass_________________________________
Touchdown_____________________________________
Delay the Game_________________________________
Clipping_______________________________________
Safe___________________________________________
Tripping_______________________________________
Unsportsmanlike Conduct_________________________
Illegal Dribble___________________________________
Fair Ball_______________________________________
Substitution____________________________________
Corner Kick____________________________________
Strike_________________________________________
Penalty Kick Out________________________________
Holding _______________________________________
Foul Ball______________________________________
Traveling_______________________________________
Illegal Motion Foul______________________________
Let's Play Ball – using the clue sentences, fill in the blanks for baseball fun. The letters may fall at any point of the word.
A ball is hit out of bounds.
When a player makes every base.

One responsible for throwing the ball.
When a player fails to connect the bat with the ball.
One in charge of calling plays.
All leather and five fingers

Necessary piece of equipment other than the bat.
Come from behind, score a lot of runs

Long, skinny, hitting object

There are four in every game
Horizontal position for reaching base.

One who can catch a high ball that's hit past all the bases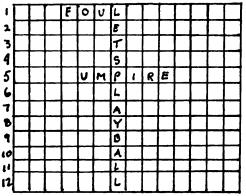 Do You Know Your NFL Teams?
Army insects _______________________________
Seven squared_______________________________
Hostile attackers_____________________________

Helpers to relocate____________________________
Various iron workers__________________________

Sun tanned bodies ___________________________

I.O.U.'s ___________________________________
Six rulers __________________________________
Opposite of ewe _____________________________
Class of Boy Scouts__________________________
American Gauchos ___________________________

Loyal team _________________________________
Credit card users _____________________________
Indian leaders _______________________________
King of beasts ______________________________
Team of tigers ______________________________
A dollar for corn _____________________________
Hot epidermis _______________________________

Six shooters ________________________________

Rodeo horses _______________________________
Heavenly team ______________________________
Grumpy person ______________________________

Answers
1-GI ants 2-49ers 3-Raiders
4-Packers 5-Steelers 6-Browns
7-Bills 8-VI Kings 9-Rams
10-Eagles 11-Cowboys 12-Patriots
13-Chargers 14-Chiefs 15-Lions
16-Bengals 17-Buccaneer 18-Red Skins
19-Colts 20-Broncos 21-Saints
22- Bears
World of Sports Game
Give this list of sports terms to the boys and let them write the game with which each term is associated.
Spare______________________________________
Shell______________________________________
Shuttlecock_________________________________

Fairway____________________________________

Slalom_____________________________________

Double fault_________________________________

Eight-ball___________________________________
Chukker____________________________________

Clay Pigeon_________________________________
Technical K.O.______________________________
Jump Shot__________________________________
Puck_______________________________________

Double Play_________________________________

Figure eight_________________________________

Lonesome end_______________________________
Answers:
1-Bowling 2-Rowing or Hunting 3-Badminton
4-Golf 5-Skiing 6-Tennis
7-Pool 8-Polo 9-Trap shooting
10-Boxing 11-Basketball 12-Hockey
13-Baseball 14-Figure skating 15-Football