May 2007 Cub Scout Roundtable Issue

Volume 13, Issue 10
June 2007 Theme

Theme: Wheel Into Summer
Webelos: Traveler & Handyman
Tiger Cub Activities
WEB SITES
Here are three great sites with lots of safety, games, activities and other info -
Bicycle Helmet Safety Institute
http://www.helmets.org/ or www.bhsi.org
Consumer product Safety Commission
www.cpsc.gov
National Highway Traffic Safety Administration
www.nhtsa.dot.gov
Bicycle Helmet Resource Kit
Capital health in Edmonton has ordering information for a Bicycle Helmet Resource Kit for demonstrating why they are good. Kit includes seen helmets = some damaged – to use as props. Also instruction for ordering egg helmets for demonstration egg drops. They come from Sweden!!
http://www.capitalhealth.ca/YourHealth , first click on "B," the Bicycle Safety
Scooter and Skateboard Safety
Check out the Riley Hospital, Indianapolis, IN website for an excellent paper on Skateboard and Scooter Safety
http://www.rileyhospital.org/
Alice, CS RT Commissioner
Pioneer District, Golden Empire Council
The NYS Department of State Office of Fire Prevention and Control has a Fire Safety Page with pictures of Hershey, a chocolate labrador retriever, who has been specially trained to find the cause of fires. They also have information, games and pictures related to fire safety.
Vince & Larry's Safety City located at the National Highway Traffic Safety Administration website. The games for groups were provided by agencies in Pennsylvania. Some of their laws are slightly different from ours in New York State.
If you live on a farm, you probably know these safety rules. If you plan to visit in a rural area, you may not be aware of the dangers on a farm. Farm Safety 4 Just Kids is an international, non-profit organization which works to prevent farm related injuries to children.
If you are going camping or picnicking, see the Smokey the Bear website from the US Forest Service. Remember, only you can prevent forest fires!
Here are some tips on protecting your eyes from Optima, Inc., an eye glass lens manufacturer.
The Florida Citizen Safety Center, Children's Safety Center provides safety tips from what to do after an accident to how to protect yourself in bad weather.
The Nemours Foundation provides a Kids Health site. They have information on all types of topics including not injuring yourself using the computer, how to deal with change and your feelings, health, safety, and games.
For older kids:
If you are interested in volunteer work or community service, you should check out the American Red Cross Youth Page.
Information from the US Department of Transportation about sharing the road safely with commercial vehicles, including a quiz, coloring page and digital post cards you can send are available from the No-Zone Safety Site.
Vince and Larry's Safety City - http://www.nhtsa.dot.gov/kids/
Designed to teach kids about all types of traffic safety.
The Otto Club - http://www.ottoclub.org
Otto the Auto gives safety tips and games teaching kids about traffic safety and to always 'buckle up'
Operation Lifesaver for Kids - http://www.oli.org/for_kids
Teaches safety information for preventing accidents around trains, railway operations, and railroad tracks. Features the Look, Listen, and Live activity book and pages.
No-Zone for Kids - http://www.nozone.org/kids/kids.asp
Information from the US Department of Transportation about sharing the road safely with commercial vehicles, including a quiz, coloring page and digital post cards
Hedgehogs - http://www.hedgehogs.gov.uk
How to stay safe on the roads. Information about rollerblading, cycling, road signs, and traffic lights. Features screensavers, games, and quizzes.
Arrive Alive - http://www.thinkroadsafety.gov.uk/arrivealive
Learn safety tips for walking, crossing the road, rollerblading, cycling and riding in cars and buses. Includes UK road signs and road markings
SASS - Stay Alert...Stay Safe - http://www.sass.ca/kmenu.htm Learn all about being safe in traffic and on the road. Play games, visit the clubhouse, go on a scavenger hunt, or read a safety booklet
Snappy Safari - http://www.mnsafetycouncil.org/snappy
Join Riveria for games, activities, and information about keeping kids safely buckled up in vehicles.
Tex and Dot's Safety - http://www.dot.state.tx.us/kidsonly/SafetyPg/Safety.htm
School and neighborhood safety tips along with learning guide with pictures to traffic signs and signals
Renault: Safety for All - http://www.safety-for-all.com/kids
Teaches kids about safety on the road and at play with interactive Flash movies.
Otto's World - http://www.aaa-calif.com/otto
Learn and practice traffic safety habits, such as the importance of seat-belt use, crossing the street safely, playing away from traffic, and wearing a helmet when riding a bike.
Railroad Safety Kids Korner - http://www.sddot.com/fpa/railroad/lifesave_kids.asp
Train safety quiz for kids teaching about being safe around trains and railroad tracks
Traffic School For Kids - http://www.traffic-school-for-kids.com Emphasizes the importance of traffic safety and traffic laws. Includes quizzes and games.
Ol Blue USA - http://www.olblueusa.org/kidssafetycenter.html
Nonprofit organization educating the USA on highway safety. Provides safety programs at community events, public schools, and truck shows. Includes coloring book pages, story book links, posters, and news
www.ots.ca.gov/kids.html kids can email in photo and person safety ideas or experiences to become an OTS Safety Star, complete with certificate; also games, puzzles, word finds (even for the visually impaired), learning lab, safety spotlights – PSA's from California pro sports figures and links to other good sites
www.exploratorium.edu/cycling/wheel2.html the science of the wheel, frames, materials, gears and aerodynamics of bicycles – interesting for adults, too!
The Computer Drop
Minnesota Safe Kids Coalition has a description of a computer drop, using a useless computer and explaining after the drop that it can probably be fixed, but it would be expensive and time-consuming. Sounds like a shocker! www.mnsafetycouncil.org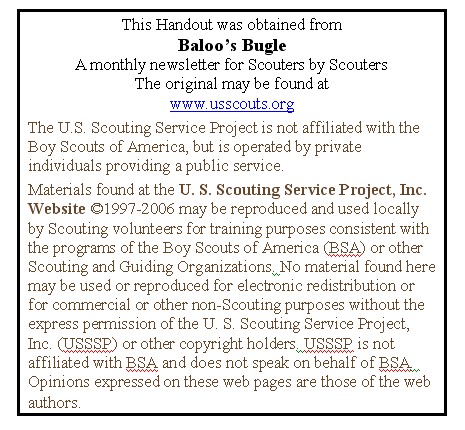 The servers and hosting of www.USScouts.org is provided as a public service by Data393
Check them out at www.data393.com

Materials found in Baloo's Bugle may be used by Scouters for Scouting activities provided that Baloo's Bugle and the original contributors are cited as the source of the material.

Materials found at the U. S. Scouting Service Project, Inc. Website ©1997-2007 may be reproduced and used locally by Scouting volunteers for training purposes consistent with the programs of the Boy Scouts of America (BSA) or other Scouting and Guiding Organizations. No material found here may be used or reproduced for electronic redistribution or for commercial or other non-Scouting purposes without the express permission of the U. S. Scouting Service Project, Inc. (USSSP) or other copyright holders. USSSP is not affiliated with BSA and does not speak on behalf of BSA. Opinions expressed on these web pages are those of the web authors.