May 2007 Cub Scout Roundtable Issue

Volume 13, Issue 10
June 2007 Theme

Theme: Wheel Into Summer
Webelos: Traveler & Handyman
Tiger Cub Activities
SPECIAL OPPORTUNITIES
Bicycle Belt Loop and Pin
www.usscouts.org

Belt Loop
Complete these three requirements:
Explain the rules of safe bicycling to your den leader or adult partner.
Demonstrate how to wear the proper safety equipment for bicycling.
Show how to ride a bike safely. Ride for at least half an hour with an adult partner, your family, or your den.
Sports Pin
Earn the Bicycling belt loop, complete requirement 1 below, and do four additional requirements
Make a chart to record at least 10 hours of bicycling. (Required)
Participate in a pack, den, or community bike rodeo.
Demonstrate how to repair a flat tire on a bicycle.
Make a poster illustrating different types of early bikes and show it to your den.
Give a demonstration to your den or pack on the proper use of safety equipment and gear.
With the help of a parent or adult partner, register or reregister your bicycle.
Go on a "bicycle hike" with your family or den. Obey traffic rules related to bicycling.
Repair or restore a nonfunctioning bicycle to a safe condition. Include the installation of all proper safety devices.
Visit a bicycle race or exhibition.
Help set up a bike rodeo or bike competition for your pack.
Roller Skating Belt Loop and Pin
www.usscouts.org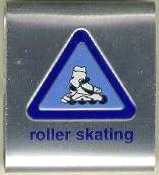 Belt Loop
Complete these three requirements:
Explain ways to protect yourself while roller skating or inline skating, and the need for proper safety equipment.
Spend at least 30 minutes practicing the skills of roller skating or inline skating.
Go skating with a family member or den for at least three hours. Chart your time.
Sports Pin
Earn the Roller Skating belt loop, and complete five of the following requirements:
Participate in a pack or community skating event.
Demonstrate how to disassemble and reassemble skates.
Explain the proper clothing for roller or inline skating.
Spend at least 30 minutes, on two occasions, practicing warm up exercises before skating.
Play a game of roller hockey,
Learn two new roller skating skills: Forward Scissors, Forward Stroking, Crossover, or Squat Skate.
Participate in a roller or inline skating skill development clinic.
Demonstrate how to stop quickly and safely.
Demonstrate how to skate backwards. Skate backwards for five feet.
Play a game on roller skates, roller blades, or inline skates.
The Cub Scout Sports Roller Skating activity includes roller skating and inline skating (roller blading). See Ice Skating for pin and belt loop requirements for ice skating.
Knot of the Month
Distinguished Commissioner Service Award
www.usscouts.org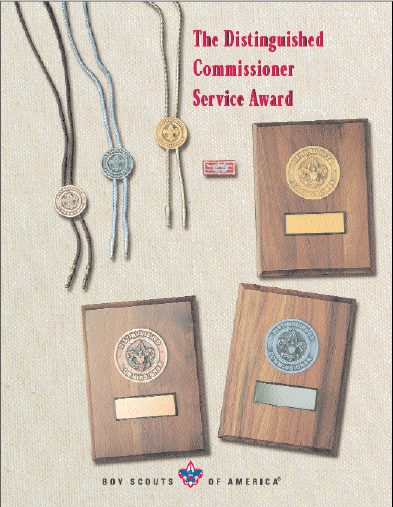 Congratulations to my friend Carol of Blackhawk Area Council in Ohio who was just presented her Distinguished Commissioner Award. CD
Purpose: To upgrade Commissioner Service and to recognize Commissioners and Exploring Service Team members who are providing quality service.
Requirements:
Complete training as outlined by the local council, including earning the Scouter's Key for Commissioners.
Serve as an active commissioner or an active Exploring service team member for 5 consecutive years and be currently registered with the Boy Scouts of America.
Recharter at least 90 percent of the units in your area of service for a minimum of the past 2 consecutive years. this applies to council commissioners, assistant council commissioners, district commissioners, assistant district commissioners, unit commissioners, council Exploring service team chairpersons, division/district/cluster Exploring service team chairpersons, and Exploring service team members.
Assist units so that more than 50 percent achieve National Quality Unit Award in your area of service for a minimum of the past 2 consecutive years.
Roundtable/huddle commissioner recognition is based on completing requirements No. 1 and No. 2 listed above, plus the following. In place of items No. 3 and No. 4, roundtable/huddle commissioners are to conduct at least nine roundtables/huddles per year for the past 2 consecutive years.
Recognitions:
The following recognition items are available from the Supply Division:
Distinguished Commissioner Service Award Plaque
Distinguished Commissioner Service Bolo Tie
The title on both commissioner recognitions will read, "Distinguished Commissioner. The plaque is approximately 5 x 7 inches. The medallion is cast in three colors:
Council Commissioner -- silver
District Commissioner, Asst District Comm, and Roundtable Comm -- gold
Unit Commissioner -- bronze
An embroidered square knot (silver knot on red background, may also be presented.
Local councils certify the eligibility of individuals, and present the recognition. (There is no national application.)
For more information go to
www.scouting.org/commissioners/resources/14-550.pdf

Materials found in Baloo's Bugle may be used by Scouters for Scouting activities provided that Baloo's Bugle and the original contributors are cited as the source of the material.

Materials found at the U. S. Scouting Service Project, Inc. Website ©1997-2007 may be reproduced and used locally by Scouting volunteers for training purposes consistent with the programs of the Boy Scouts of America (BSA) or other Scouting and Guiding Organizations. No material found here may be used or reproduced for electronic redistribution or for commercial or other non-Scouting purposes without the express permission of the U. S. Scouting Service Project, Inc. (USSSP) or other copyright holders. USSSP is not affiliated with BSA and does not speak on behalf of BSA. Opinions expressed on these web pages are those of the web authors.