February 2006 Cub Scout Roundtable Issue

Volume 13, Issue 7
March 2007 Theme

Theme: Baloo Skies
Webelos: Athlete & Engiineer
Tiger Cub Activities
TIGER SCOUTS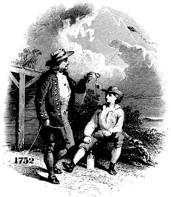 Benjamin Franklin Tiger Badge Ceremony
Materials: Badges and cards to be awarded attached to large keys. All badges are to be mounted on one large Kite or Lightning Bolt and hung in front of room.
Cubmaster: Our Tiger Cubs are challenged to search discover and share. As soon as they join, the Tigers and their Adult Partners stride out and begin exploring and understanding the world around them. For Requirement 5F they learn about weather just as you Wolfs and Bears did this month and the Webelos did when they earned the Scientist Activity Badge. Watching them search, discover and share about the weather I am reminded of Benjamin Franklin and his great experiment with the weather.
Quiz Tigers (or audience) on what Franklin did –
For what was Franklin searching? (Electricity)
What did he discover? (That there is electricity in lightning)
Did he share his findings about lightning? (Yes he did, we use electricity everyday)
Now that our Tigers have been successful in earning their Tiger Badges as Benjamin Franklin was successful in his discovery of electricity, I will present them to their Adult Partners who helped them most on their journey along with a key to remind them that one of the keys to Scouting and to life is to continue to search, discover and share all their life.

Materials found in Baloo's Bugle may be used by Scouters for Scouting activities provided that Baloo's Bugle and the original contributors are cited as the source of the material.

Materials found at the U. S. Scouting Service Project, Inc. Website ©1997-2006 may be reproduced and used locally by Scouting volunteers for training purposes consistent with the programs of the Boy Scouts of America (BSA) or other Scouting and Guiding Organizations. No material found here may be used or reproduced for electronic redistribution or for commercial or other non-Scouting purposes without the express permission of the U. S. Scouting Service Project, Inc. (USSSP) or other copyright holders. USSSP is not affiliated with BSA and does not speak on behalf of BSA. Opinions expressed on these web pages are those of the web authors.