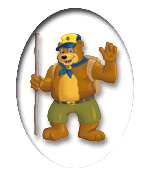 CONTACT BALOO


Write to Baloo (Click Here) to offer contributions, suggest ideas, express appreciation, or let Commissioner Dave know how you are using the materials provided here. Your feedback is import. Thanks.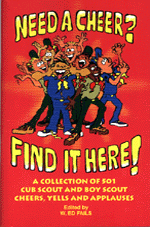 February 2006 Cub Scout Roundtable Issue

Volume 13, Issue 7
March 2007 Theme

Theme: Baloo Skies
Webelos: Athlete & Engiineer
Tiger Cub Activities
CUB GRUB & FUN FOODS
Glacier Treats
Ingredients
Ice
6 tablespoons salt
1 cup milk
1 tablespoon sugar
¼ teaspoon vanilla
1 pint zip-type plastic bag
1 gallon zip-type plastic bag
Directions:
Put milk, vanilla and sugar into the small bag. Seal it.
Fill the large bag half full of ice.
Add the salt.
Place the small bag in the large bag and seal it.
Shake until the mixture is ice cream – about 5 minutes.
Open large bag and remove small bag.
Wipe off the top of the small bag.
Open and enjoy.
Mud in the Hole
Ingredients
4 cups canned chocolate pudding
8 ice cream cones

Directions:
Open can of pudding,
Fill each ice cream cone and
Serve immediately
Pudding In A Cloud
Ingredients
2 cups Thawed Cool Whip, non-dairy - whipped topping
1 package (4 serving size) Jello chocolate instant pudding
2 cups cold milk
Directions:
Spoon 1/3 cup of whipped topping into each of six dessert glasses.
Using back of spoon, make depression in center and
Spread topping up sides of glass.
Prepare pudding with milk as directed on package.
Spoon pudding into glasses.
Chill.
Makes 6 servings.
Chocolate Thunder Cake
Ingredients
1 chocolate cake box mix
1 12-16 oz. jar hot fudge ice cream topping
1 12-16 oz jar caramel ice cream topping
1 12 oz. Cool Whip
Snickers bars
Directions:
Bake cake according to box directions.
As soon as it comes out of the oven, poke holes in it with a wooden spoon handle.
Melt each of the ice cream toppings and pour over hot cake.
Let cool completely.
Top with Cool Whip and cut up Snickers bars.

Materials found in Baloo's Bugle may be used by Scouters for Scouting activities provided that Baloo's Bugle and the original contributors are cited as the source of the material.

Materials found at the U. S. Scouting Service Project, Inc. Website ©1997-2006 may be reproduced and used locally by Scouting volunteers for training purposes consistent with the programs of the Boy Scouts of America (BSA) or other Scouting and Guiding Organizations. No material found here may be used or reproduced for electronic redistribution or for commercial or other non-Scouting purposes without the express permission of the U. S. Scouting Service Project, Inc. (USSSP) or other copyright holders. USSSP is not affiliated with BSA and does not speak on behalf of BSA. Opinions expressed on these web pages are those of the web authors.