September 2006 Cub Scout Roundtable Issue

Volume 13, Issue 2
October 2006 Theme

Theme: Cub Scout Shipbuilders
Webelos: Citizen & Showman
Tiger Cub Activities
WEB SITES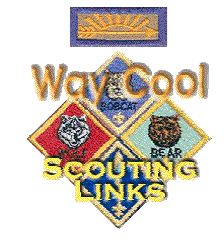 Great Salt Lake Council
http://www.boatsafe.com/kids/082000.htm
http://www.dltk-kids.com/crafts/pirates/mmap.html
http://www.kids.net.au/encyclopedia-wiki/sh/Ship
http://www.rochedalss.eq.edu.au/pirates/pirate1.htm
http://www.boat-links.com/books/Lardas/Lardas05.html
http://www.boatsafe.com/kids/index.htm
http://www.42brghtn.mistral.co.uk/knots/42ktmenu.html
http://www.coloring-page.net/boats.html
http://www.dltk-kids.com/crafts/pirates/mspyglass.html
Free Stuff
Timucua District, North Florida Council
Sesame Street Fire Safety Station Brochures
www.usfa.fema.gov/applications/publications/display.cfm?id=208
Teach your kids about fire safety with free U.S. Fire Administration Sesame Street Fire Safety Station Color and learn brochures and handouts.
McGruff the Crime Dog Comic Activity Book
www.mcgruff.org/Comics/index.htm
Request a free McGruff the Crime Dog comic activity book
and trading cards for your kids.
FEMA Freebie:
http://www.fema.gov/kids/freebie.htm
Activity Book: Let's Have Fun with Fire Safety (9-1548)
Brochure: Family Disaster Supply Kit
Coloring Book: Disaster Preparedness - Ask for: 8-1123
Door Knob Hanger: Fire Safety. Ask for 5-0200
Book: Adventures of Julia and Robbie - Ask for FEMA 344
Brochure: Wildfire-Are you Prepared? 5-228 L203
Brochure: Safety Tips for Hurricanes 0-17 L 105
Brochure: Tsunami! The Great Waves of the West Coast 0-332 L194
Write to:
FEMA
P.O. Box 2012
Jessup MD 20794-2012
Or Call 1-800-480-2520 or
FEMA items cannot be shipped outside of the U.S.

Materials found in Baloo's Bugle may be used by Scouters for Scouting activities provided that Baloo's Bugle and the original contributors are cited as the source of the material.

Materials found at the U. S. Scouting Service Project, Inc. Website ©1997-2006 may be reproduced and used locally by Scouting volunteers for training purposes consistent with the programs of the Boy Scouts of America (BSA) or other Scouting and Guiding Organizations. No material found here may be used or reproduced for electronic redistribution or for commercial or other non-Scouting purposes without the express permission of the U. S. Scouting Service Project, Inc. (USSSP) or other copyright holders. USSSP is not affiliated with BSA and does not speak on behalf of BSA. Opinions expressed on these web pages are those of the web authors.