September 2006 Cub Scout Roundtable Issue

Volume 13, Issue 2
October 2006 Theme

Theme: Cub Scout Shipbuilders
Webelos: Citizen & Showman
Tiger Cub Activities
SPECIAL OPPORTUNITY
Duty to God Promotion Patch
P.R.A.Y.
I attended the Religious Emblems conference at the Philmont Training Center this center. Mark Hazlewood, the Director of P.R.A.Y., led the conference. It was great being with so many Scouters who wanted to help Scouts fulfill their Duty to God and become better in their faiths. Mark and the organization at P.R.A.Y. have done a great job setting up this promotion effort. Their website and the DVD have everything – scripts, slideshows, FAQs, and other stuff. Lets get out there and make a difference. CD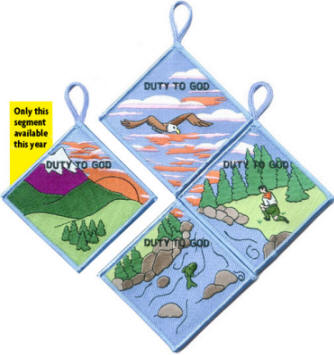 "Duty to God" is at the heart of the Scouting movement. Religious emblems reinforce this spiritual component and promote many of the values found in the Scouting program. The purpose of this "Duty to God Promotion Patch" is to encourage youth and adults to learn about and promote the religious emblems programs.
Requirements –
Youth and adults must:
Attend or coordinate a presentation or information seminar on religious emblems (sample resources and suggestions are available at www.praypub.org ).
Make a commitment to fulfill their "Duty to God."
Here are some examples:
Adults can commit to having 50% of families participate in the religious emblems programs, nominating a worthy adult to be recognized with an adult religious award, serving as counselor in their local congregation, etc.
Youth can commit to earning the religious emblem of their faith at an appropriate time, making a presentation on religious emblems to another unit, helping younger Scouts earn their religious emblem, etc.
The Patch
The Duty to God Promotion Patch is a four-segment puzzle patch.
Only one segment will be offered in any given year.
Participants are encouraged to earn all four segments over a four-year span.
Visit www.praypub.org to find out which patch is currently available.
Patches may be pre-ordered for distribution at the presentation/ information seminar.
The DVD
The Duty to God Promotion DVD contains the resources to make a presentation on the religious emblems programs. These resources include the video "Promoting Duty to God (Religious Emblems)," Duty to God brochure/chart listing all religious emblems (No. 05-879), scripts (for presentations to Cub Scouts, Boy Scouts, and Venturers), and Parent Handout.
Making a Presentation
Find scripts, videos, handouts, and other resources at www.praypub.org
Invite parents
Provide information on emblems of ALL faiths
Encourage Scouts to make a commitment to earn their religious emblem
Present the Duty to God Promotion Patch to participants
Call and talk to the "Religious Emblems People" today!
1-800-933-7729 or visit us at www.praypub.org
Boys' Life Reading Contest
Enter the 18th Boys' Life Reading Contest Now!

I met the National Director for Boys' Life this summer at the Philmont Training Center. He says around 20,000 boys earn this award each year. Lets see if we can set a record this Fall – Psyche your Scouts into writing up a report and sending it in to Boys' Life. Tell them Baloo said to send it in to his pal Pedro! CD
Write a one-page report titled "The Best Book I Read This Year" and enter it in the Boys' Life 2006 "Say Yes to Reading!" contest.
The book can be fiction or nonfiction. But the report has to be in your own words—500 words tops. Enter in one of these three age categories: 8 years old and younger, 9 and 10 years old, or 11 years and older.
First-place winners in each age category will receive a $100 gift certificate good for any product in the Boy Scouts Official Retail Catalog. Second-place will receive a $75 gift certificate, and third-place a $50 certificate.
Everyone who enters will get a free patch like the yellow one above. (The patch is a temporary insignia, so it can be worn on the Boy Scout uniform shirt. Proudly display it there or anywhere!) In coming years, you'll have the opportunity to earn the other patches.
The contest is open to all Boys' Life readers. Be sure to include your name, address, age and grade on the entry. Send your report, along with a business-size, self-addressed, stamped envelope, to:
Boys' Life Reading Contest, S306
P.O. Box 152079
Irving, TX 75015-2079
For more details go to www.boyslife.org
Entries must be postmarked by Dec. 29, 2006.
Knot of the Month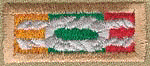 The William D. Boyce New-Unit Organizer Award
Kommisioner Karl
The William D. Boyce New-Unit Organizer Award is to recognize volunteers who organize one or more traditional Scouting units after March 1, 2005.
The award is a square knot to be worn on the uniform above the left pocket. The award has three colors, representing the three phases of our program – Cub Scouting, Boy Scouting, and Venturing.
The knot is earned by organizing one traditional unit. This includes getting the unit leadership trained, putting in place a functioning committee, getting a unit commissioner assigned, and all paperwork is completed and processed including presenting the charter to the charter partner. Only one volunteer may be recognized per new unit that is organized. A program device is earned for each additional unit organized, allowing the award to recognize a volunteer for organizing up to four new units.
You can download a progress record and complete information on the BSA guidelines for organizing units at:
http://www.scouting.org/relationships/04-515.pdf

Materials found in Baloo's Bugle may be used by Scouters for Scouting activities provided that Baloo's Bugle and the original contributors are cited as the source of the material.

Materials found at the U. S. Scouting Service Project, Inc. Website ©1997-2006 may be reproduced and used locally by Scouting volunteers for training purposes consistent with the programs of the Boy Scouts of America (BSA) or other Scouting and Guiding Organizations. No material found here may be used or reproduced for electronic redistribution or for commercial or other non-Scouting purposes without the express permission of the U. S. Scouting Service Project, Inc. (USSSP) or other copyright holders. USSSP is not affiliated with BSA and does not speak on behalf of BSA. Opinions expressed on these web pages are those of the web authors.