May 2005 Cub Scout Roundtable Issue

Volume 11, Issue 10
June 2005 Theme

Theme: Destination Parks
Webelos: Traveler & Artist
Tiger Cub Activities
WEB SITES
101 uses of duct tape
THEME RELATED INTERNET SITES
Great Salt Lake Council
http://usparks.about.com/od/stateparksus/
http://usparks.about.com/od/nationalparksus/
http://www.us-national-parks.net/
http://parks.state.ut.us/kids/default.htm
http://www.onlineutah.com/parks.shtml
http://www.grandcanyonnorthrim.com/galleries/img_utah_map_g.htm
http://www.us-national-parks.net/state/ut.htm
http://search.looksmart.com/p/browse/us1/us317837/us317922/us161146/us528138/us10187822/
http://www.gocampingamerica.com/kidspages/states/utah.html
Are you into scrapbooking?
It Takes two has officially licensed BSA Scrapbook pages and stickers for Cub Scouts and boy Scouts http://www.ittakestwo.com/ . A friend described it as Scout Scapbooking Heaven.
Looking for Old Time stuff for your 75th Anniversary Awards??
From Bill Smith, The roundtable guy (www.wtsmith.com/rt)
Two of my favorite sources for old-time games are:
ü Children's Games In Street and Playground, Ona and Peter Opie.
ü Children's Games Anthology: Studies in Folklore and Anthropology, Brian Sutton Smith
http://www.addall.com/detail/0405079281.html
That might be available in libraries or used bookstores.
Here are some links to sites that might trigger some ideas about life in the '30s:
http://www.u-bild.com/projects-childrens/632.htm
http://my.integritynet.com.au/purdic/science-fair-projects-ideas.htm
http://www.crazyfads.com/30s.htm
http://www.computerbits.com/archive/2001/0300/towse0103.html
http://www.popculturemadness.com/Music/Top54-Back/1930.html
http://1930s.com/askruthie.html
I also have a game page where I have marked the 1930's games on the index with blue squares at:
http://wtsmith.com/rt/games.html
Absolutely Free Plans, woodworking clip art and how to information
http://absolutelyfreeplans.com/
Duct Tape – The Indispensable Product
This site is called 101 Uses for Duct tape....
but there are 252!
http://www.thezac.com/ducttape/
The Duct Tape Site - http://204.255.212.10/~jthorsse/duct.html
Duct Tape Fashion - http://www.ducttapefashion.com/
Top 10 Duct Tape Uses (includes a prom outfit!) -
http://www.octanecreative.com/ducttape/topten/index.html
The Duct Tape Pages -
http://frugalliving.about.com/cs/tips/a/ducttape.htm
Duct Tape Prom Outfit Contest (yes, there really is one!) -
Want a great site about Parks and such -
http://gorp.away.com/index.html
ONE LAST THING
These are real answers given by children.
Q: Name the four seasons.
A: Salt, pepper, mustard and vinegar.
Q: Explain one of the processes by which water can be made safe to drink.
A: Flirtation makes water safe to drink because it removes large pollutants like grit, sand, dead sheep and canoeists.
Q: How is dew formed?
A: The sun shines down on the leaves and makes them perspire.
Q: How can you delay milk turning sour?
A: Keep it in the cow.
Q: What causes the tides in the oceans?
A: The tides are a fight between the Earth and the Moon. All water tends to flow towards the moon, because there is no water on the moon, and nature hates a vacuum. I forget where the sun joins in this fight.
Q: What are steroids?
A: Things for keeping carpets still on the stairs.
Q: What happens to your body as you age?
A: When you get old, so do your bowels and you get intercontinental.
Q: Name a major disease associated with cigarettes.
A: Premature death.
Q: How are the main parts of the body categorized? (e.g., abdomen.)
A: The body is consisted into three parts - the brainium, the borax and the abdominal cavity. The brainium contains the brain; the borax contains the heart and lungs, and the abdominal cavity contains the five bowels, A, E, I, O, and U.
Q: What is the fibula?
A: A small lie.
Q: What does "varicose" mean?
A: Nearby. (I do love this one...)
Q: Give the meaning of the term "Caesarean Section"
A: The Caesarean Section is a district in Rome.
Q: What does the word "benign" mean?'
A: Benign is what you will be after you be eight.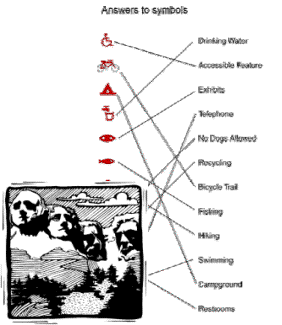 Return to Top of Page - Click Here
Materials found in Baloo's Bugle may be used by Scouters for Scouting activities provided that Baloo's Bugle and the original contributors are cited as the source of the material.

Materials found at the U. S. Scouting Service Project, Inc. Website ©1997-2005 may be reproduced and used locally by Scouting volunteers for training purposes consistent with the programs of the Boy Scouts of America (BSA) or other Scouting and Guiding Organizations. No material found here may be used or reproduced for electronic redistribution or for commercial or other non-Scouting purposes without the express permission of the U. S. Scouting Service Project, Inc. (USSSP) or other copyright holders. USSSP is not affiliated with BSA and does not speak on behalf of BSA. Opinions expressed on these web pages are those of the web authors.