CUB GRUB
People Biscuits
Baltimore Area Council
1½ cup all-purpose flour 2 teaspoon baking powder
L cup milk 1 teaspoon sugar
2 tablespoon margarine 1 egg
1 teaspoon salt Raisins
½ cup shredded cheddar cheese
Soften the margarine to room temperature. Mix all the ingredients except the egg with a fork to form soft dough. Turn the dough onto a lightly floured surface. Knead 10 times. Roll dough ½ inch thick. With a gingerbread man cookie cutter, cut out the dough and place on a greased cookie sheet. Brush the biscuits with a beaten egg. Add raisin eyes. Bake at 400 degree over for 20-25 minutes until golden brown. Enjoy your People Biscuits.
People Chow
Baltimore Area Council
1 stick butter 1 box Crispix cereal
1 cup semisweet chocolate chips 2 cups powdered sugar
1 cup peanut butter (check for allergies!!!)
Melt together butter, semisweet chocolate chips and peanut butter. Pour over 1 box of Crispix cereal in medium bowl. Put sugar in a large bowl and add the ingredients to coat. Serve in a plastic bag.
Please note: The following three recipes are for real dog biscuits and animal treats. There is nothing in it that would harm a child, but it is meant for animals!
Dog Biscuits
Baltimore Area Council
¾ cup hot water
½ cup margarine
1 cup powdered milk
1 pinch salt
1 egg, beaten
3 cups whole wheat flour
Variation: increase margarine to ½ cup and add 2 teaspoons sugar
In large bowl pour hot water over the margarine. Stir in powdered milk, salt, and egg. Add flour, ½ cup at a time. Knead for a few minutes to form stiff dough. Pat or roll to ½ inch thickness. Cut into bone shapes. Bake at 325 degrees for 50 minutes. Cool. They will dry out quite hard. Makes about 1¼ pounds of biscuits. Costs around 30 cents per pound.
Four-Legged Family Member Treats
Baltimore Area Council
Nonstick cooking spray
½ cup shredded cheddar cheese
½ cup shredded Parmesan cheese
3 Tbsp. Vegetable oil
1½ cups flour (use part whole wheat if desired)
¼ cup nonfat dry milk powder
2 tsp. Salt or garlic salt
½ cup water
Preheat the oven to 350 degrees. Spray a baking sheet with nonstick cooking spray; set aside. In a large bowl, combine the cheeses with the oil. Stir in the flour, milk powder and salt until well blended. Add the water and knead until stiff yet pliable dough forms.
On a lightly floured surface, roll the dough to a ¼ inch thickness. Cut out dog bones or other desired shapes, using a cookie cutter if you'd like. Re-roll scraps until all the dough is used.
Place on the prepared baking sheet and bake about 25 minutes. (Smaller cookies may take less time to bake, and larger cookies may take more.) Turn once during baking, Treats should be golden brown when done. Remove from oven and cool on a wire rack. Makes about 3 dozen treats for dogs or cats.
Nice Spice Dog Biscuits
Santa Clara County Council
These biscuits are really for your dog, not your Scouts!!.
Ingredients:
1½ cup unbleached all purpose flour
1½ cup whole wheat flour
½ cup cornmeal
2 Tbsp nonfat dry milk
1 tsp cinnamon
1 tsp nutmeg
1½ tsp allspice
1 egg
1 to 1¼ cup water
Directions:
Preheat oven to 350 F.
Stir all dry ingredients together in mixing bowl.
Add the egg and slowly stir in the water with a wooden spoon.
Keep stirring until dough becomes stiff.
Knead the dough until a smooth texture.
Roll out ¼ inch thick (flour the top and bottom of the dough)
Cut out with a bone shaped cookie cutter
Lightly grease a cookie sheet.
Bake for 45 min to 1 hour.
Remove from oven and leave them overnight to let harden.
Store in plastic Ziploc bags.
Now back to recipes for humans – If you want more recipes for Doggie Treats try - http://www.gbronline.com/kcathey/goldenbone/dogbisc.htm
Homemade Animal Cookies
Supplies:
Blender, large bowl, wooden spoon, table knife, pastry blender or 2 table knives, rolling pin, animal cookie cutters, cookie sheet, spatula, oven mitts, cooling rack
Ingredients:
1 cup rolled oats
¼ cup honey
1 tsp. salt
1½ cups all-purpose flour
½ tsp. baking soda
½ tsp. cinnamon
½ cup (1 stick) cold butter
½ cup buttermilk
2 Tbsp. extra all-purpose flour
Directions:
Pre-heat the oven to 400°F.
Put the rolled oats in the blender container. Cover and blend at high speed to grind the rolled oats into oat flour. (The oat flour will look powdery)
Place the oat flour in the bowl. Add the honey, salt, all-purpose flour, baking soda, and cinnamon to the bowl and stir well with the wooden spoon.
Cut the butter into 8 equal slices. Place the butter in the flour mixture.
With the pastry blender, cut the butter into the dry ingredients by using a back-and-forth motion until the bits of butter-flour mixture are the size of small peas.
Add the buttermilk to the bowl and mix thoroughly with your hands until the mixture forms a dough. Continue to mix together until smooth.
Allow the dough to sit for 5 minutes.
Sprinkle the extra 2 tsp. flour over a clean surface. With the rolling pin, roll the dough until it is ¼-inch thick.
Cut the dough with animal cookie cutters.
Use the spatula to place the crackers 2 inches apart on the ungreased cookie sheet.
Bake the crackers for 10 to 12 minutes or until they are lightly golden brown.
Remove the cookie sheets from the oven using oven mitts. Let the crackers cool for 5 minutes, and then use the spatula to move them from the cookie sheets to the cooling rack.
Brown Sugar Turtle Pralines
Santa Clara County Council
A praline is a rich, pastry-shaped candy made with sugar, cream, butter, and pecans. Make some turtle pralines that look like your pet turtle.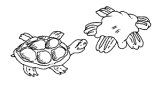 Ingredients:
2 cups pecan halves
2 cups light brown sugar
1 cup light cream
2 Tbsp. butter
Directions:
Adults need to be watching this process closely!!
With a paring knife, cut ½ cup pecan halves into quarters by cutting each pecan horizontally into two pieces. Set aside.
Use the wooden spoon to combine the light brown sugar and the cream in the saucepan.
Bring the sugar and cream mixture to boil over a medium heat, stirring constantly.
Clip a candy thermometer to the side of the saucepan. Continue to cook mixture until the thermometer reads 238°F.
Remove the pan from the heat. Stir in the butter. Stir in the remaining 1½ cups of pecan halves.
Beat the candy for 2 minutes or until it loses its shine.
Drop the candy by tablespoon onto waxed paper. Use the back of the spoon to shape the patties into a round shape.
Use the pecan quarters to decorate the candies to look like turtles. Put 2 pecan quarters at the front and 2 at the back for legs. Put 1 pecan quarter in between the front legs as a head.
Refrigerate the candy until cool, for at least 30 minutes, before serving. Makes about 24 candies.
Bird Poop
Santa Clara County Council
Ingredients:
5 cups of your favorite crunchy cereal
2 cups of skinny pretzels (if long, break them in half)
3 cups of rice crisp cereal
1 bag of white chocolate chips
2½ cups of mini marshmallows
Directions:
Mix all the dry ingredients in a large bowl.
Melt the white chocolate in the microwave for about 1 minute.
Pour the melted chocolate over the dry ingredients and spread on wax paper to cool.
When your masterpiece is cool, break into chunks that look like icky bird poop.
BANANA DOGS
Piedmont Council
Ingredients:
3/4 cup peanut butter, any style
2 tablespoons honey
4 hot dog buns, split
2 small bananas
1 tablespoon lemon juice
Directions:
Put peanut butter and honey in a small bowl. Stir.
Spread 3 tablespoons of peanut butter-honey mixture on one hot dog bun.
Prepare 3 other hot dog buns the same way.

Peel and halve the bananas length-wise.
With a pastry brush, coat the 4 banana halves with lemon juice. This will help keep the banana from turning brown. Place one banana half in each hot dog bun.

Wrap each sandwich in clear plastic wrap.
Cat Cookies
Santa Clara County Council
Ingredients:
1 package refrigerated sugar cookie dough
1 Tbsp. flour
Red cinnamon candies

Directions:
Sprinkle flour on a clean, flat surface and roll out cookie dough.
Cut out cookies in the shape of a cat head or body using a cookie cutter.
Carefully transfer cookies to cookie sheet.
Bake according to package directions.
Allow the cookies to cool on the cookie sheet for about 3 minutes then press cinnamon candies in place for the eyes and nose.
Transfer to wire rack to continue cooling.
Lizard Skins
Santa Clara County Council
Ingredients:
½ cup Peanut butter
12 ounces Marshmallows
4 drops Green food coloring
16 Raisins
4 cups Rice Krispies; Cheerios or Corn Flakes
Pam non-stick cooking spray
Directions:
Heat peanut butter with marshmallows in a large saucepan over low heat until melted.

Add green food coloring and mix in.
Pour in cereal and stir quickly.
Spray 8" pan with cooking spray then pour contents into pan.
Allow to cool in fridge, then cut into long thin strips, about 1" x 4".

Cut each raisin in half and stick on one end of each strip to make the lizard's eyes.