<![if !supportEmptyParas]>
August 2004 Cub Scout Roundtable Issue

Volume 11, Issue 1
September 2004 Theme

Theme: Time in a Capsule
Webelos: Citizen and Communicator
Tiger Cub:

Program & Activities
PACK AND DEN ACTIVITIES
DEN TIME CAPSULE
Sam Houston Area Council
<![if !vml]>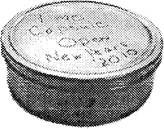 <![endif]>
Make a den time capsule. Include photos of den members and families, pack newsletter, lists of favorite things and activities, souvenirs from field trips, samples of den crafts, etc. Put it away in a safe place. Open at the final den meeting of the Cub Scouting year or just before graduation to Boy Scouts.
Alien Space Ships
Santa Clara County Council
<![if !vml]>

<![endif]>
Here's a craft you can make from all of your free or recycled computer CDs to create space ships. Use plenty of "shiny" attachments, such as foil, old hubcaps, CDs, tin cans, etc. This would make a great Scout camp project to decorate for an alien or space theme.
Supplies: Old CDs (be sure to ask first), Aluminum foil, Old hub caps, Tin cans (clean), Tacky Glue or Silver Duct Tape, Wire (optional), Wire cutters (optional), String or fishing line, Scissors, Markers
Directions:
Use CDs to build the base of the space ship on (shiny side out).
Use glue or duct tape to adhere the pieces together. Use aluminum foil if you want a shiny ship.
Use any supplies that you find, just be sure to have an adult present for safety.
Decorate with markers if desired.
Hang with string or fishing line.
Cub Scout Time Capsule
Baltimore Area Council
Materials: "Trails End" popcorn tin, water proof tape (electrical tape works well), duct tape, sandpaper, rag, spray paint, paint pens and/or markers.
Instructions:
1. Sand the side and lid of the popcorn tin. Work over newspaper to minimize the mess.
2. Discard the newspaper and dust off with a rag.
3. Spread fresh newspaper and spray paint the tin. Allow to dry fully; this may take several hours depending on the paint and conditions.
4. Decorate the time capsule with the paint pens or markers.
5. Have the boys put things into the capsule that they think are important.
6. Seal the time capsule with the electrical tape first and then put a layer of duct tape over the electrical tape. Have each Cub Scout that contributed put his name on the duct tape.
7. Decide when you are going to open the time capsule. Perhaps the week before your Den's bridging ceremony would be a good choice.
8. Bury in the Den Leaders yard or store in a safe place.
Suggestions for contents:
1. Photos of friends, family, den members, your room, your pet, or yourself. It's a good idea to put these in a zip-lock baggie if you will be burying he time capsule.
2. Ticket stubs from your favorite movie or concert.
3. Tape of your favorite song or your voice.
4. A video of you and your Family, friends and Den Members.
5. A letter to yourself. Or one from a friend to your future self.
6. A list of your friends.
7. A paragraph about what you think you will be like when the capsule is opened or maybe what you want to be doing with your life in the future.
Martian Tie Slide Materials:
Heart of America Council
<![if !vml]>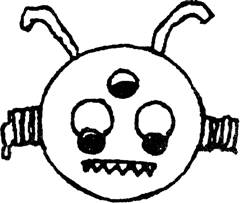 <![endif]>
Materials:
1 - 1/2" Green Styrofoam ball
2 Green chenille stems
3 - small Wiggle eyes
1/2" piece of "Zip Strip" from waxed paper or aluminum foil box :
1 - Plastic curtain ring or PVC pipe piece
1. Cut one chenille stem in halt and coil each half around pencil.
2. Remove from pencil and glue one on each side of ball.
3. Cut other chenille stem in half and cut one half in half. Push two short pieces into top of ball and glue into place. Shape for antennae.
4. Glue on three wiggle eyes and zip strip for mouth.
5. Push curtain ring into back and glue into place.
Wind Catcher
Heart of America Council
Materials:
Nail polish remover 2 - Liter bottle Craft knife
Stickers
Colored vinyl tape Markers
Fishing string Fishing swivel
<![if !vml]>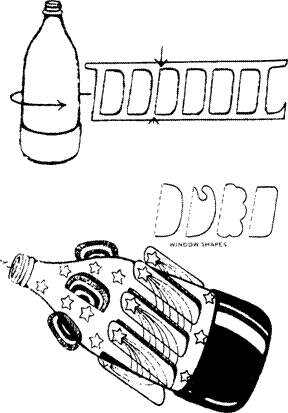 <![endif]>
Using nail polish remover, clean off all glue from 2 - liter bottle.
Draw windows on graph paper.
Using a craft knife cut each window on the lines. Tape pattern around the bottom of bottle a few inches above the bottom.
Trace the 3 sides onto the bottle. Remove the pattern
Using the craft knife lightly score the bottle where the fold of the window will be. Cut the rest of the window out carefully.
6. Draw four windows on the upper part of the bottle. Then cut in the same manner by visually dividing the bottle into quarters.
7. Decorate the bottle in any way you like either with pieces of vinyl adhesive tape, markers or any other waterproof materials you can think of. When decorated carefully fold the windows out along the score lines to 90 degree angles.
8. Poke a small round hole in the top of the bottle cap, and secure a fishing swivel hook through it. Tie fishing string to this and string up anywhere.
ODDS AND ENDS ROBOT
Sam Houston Area Council
ü Remove lid from tuna can. Glue open side down to top of oatmeal box.
ü Cut a cardboard bathroom tissue roll into 3 equal parts. Reserve two for arms. In third, punch a hold through the center. Glue this piece to top of tuna can. Push a straw through holes and glue beads on ends of straw.
ü Glue other two sections of cardboard roll to sides of oatmeal box for arms.
ü <![if !vml]>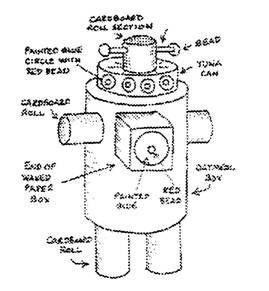 <![endif]>


Use two more cardboard tissue rolls for legs. Glue to bottom of oatmeal box, in position so that robot will stand.

ü Cut off one end of a waxed paper or aluminum foil box. Glue this to center of oatmeal carton.

ü Spray paint robot silver. When dry, paint blue circles on tuna can and robot's front. Then glue red beads in center of blue circles.

MOON BUGGY

Sam Houston Area Council

<![if !vml]>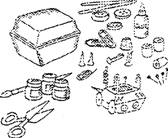 <![endif]>


Provide each boy with an empty carton and an assortment of materials such as pipe cleaners, golf tees, button, screws, wire, cardboard, paint, etc. Let each boy custom-design his own Moon Buggy or Mars Rover.

ROCKET SHIP

Sam Houston Area Council

<![if !vml]>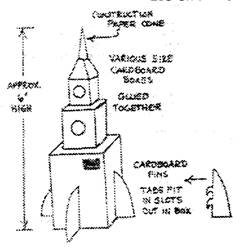 <![endif]>


This is constructed from different size cardboard boxes glued together. It can be made large enough for a boy to get inside, by making a door in the back. After gluing boxes together, paint with gray or light blue latex paint. Paint on trim with tempera. Design your own shape. It will vary depending on the size and shape boxes you have available. The drawing is simply an example to give you ideas.

ALIEN HEAD

Circle Ten Council

Materials: 1-2 yards green fabric, 1-1 1/2 feet elastic, green thread, needle, plastic bags

Directions:

Cut out a large circle of green fabric. The larger you want the head, the bigger the circle.

Then, hem the ends of the fabric, but leave enough space to get the elastic through.

When you are done hemming, pull the elastic through the space in the hem.

When the elastic is through, connect both ends together with the thread.

Stuff your head with plastic bags to make it stand up, or put it on your head (tuck your hair under), and you're ready to go

ALIEN SPECIMENS

Circle Ten Council

Materials:

Clear glass or plastic jar with tight-fitting lid

Sculpey bake-hard craft clay;

little plastic (or glass) eyes of various sorts

Acrylic paints

food coloring

paper for labels

Cotton Balls

Glue

your computer.

Directions:

Paint the lid of your jar black, so it will look like a real scientific specimen jar.

Using the Sculpey, model your creature, making sure it will fit inside the jar.

Poke the eyes into it, then take them out.

When your creature is finished, bake in a 325-degree oven until the thing turns uniform brown.

Let it cool fully.

Paint, and glue in the eyes.

Decide what you have just created.

Give it a name like, Twiggle Stimjiggy From Mars.

On your computer, create a scientific specimen label.

Print the label.

When the paint on your alien is dry, it's time to fill the jar with water and insert your "specimen" into the "formaldehyde".

Tint the water with food coloring. I suggest green or orange for a great effect.

Wind threads of cotton around your alien.

Glue your label to the jar.




Materials found in Baloo's Bugle may be used by Scouters for Scouting activities provided that Baloo's Bugle and the original contributors are cited as the source of the material.

Materials found at the U. S. Scouting Service Project, Inc. Website ©1997-2004 may be reproduced and used locally by Scouting volunteers for training purposes consistent with the programs of the Boy Scouts of America (BSA) or other Scouting and Guiding Organizations. No material found here may be used or reproduced for electronic redistribution or for commercial or other non-Scouting purposes without the express permission of the U. S. Scouting Service Project, Inc. (USSSP) or other copyright holders. USSSP is not affiliated with BSA and does not speak on behalf of BSA. Opinions expressed on these web pages are those of the web authors.